St. Joe 43, Berrien Springs 29
Devon Frenchko scored 17 points to help lead St. Joe to a 43-29 win at Berrien Springs.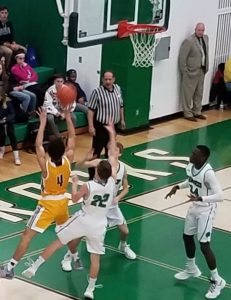 The Bears scored the game's first eight points and never trailed. The Shamrocks kept it close, pulling to within two in the third quarter, but couldn't manage to take control. St. Joe ended the game outscoring the Shamrocks 11-4 in the fourth quarter.
The win lifts the Bears to 7-12 on the season. With the loss, Berrien Springs' six game winning streak comes to an end as they fall to 10-9.
INDIVIDUAL SCORING
ST. JOE
Devon Frenchko – 17
Ben Newland – 13
Griffin Shinrock – 5
Andy Blomgren – 4
Lane Everett – 2
Jordan Marble – 2
BERRIEN SPRINGS
Evan Hoge – 7
Jackson Glanzer – 6
Anthony Latin – 6
Tyler Ewalt – 4
Marshall McFarland – 2
Cameron Baker – 2
Byron Tate – 2