Portage Central 30,  St. Joe 16
St. Joe was held to its lowest point total of the season as the Lady Bears fell to Portage Central 30-16 in the Division 1 District Semifinals.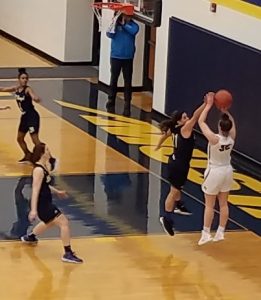 The Mustangs held a slim two point lead after one quarter, but the outscored St. Joe 10-1 in the second quarter to take control. The Bears stayed within striking distance all night, but could never put together an offensive run.
Sophie Bench and Annemarie Stacey led Central with 14 points each. Leah Barlow and Karly Klaer each scored four points in the loss for the Bears.
Portage Central advances to face Kalamazoo Central Friday night for the District Championship.
INDIVIDUAL SCORERS
PORTAGE CENTRAL
Sophie Bench – 12
Annemarie Stacey – 12
Maizie Brown – 4
Reagan Hoff – 2
ST. JOE
Leah Barlow – 4
Karly Klaer – 4
Madison Scott – 2
Symone King – 2
Alex Malone – 2
Taylor Garey – 1
Cailynn Junk – 1