NCAAMBKB – Men's College Basketball
Last Night
Indiana 82, Michigan State 69
Michigan 60, Minnesota 56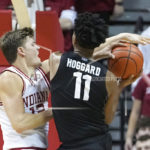 Indiana 82, Michigan State 69 – Jackson-Davis powers Indiana past Michigan State 82-69
Trayce Jackson-Davis finished with 31 points and 15 rebounds for his 40th career double-double and Indiana pulled away in the second half to beat Michigan State 82-69. Jackson-Davis sank 10 of 20 shots from the floor and 11 of 13 from the free-throw line for the Hoosiers (13-6, 4-4 Big Ten Conference). He jumped two spots on Indiana's all-time scoring list into sixth place. Jackson-Davis finished with five blocked shots to tie Jeff Newton's school-record career total of 227. Joey Hauser was hot early, scoring 11 points to help the Spartans (13-7, 5-4) build a 17-8 lead six minutes into the game. Jackson-Davis scored all 13 of his first-half points in the final 11:09 to give the Hoosiers a 37-32 lead at halftime.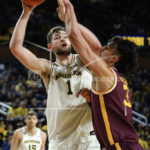 Michigan 60, Minnesota 56 – Dickinson scores 28, Michigan holds off Minnesota 60-56
Hunter Dickinson scored 28 points and Michigan overcame an injury to Jett Howard to defeat Minnesota 60-56. Howard, who averages 15.4 points, 2.9 rebounds and 2.5 assists per game, injured his left ankle late in the first half and did not return to the game. After the Wolverines led for most of the second half, Pharrel Payne's layup drew the Golden Gophers within 55-51 and a free throw by Ta'lon Cooper made it 55-52 with 35 seconds left. But Minnesota's Jamison Battle was called for a technical foul, Will Tschetter converted the free throws, and Michigan led by five, still with 35 seconds remaining. Michigan added 3 of 4 from the line in the final 20 seconds to preserve the win.
NFL – National Football League – Playoffs – Divisional Round
Saturday
Kansas City Chiefs 27, Jacksonville Jaguars 20
Philadelphia Eagles 38, New York Giants 7
Sunday
Cincinnati Bengals 27, Buffalo Bills 10
San Francisco 49ers 19, Dallas Cowboys 12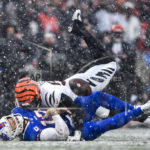 Bengals 27, Bills 10 – Bengals return to AFC championship with 27-10 rout of Bills
Joe Burrow threw two touchdown passes, the Bengals swarmed Buffalo Bills quarterback Josh Allen on a snow-slicked field and Cincinnati advanced to its second straight AFC championship game with a 27-10 win. Damar Hamlin's inspirational presence while watching the game from an end-zone suite was not enough to spark the Bills in a rematch of a regular-season game that was canceled Jan. 2 when the Bills safety went into cardiac arrest and had to be resuscitated on the field in Cincinnati. The Bengals advanced to consecutive AFC championship games for the first time in franchise history and will again travel to play the Kansas City Chiefs.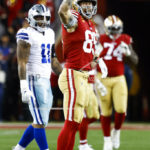 Niners 19, Cowboys 12 – 49ers beat Cowboys 19-12 to advance to NFC title game
Christian McCaffrey scored the go-ahead touchdown on a 2-yard run in the fourth quarter and San Francisco's defense did the rest, sending the 49ers to their second straight NFC title game with a 19-12 victory over the Dallas Cowboys. San Francisco advanced to play the Eagles in the NFC title game next Sunday in Philadelphia after losing in that round to the Rams a year ago. The Cowboys lost for the record seventh straight time in the divisional round and have failed to make it to the NFC title game since winning their fifth Super Bowl title following the 1995 season.
Sunday
Conference Championships
San Francisco 49ers at Philadelphia Eagles, 3:00 p.m.
Cincinnati Bengals at Kansas City Chiefs, 6:30 p.m.
NFL – Bills' Hamlin attends 1st game since collapse, waves to fans
Buffalo Bills safety Damar Hamlin made his first public appearance Sunday since going into cardiac arrest three weeks ago during a game. He waved to fans from a suite at the Bills' Highmark Stadium during the first half of their AFC divisional playoff loss to the Cincinnati Bengals. The stadium erupted when an image of the recovering Hamlin filled the massive end zone screens and fans turned toward the glass-enclosed suite and cheered. The 24-year-old safety had not been seen in public since he needed to be resuscitated on the field in Cincinnati on Jan. 2, but he has been making regular visits to the stadium to see teammates.
NCAAMBKB – Women's College Basketball
Last Night
(7) Notre Dame 76, Virginia 54
Michigan State 85, Rutgers 63
(7) Notre Dame 76, Virginia 54 – Citron helps No. 7 Notre Dame rout Virginia 76-54
Sonia Citron scored 20 points, hitting a career-high six 3-pointers, and grabbed nine rebounds to help No. 7 Notre Dame rout Virginia 76-54. Lauren Ebo added 15 points and a career-high four steals, while Olivia Miles had 12 points and seven assists for the Fighting Irish (16-2, 7-1 ACC). Notre Dame lost starter Dara Mabrey to a knee injury in the game's second minute and her Irish teammates picked up the slack. Mabrey went down on a fast break at 8:01 of the first quarter and did not return.  Camryn Taylor produced 13 points before fouling out for Virginia (14-6, 3-6).
Tonight
(6) Indiana at (14) Michigan, 8:15 p.m.
NHL – NHL – National Hockey League
Last Night
Los Angeles Kings 2, Chicago Blackhawks 1
Kings 2, Blackhawks 1 – Anderson-Dolan scores 2, Kings beat Blackhawks 2-1
Jaret Anderson-Dolan scored twice and the Los Angeles Kings beat the Chicago Blackhawks 2-1. Kevin Fiala had two assists and Pheonix Copley stopped 18 shots to help the Kings snap a four-game losing streak. Defenseman Ian Mitchell scored his first goal of the season for Chicago, spoiling Copley's shutout bid with 3:15 remaining. Petr Mrazek finished with 25 saves. The Blackhawks had won three straight and six of their previous seven.
NHL – Talks With Kane, Toews Expected
Blackhawks general manager Kyle Davidson said he expects to sit down with star forwards Patrick Kane and Jonathan Toews, each of whom have no-trade contracts, and agent Pat Brisson within the next two weeks, and no later than mid-February. The trade deadline is March 3.  "To get a sense of where everyone's at, what they're feeling, as we approach the (trade) deadline," Davidson said on NBC Sports Chicago. "We their thoughts on what they intend to do. They're in full control of their destinies. We'll get a better sense of that in short order."  Davidson said mid-February was necessary "as a buffer" if either player wants to be moved. Both Kane and Toews are in their last contract year and have a $10.5-million cap hit.
NBA – National Basketball Association
Tonight
Milwaukee Bucks at Detroit Pistons, 7:00 p.m.
Atlanta Hawks at Chicago Bulls, 8:00 p.m.
NBAGL – NBA "G"-League
Tonight
Wisconsin Herd at Motor City Cruise, 7:00 p.m.
MHSAA – High School Sports
Tonight
Boys Basketball
Andrews Academy at Michigan Lutheran, 7:30 p.m.
Bridgman at Our Lady of the Lake, 7:00 p.m.
Brandywine at River Valley, 7:00 p.m.
Galesburg-Augusta at Decatur, 7:00 p.m.
Watervliet at Hartford, 7:00 p.m.
Delton-Kellogg at Marcellus, 7:00 p.m.
Lawrence at Comstock, 7:30 p.m.
Athens at Centreville, 7:30 p.m.
Battle Creek Central at Harper Creek, 7:00 p.m.
Loy Norrix vs. Potterville, 1:45 p.m.   at Little Caesars Arena

Girls Basketball
Edwardsburg at St. Joseph, 7:00 p.m.
Buchanan at Bronson, 7:00 p.m.
Watervliet at Hartford, 5:30 p.m.
Allegan at Parchment, 7:00 p.m.
Howardsville Christian at White Pigeon, 5:30 p.m.
Comstock at Lawrence, 7:30 p.m.
Calhoun Christian at Mendon, 7:30 p.m.
Loy Norrix vs. Potterville, 12:00 p.m. at Little Caesars Arena
Competitive Cheer
SMAC #2 at Portage Central, 6:00 p.m
Podcast: Play in new window | Download | Embed
Subscribe: Google Podcasts | Spotify | Stitcher | Email | RSS | More