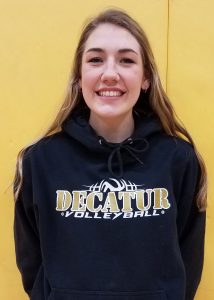 Regan Rose of Decatur High School Basketball is our WSJM Sports Van Buren/Cass Student Athlete of the Week for the week of February 9, 2020.
In the Raiders' game against Cassopolis, Regan scored her 1,000th career point. She finished the night with 15 points, five rebounds, five steals, and three blocked shots. After her performance, she pulled to within 57 points of the school record for total points scored.
Regan is also a member of the Volleyball Team and National Honor Society. In the classroom, she carries a 3.96 grade point average.
Regan is the daughter of Craig and Amy Rose of Decatur.
Another finalist for the week was Jason Jergens of Howardsville Christian Basketball.
Catch Regan's conversation with Phil McDonald below…
Podcast: Play in new window | Download | Embed
Subscribe: Apple Podcasts | Google Podcasts | Spotify | Stitcher | Email | RSS | More