NBA – National Basketball Association
Last Night
Detroit Pistons 141, Charlotte Hornets 134 – OT
Indiana Pacers 125, Golden State Warriors 119
New York Knicks 128, Chicago Bulls 120 – OT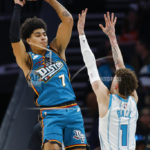 Pistons 141, Hornets 134 – OT – Burks, Pistons spoil Ball's return to floor with OT win
Alec Burks scored a season-high 27 points off the bench, Killian Hayes added 25 and the Detroit Pistons spoiled LaMelo Ball's return with a 141-134 overtime victory against the Charlotte Hornets. Bojan Bogdanovic had 24 points and Isaiah Stewart chipped in with 19 points and 11 rebounds for Detroit. Jalen Duren grabbed 18 rebounds as the Pistons snapped a three-game losing streak. Kelly Oubre Jr. scored 28 points to lead the Hornets, while Terry Rozier added 25. Ball finished with 23 points and 11 assists after missing 11 games with a sprained left ankle. But he fouled out with 29.6 seconds left in regulation and his presence was missed in overtime.
Pacers 125, Warriors 119 – Curry injures shoulder, Pacers hold off Warriors 125-119
Tyrese Haliburton scored 29 points and the Indiana Pacers made 16 3-pointers to hold on for a 125-119 victory over the Golden State Warriors. Golden State's Stephen Curry didn't finish the game because of a left shoulder injury. Curry scored 24 of his 38 points in the first half for the defending champions but departed with 2:04 remaining in the third quarter. He got hurt while trying to defend against Jalen Smith, grabbed his shoulder and departed for the locker room. Coach Steve Kerr says Curry will have an MRI. The Warriors fell to 2-12 on the road. Bennedict Mathurin added 24 points for Indiana, which snapped a two-game skid.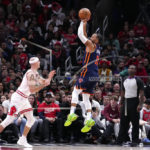 Knicks 128, Bulls 120 – OT – Randle, Brunson lead Knicks past Bulls 128-120 in OT
Julius Randle scored 31 points and Jalen Brunson added a season-high 30 as the New York Knicks beat the Chicago Bulls 128-120 in overtime. Brunson's 3-pointer with less than a minute left in OT helped put the game away. The Knicks have won five straight. Randle missed a chance to win the game in regulation when his step-back shot from the baseline resulted in an air ball and shot-clock violation with 0.7 seconds left. DeMar DeRozan scored 32 points and Zach LaVine had 25 for the Bulls, who fell in overtime for the second consecutive game.
NHL – National Hockey League
Last Night
Minnesota Wild 4, Detroit Red Wings 1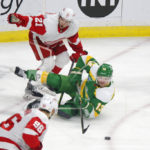 Wild 4, Red Wings 1 – Gaudreau scores twice as Wild top Red Wings 4-1
Frederick Gaudreau scored twice, including a long-distance empty netter, and Matt Dumba notched his third goal of the season as the Minnesota Wild won 4-1 on Wednesday over the visiting Detroit Red Wings. Filip Gustavsson made 16 saves in net for Minnesota to improve his record to 6-4-1. Mats Zuccarello extended his point streak to eight games with a second-period goal for the Wild, who earned their third straight win. Wednesday's loss was the fourth in a row for Detroit.
Tonight
Vegas Golden Knights at Chicago Blackhawks, 8:30 p.m.
NFL – National Football League – Week 15
Tonight
San Francisco 49ers at Seattle Seahawks, 8:15 p.m.
NFL – Colts' Irsay isn't ready to oust Snyder, wants discussion
Indianapolis Colts owner Jim Irsay says he isn't ready to oust Daniel Snyder as owner of the Washington Commanders and wants to discuss the possibility with other NFL owners. Irsay has said he believes there is merit for Snyder's removal amid several scandals and investigations into workplace misconduct with the Washington franchise. The league has been investigating allegations of sexual misconduct and financial impropriety. Commissioner Roger Goodell says he hasn't given the lead investigator any timeline on completing the investigation. Goodell defended the NFL after a House Committee on Oversight and Reform report that sharply criticized the team and the league's handling of its issues.
NCAA – Big Ten – California Regents vote to affirm UCLA's move to Big Ten
UCLA has cleared a major hurdle toward joining the Big Ten Conference in 2024, getting approval for the move from the University of California Board of Regents. The regents voted 11-5 to affirm the Bruins' move during a special meeting on the university's Westwood campus. A simple majority was needed to pass. The regents imposed conditions to mitigate the impact of the move on athletes, including UCLA investing an additional $12 million in nutritional support, mental health services, academic support while traveling and charter flights to reduce travel time. UCLA will also have to pay the University of California at Berkeley between $2 million and $10 million.
NCAAFB – DII – Mines QB Matocha, Ferris DE Murphy lead D-II All-Americans
Quarterback John Matocha, who has led Colorado School of Mines to the Division II championship game, leads The Associated Press D-II All-America team. Matocha has passed for 4,558 yards and 50 touchdowns with only six interceptions for the Orediggers, who face Ferris State in the title game Saturday. Matocha is one of nine finalists for the Harlon Hill Trophy, which goes to the best player in Division II. Ferris State defensive end Caleb Murphy, the only Harlon Hill finalist on defense, was selected to the first team.  Murphy is a Dowagiac native.
NCAAMBKB – Eastern Michigan's Emoni Bates gets 18 months probation
Eastern Michigan basketball star Emoni Bates has been sentenced to 18 months of probation after pleading guilty to a misdemeanor gun charge. The Detroit News reports the conviction will be expunged from Bates' record if he completes probation successfully. Washtenaw County Circuit Judge Patrick Conlin waived a fine during Wednesday's sentencing. Bates was arrested on felony gun charges after he was pulled over while driving on Sept. 19. He pled down to the misdemeanor in October. Bates' attorney, Steven Haney, says he's "very pleased, given what happened that night." Bates originally was charged carrying a concealed weapon and "altering ID marks" after a traffic stop.
MLB – Tigers bring back LHP Matthew Boyd with $10M, 1-year deal
The Detroit Tigers are bringing back left-hander Matthew Boyd on a $10 million. one-year contract. The Tigers announced Wednesday that they agreed to terms with the 31-year-old Boyd, who pitched in Detroit from 2015-21. Boyd was 2-0 with a 1.35 ERA with 13 strikeouts in 10 games last season and pitched in a playoff game for Seattle. He was acquired by his hometown Mariners from the San Francisco at the trade deadline. The Giants signed Boyd last March to a $5.2 million, one-year deal as he recovered from surgery on a tendon in his left arm.
MLB – Cubs, Bellinger finalize $17.5 million, 1-year contract
The Chicago Cubs and former National League MVP Cody Bellinger have finalized a $17.5 million, one-year contract. Bellinger, the 2019 NL MVP, was cut by the Los Angeles Dodgers on Nov. 18 after the 27-year-old outfielder hit .210 with 19 homers, 150 strikeouts and a .654 OPS in 144 games. He figures to play center for the Cubs. Bellinger was limited to 95 games during the 2021 regular season when he was on the injured list three times and batted .165. In 2020, Bellinger hit .239 with 12 home runs in 56 games during the pandemic-shortened season. Bellinger has battled injuries since his MVP season, including having surgery on his right shoulder in November 2020. Bellinger was the 2017 NL Rookie of the Year and 2018 NLCS MVP. He made two All-Star teams.
WNBA – Study: WNBA still No. 1 in racial, gender hiring practices
The Institute for Diversity and Ethics in Sport has announced that the WNBA received an A for its overall racial and gender practices for 2022. That included an A+ for racial hiring and an A for gender hiring. Richard Lapchick, the director of the institute and primary author of the annual report, said the WNBA continues to lead the way with inclusive racial and gender hiring practices across all professional leagues. The report announced Wednesday marked the 18th consecutive year that the WNBA has received at least an A for its overall race, gender and combined grades.
ECHL – ECHL Hockey League
Yesterday
Iowa Heartlanders 5, Kalamazoo Wings 1
Indy Fuel 6, Wheeling Nailers 4
Toledo Walleye 5, Norfolk Admirals 2
NBAGL – NBA G-League
Last Night
Sioux Falls Skyforce 108, Grand Rapids Gold 105
Windy City Bulls 110, Motor City Cruise 99
FIFA – World Cup 2020 – Qatar
Yesterday
Semifinal 2
France 2, Morocco 0
Sunday
World Cup Finals
France vs. Argentina, 10:00 a.m.
France 2, Morocco 0 – Mbappe, France advance to World Cup final, beat Morocco 2-0
France and Kylian Mbappé are headed back to the World Cup final for a much-anticipated matchup with Lionel Messi after ending Morocco's historic run at soccer's biggest tournament. France beat Africa's first ever semifinalist 2-0 with Mbappé playing a part in goals by Theo Hernandez in the fifth minute and then substitute Randal Kolo Muani in the 79th. France will head into Sunday's title match against Argentina looking to become the first team to retain the World Cup title since Brazil in 1962. Mbappé has the chance to cement his status as soccer's new superstar when he comes up against the 35-year-old Messi.
FIFA – Wife: Journalist Wahl died of aortic aneurysm at World Cup
Grant Wahl died of a ruptured blood vessel when he was stricken while covering a World Cup match last weekend, according to an autopsy of the well-known American soccer writer. Wahl's wife, Dr. Céline Gounder, says an autopsy was conducted by the New York City Medical Examiner's Office. She writes "Grant died from the rupture of a slowly growing, undetected ascending aortic aneurysm with hemopericardium," a reference to the wall that surrounds the heart. She says "no amount of CPR or shocks would have saved him."

MHSAA – High School Sports
Last Night
Boys Basketball
Kalamazoo Phoenix 76, Eau Claire 57
Wrestling
St. Joseph 33, Portage Central 31
St. Joseph 42, Portage Northern 36
Dowagiac 42, Niles 36
Tonight
Boys Basketball
SMAC
St. Joseph at Lakeshore, 7:00 p.m.             News/Talk/Sports 94.9 WSJM
Mattawan at Portage Central, 7:00 p.m.
Kalamazoo Loy Norrix at Portage Northern, 7:00 p.m.
Battle Creek Central at Battle Creek Lakeview, 7:00 p.m.
Kalamazoo Central at Gull Lake, 7:00 p.m.
Lakeland
Benton Harbor at Dowagiac, 7:15 p.m.
SAC
Bridgman at Allegan, 7:15 p.m.
Girls Basketball
BCS
New Buffalo at Michigan Lutheran, 7:30 p.m.
Our Lady of the Lake at River Valley, 5:30 p.m.
Lakeland
Benton Harbor at Dowagiac, 5:30 p.m.
Brandywine at Buchanan, 7:00 p.m.
Southwest 10
Comstock at Bloomingdale, 6:00 p.m.
Marcellus at Centreville, 7:00 p.m.
Hartford at Decatur, 7:30 p.m.
Bangor at Lawrence, 6:45 p.m.
White Pigeon at Mendon, 7:30
Non-Conference
Cassopolis at Berrien Springs, 7:00 p.m.
Podcast: Play in new window | Download | Embed
Subscribe: Google Podcasts | Spotify | Stitcher | Email | RSS | More