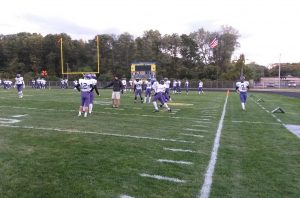 The landscape of Michigan high school football has been changing over the past several years with smaller schools becoming 8-man teams.  With a few more Southwest Michigan schools electing to switch to an 8-man team, a new league has been announced for the 2019 season.
The new league will be known as the Southwest Michigan 8 man Football League.  Area schools forming the new league are…
Lawrence
Bridgman
Lake Michigan Catholic
Martin
Michigan Lutheran
New Buffalo
Wyoming Tri-Unity Christian
Lawrence Athletic Director Aaron Amthor will serve as the league's commissioner.  Amthor will join Phil McDonald and Scott Bradfield Friday morning at 7:30 on Morning Sportsbeat to discuss the new league.