NCAAMBKB – Men's College Basketball
Last Night
Michigan State 67, Oakland 54
North Carolina 80, Michigan 76
Florida State 73, Notre Dame 72
Western Michigan 61, Sienna Heights 41
Youngstown State 76, Central Michigan 65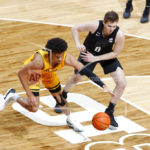 Michigan State 67, Oakland 54 – Michigan State pulls away from Oakland in second half
Joey Hauser scored 16 points, Jaden Akins added 15 and Michigan State pulled away in the second half for a 67-54 win over Oakland for the Spartans' third straight win. Hauser made 4 of 5 3-point attempts and Hauser added three more from the arc as did Tyson Walker, who finished with 13 points. Mady Sissoko had a career-high 12 rebounds to go with nine points. The Spartans hot 49% including 10 of 22 on 3-pointers for 45%. Keaton Hervey led Oakland with 16 points and eight rebounds, Trey Townsend added 14 points and Blake Lampman 11.
North Carolina 80, Michigan 76 – Bacot scores 26, UNC beats Michigan at Jumpman Invitational
Armando Bacot scored 26 points on 11-of-16 shooting, RJ Davis hit four 3-pointers and finished with 19 points and North Carolina held on to beat Michigan 80-76 at the Jumpman Invitational. Caleb Love added 18 points, including four free throws in the closing seconds, for North Carolina. The Tar Heels have won four games in row. Kobe Bufkin led Michigan with 22 points on 7-of-10 shooting. Jett Howard made 6 of 12 from the field and finished with 17 points. The Wolverines used an 11-4 run to trim their deficit to 73-71 when Bufkin made a jumper with 1:23 to play. Davis answered with a runner off the glass 34 seconds later and Michigan got no closer.
Florida State 73, Notre Dame 72 – Cleveland's double-double helps FSU beat Notre Dame 73-72
Matthew Cleveland hit 3 of 4 from 3-point range and finished with 19 points and 12 rebounds, Caleb Mills and Cameron Corhen scored 18 points apiece and Florida State beat Notre Dame 73-72. Cleveland hit three free throws to open the second half and made a pair of 3-pointers just 44 seconds apart to make it 51-46 with 15:51 to play and Florida State led the rest of the way. JJ Starling, a 6-foot-4 freshman guard, made 7 of 11 from the field, 2 of 3 from 3-point range and 4 of 4 from the free-throw line and finished with 20 points and three steals for Notre Dame.
WMU 61, SHU 41 – Lobsinger's 12 lead Western Michigan by Siena Heights 61-41
Led by Owen Lobsinger's 12 points, the Western Michigan Broncos defeated the Siena Heights Saints 61-41 on Wednesday. The Broncos improved to 4-8 with the win.
YSU 76, CMU 65 – Youngstown State defeats Central Michigan 76-65
Dwayne Cohill had 26 points in Youngstown State's 76-65 victory against Central Michigan. Cohill had three steals for the Penguins. Malek Green added 16 points and Brandon Rush scored 15. Brian Taylor finished with 15 points for the Chippewas.
NHL – National Hockey League
Tonight
Detroit Red Wings 7, Tampa Bay Lightning 4
Nashville Predators 4, Chicago Blackhawks 2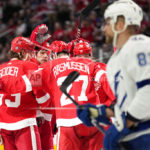 Red Wings 7, Lightning 4 – Red Wings snap 6 game skid, take down Tampa Bay 7-4
Rookie forward Elmer Soderblom's fourth goal of the season snapped a tie early in the third period and gave the Detroit Red Wings the lead for good as they downed the Tampa Bay Lightning 7-4 on Wednesday. With the victory, the Red Wings ended a season-high six-game losing streak (0-4-2). Their previous victory was a 4-2 verdict over the Lightning at Tampa Bay on Dec. 6. The Lightning are 7-3 in their last 10 games, with Detroit accounting for two of those losses.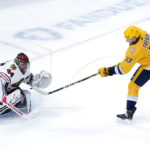 Predators 4, Blackhawks 2 – Roman Josi scores as Predators beat skidding Blackhawks 4-2
Roman Josi and Thomas Novak scored in the third period, and the Nashville Predators handed Chicago its eighth straight loss with a 4-2 victory over the Blackhawks. Matt Duchene and Nino Niederreiter also scored as Nashville earned its second straight win since a six-game slide. Juuse Saros made 37 stops, including a terrific right pad save on Patrick Kane with about 16 minutes left. Chicago dropped to 3-18-4 in its last 25 games. It has been outscored 35-9 during its eight-game slide, matching its longest losing streak of the season.
NBA – National Basketball Association
Last Night
Philadelphia 76ers 113, Detroit Pistons 93
Chicago Bulls 110, Atlanta Hawks 108
Indiana Pacers 117, Boston Celtics 112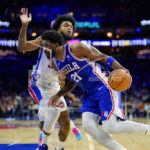 Sixers 113, Pistons 93 – Embiid leads balanced attack, 76ers beat Pistons, 113-93
Joel Embiid had 22 points and 10 rebounds and the Philadelphia 76ers used a balanced scoring attack to extend their winning streak to six games with a 113-93 win over the Detroit Pistons. Tobias Harris had 17 points, despite early foul trouble, and James Harden added 15 points and eight assists for the Sixers. Philadelphia got double-figure scoring from six players, including De'Anthony Melton (12), Georges Niang (11) and Montrezl Harrell (10). Detroit was led by Jaden Ivey's 16 points. Killian Hayes scored 12 and Saddiq Bey 11 for the Pistons, who have lost seven of their last eight games.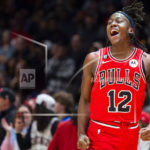 Bulls 110, Hawks 108 – Ayo Dosunmu beats buzzer, Bulls beat Hawks 110-108
Ayo Dosunmu banked in a putback jumper as time expired and the Chicago Bulls rallied after blowing an 18-point lead to win their second straight game, 110-108 over the Atlanta Hawks on Wednesday night. Dosunmu inbounded a pass from the Chicago sideline with four seconds remaining to DeMar DeRozan, who missed a jumper with an airball from the left baseline, but Dosunmu was in place to grab the rebound in the paint and score at the buzzer. DeRozan led Chicago with 28 points, Zach LaVine added 22 points and Nikola Vucevic had 20. Trae Young scored 34 points for Atlanta, and Dejounte Murray had 15 points and 10 assists.
Pacers 117, Celtics 112 – Haliburton scores 33 points, Pacers beat slumping Celtics
Tyrese Haliburton scored 33 points and the Indiana Pacers opened a 30-point lead in the first half before holding off the slumping Boston Celtics 117-112 on Wednesday night. Former Celtics player Aaron Nesmith had 15 points, Chris Duarte added 14 and Myles Turner had 10 to help the Pacers win for just the second time in six games. Jayson Tatum led Boston with 41 points after missing a game because of personal reasons, while point guard Marcus Smart sat out with a non-COVID illness. Jaylen Brown added 19 points and 10 rebounds for Boston, and Malcolm Brogdon had 18 points. Atop the NBA a week ago, the Celtics have dropped five of six.
NCAAWBKB – Women's College Basketball
Last Night
(5) Notre Dame 85, Western Michigan 57
Eastern Michigan 66, Wright State 54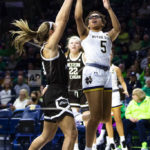 (5) Notre Dame 85, WMU 57 – No. 5 Notre Dame opens 2nd half on 17-0 run in 85-57 rout
Maddy Westbeld scored 10 points in four minutes and No. 5 Notre Dame started the second half on a 17-0 spree en route to a 85-57 win over Western Michigan. The 10-1 Fighting Irish led 38-30 at the half, but scored on seven of their first eight possessions during the third quarter with a trio of 3-pointers. The Broncos missed their first nine shots from the field in the period and saw their three-game winning streak snapped. Westbeld scored a season-high 23 points and had eight rebounds.
NFL – National Football League – Week 16
Tonight
Jacksonville Jaguars at New York Jets, 8:15 p.m.
NFL – Bears not necessarily scheming for Fields to break record
Chicago Bears offensive coordinator Luke Getsy says he hopes Justin Fields breaks the NFL single-season record for rushing yards by a quarterback. Getsy says the Bears won't take Fields out of a game if he's closing in on the record. But he also says the team won't scheme for Fields to reach the mark. Fields has 1,000 yards rushing and has emerged as one of the NFL's most exciting players. He needs 207 more yards to break Lamar Jackson's mark from 2019, an average of 69 per game. The Bears started calling more runs for Fields after he struggled early in the season.
NFL – Suspicious package causes brief lockdown at Bears' facility
The Chicago Bears' practice facility was briefly on lockdown Wednesday because of a suspicious package. Team spokesman Brandon Faber says police were called. No one was allowed to leave or enter the team's suburban campus for about an hour. The Bears practice about 30 miles north of Soldier Field. Chicago is scheduled to host the AFC East-leading Buffalo Bills on Saturday.
NFL – Franco Harris, Steeler who caught Immaculate Reception, dies
Hall of Fame running back Franco Harris has died at the age of 72 just days before the 50th anniversary of the "Immaculate Reception." His catch for the Pittsburgh Steelers is considered the most iconic play in NFL history. Harris ran for 12,120 yards and won four Super Bowl rings with Pittsburgh in the 1970s. The team's dynasty began in earnest when Harris decided to keep running during a last-second heave by quarterback Terry Bradshaw in a playoff game against Oakland in 1972. His catch and run off a deflected pass gave the Steelers their first-ever playoff win. Harris' son, Dok, told The Associated Press on Wednesday that his father died overnight. No cause of death was given.
MLB – Cubs, All-Star SS Swanson finalize $177 million, 7-year deal
All-Star shortstop Dansby Swanson has joined the Chicago Cubs, finalizing a $177 million, seven-year contract. The addition of Swanson is the biggest of three major moves by the Cubs since the end of the season. Right-hander Jameson Taillon signed a $68 million, four-year contract, and 2019 NL MVP Cody Bellinger got a $17.5 million, one-year deal. The 28-year-old Swanson is coming off perhaps his best big league season, hitting .277 with 25 homers and a career-best 96 RBIs in 162 games for Atlanta.
MLB – Aaron Judge becomes Yanks captain, with Derek Jeter at side
Aaron Judge has been appointed captain of the New York Yankees after agreeing to a $360 million, nine-year contract to remain in pinstripes. Judge became the Yankees' first captain since Derek Jeter retired at the end of the 2014 season. New York had six previous captains in the Steinbrenner family era: Thurman Munson, Graig Nettles, Willie Randolph, Ron Guidry, Don Mattingly and Jeter. Judge homered in his first big league at-bat for the Yankees in 2016, and the 6-foot-7 outfielder has become a larger-than-life figure in the Bronx.
Soccer – Pelé's cancer worsens, kidneys and heart affected
Doctors say Pelé's health has worsened during his hospital stay to regulate his cancer medication. The hospital says in a statement that Pelé's cancer has advanced and that he is under "elevated care" related to "kidney and cardiac dysfunctions." One of his daughters says the 82-year-old Brazilian soccer great will remain at the Albert Einstein hospital in Sao Paulo for Christmas. Pelé is undergoing chemotherapy in his fight against cancer since he had a colon tumor removed in September 2021. Neither his family nor the hospital have said whether it had spread to other organs. Pelé led Brazil to victory the 1958, 1962 and 1970 World Cups.
Soccer – Grant Wahl's life celebrated at New York City gathering
Grant Wahl was remembered for his peripatetic life as a sportswriter, pursuit of social justice and lasting impact on family, friends and people he mentored. Wahl died at age 49 from aortic aneurysm on Dec. 10 while covering a World Cup match in Qatar. A two-hour celebration of his life at The Times Center on Wednesday drew several hundred people, including colleagues and soccer officials. Wahl's wife, Celine Gounder, spoke along with his brother, Eric Wahl, and former Sports Illustrated colleagues.
ECHL – ECHL Hockey League
Last Night
Kalamazoo Wings 4, Cincinnati Cyclones 3 – OT
MHSAA – High School Sports
Last Night
Boys Basketball
Buchanan 57, White Pigeon 40
Plainwell 53, Vicksburg 40
Girls Basketball
Buchanan 67, River Valley 26
Vicksburg 53, Plainwell 46
Kalamazoo Hackett 31, Gobles 27
Wrestling
SMAC Quad at St. Joseph
St. Joseph 59, Mattawan 24
St. Joseph 54, Battle Creek Central 24
Lakeshore 63, Mattawan 15
Lakeshore 77, Battle Creek Central 6
Otsego, Plainwell at Three Rivers
Plainwell 40, Three Rivers 26
Three Rivers 53, Otsego 28
Tonight
Games are cancelled
Podcast: Play in new window | Download | Embed
Subscribe: Google Podcasts | Spotify | Stitcher | Email | RSS | More