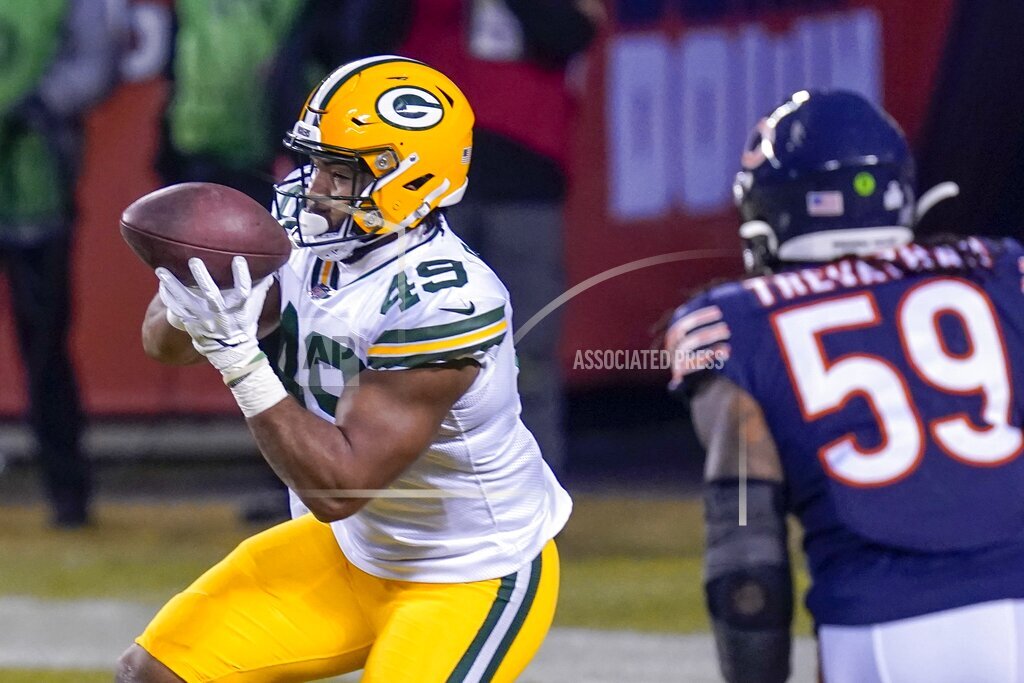 NFL – National Football League – Week 17
Last Night
Green Bay Packers 35, Chicago Bears 16
Indianapolis Colts 28, Jacksonville Jaguars 14
Minnesota Vikings 37, Detroit Lions 35
Packers 35, Bears 16 – Rodgers throws 4 TDs, Packers beat Bears 35-16
Aaron Rodgers threw for four touchdowns and broke his franchise record for scoring passes in a season, and the Green Bay Packers clinched the No. 1 seed in the NFC by beating the playoff-bound Chicago Bears 35-16. The Packers (13-3) earned a bye while winning their sixth in a row and beat Chicago (8-8) for the 19th time in 22 games, counting the postseason. The Bears are headed to the playoffs for the second time in coach Matt Nagy's three years despite the loss because Arizona fell to the Los Angeles Rams.
Colts 28, Jaguars 14 – Taylor-made day sends Colts past Jags, back into playoffs
Jonathan Taylor rushed for a franchise-record 253 yards and two scores, Philip Rivers threw for another touchdown and the Indianapolis Colts clinched a playoff spot with a 28-14 victory over Jacksonville. Indy started Sunday needing one of Baltimore, Cleveland, Miami or Tennessee to lose to have a chance at earning one of seven spots in the AFC field. The door opened when Buffalo blew out the Dolphins 56-26 and the Colts took full advantage by scoring the first 20 points against the reeling Jaguars before closing it out with Taylor's 45-yard TD run with 3:35 to play.
Vikings 37, Lions 35 – Cousins throws 3 TDs, Vikings end with 37-35 win over Lions
Kirk Cousins threw for 405 yards and three touchdowns, lifting the Minnesota Vikings to a 37-35 win over the Detroit Lions a matchup of teams finishing disappointing seasons. The Vikings failed for the fourth time in a decade to make two straight trips to the playoffs. The Lions lost their last four games eight of 10 after going into November with 3-3 record under former coach Matt Patricia. Detroit's defense broke franchise records by allowing 519 points and 6,716 yards, breaking marks set by its winless team in 2008 and ranking among the worst in NFL history.
Other NFL Scores
Baltimore 38, Cincinnati 3
Buffalo 56, Miami 26
Cleveland 24, Pittsburgh 22
N.Y. Giants 23, Dallas 19
New England 28, N.Y. Jets 14
Tampa Bay 44, Atlanta 27
L.A. Chargers 38, Kansas City 21
L.A. Rams 18, Arizona 7
Las Vegas 32, Denver 31
New Orleans 33, Carolina 7
Seattle 26, San Francisco 23
Tennessee 41, Houston 38
Washington 20, Philadelphia 14
NFL Playoff Matchups
NFC – National Football Conference

AFL – American Football Conference

1. Green Bay (13-3) (1st round bye)
1. Kansas City (14-2) (1st round bye)
7. Chicago (8-8) at 2. New Orleans (12-4)
Sun. 4:40pm
7. Indianapolis (11-5) at 2. Buffalo (13-3)
Sat. 1:05pm
6. LA Rams (10-6) at 3. Seattle (12-4)
Sat. 4:40pm
6. Cleveland (11-5) at 3. Pittsburgh (12-4)
Sun. 8:15pm
5. Tampa Bay (11-5) at 4. Washington (7-9)
Sat. 8:15pm
5. Baltimore (11-5) at 4. Tennessee (11-5)
Sun. 1:05pm
NFL – Banged-up Chicago Bears back into playoff spot
The Chicago Bears have backed into the playoffs, but they have some health concerns heading into next weekend's matchup with Drew Brees and the New Orleans Saints. Linebacker Roquan Smith and wide receiver Darnell Mooney left Chicago's 35-16 loss to Green Bay with injuries. Smith, Chicago's leading tackler, departed late in the first quarter with an elbow injury. Mooney, who set career highs with 11 receptions for 93 yards, hurt an ankle early in the fourth. The Bears finished at 8-8 but made the playoffs anyway after the Arizona Cardinals lost.
NFL – Jets fire coach Adam Gase after 2 seasons of failed offense
The New York Jets have fired coach Adam Gase, ending a frustrating and disappointing tenure after just two loss-filled seasons. Hired by the Jets in January 2019 Gase went 9-23 with New York including an 0-13 start that was the worst in franchise history and overshadowing even the 1996 squad that went 0-8 on the way to a 1-15 finish and is generally recognized as the team's worst. The move was announced by the team a few hours after New York lost 28-14 at New England on Sunday to end the season 2-14 and the second-worst record in franchise history.
NCAAMBB – Men's College Basketball
Last Night
(16) Michigan 85, (19) Northwestern 66
Wolverines 85, Wildcats 66 – No. 16 Michigan routs No. 19 Northwestern 85-66
Hunter Dickinson scored 15 of his 19 points in the second half and No. 16 Michigan remained unbeaten with an 85-66 rout of No. 19 Northwestern. Chaundee Brown, Franz Wagner and Eli Brooks scored 14 points apiece for the Wolverines, who are the Big Ten's last remaining team without a loss. Michigan took control by scoring the last nine points of the first half and then quickly extended its lead early in the second. Robbie Beran scored 14 points for Northwestern, which has dropped two in a row after a promising start.
NCAAWBB – Women's College Basketball
Last Night
(16) Michigan 84, (15) Northwestern 63
(25) Michigan State 71, Purdue 64
Notre Dame 69, Georgia Tech 67
NBA – National Basketball Association
Last Night
Boston Celtics 122, Detroit Pistons 120
Chicago Bulls 118, Dallas Mavericks 108
Celtics 122, Pistons 120 – Tatum lifts Celtics past Pistons for weekend split
Jayson Tatum hit a fallaway as Blake Griffin stumbled with 2.9 seconds left, then tied up the Detroit veteran on the other end to help the Boston Celtics beat the Pistons 122-120 on Sunday for a weekend split. Jaylen Brown led Boston with 31 points. He hit a late 3-pointer and was 13 of 16 from the field, two nights after his late miss sealed a loss in the opener in Detroit. Tatum had 24 points and 12 assists. Jerami Grant scored 22 points for the Pistons, netting at least that mark for a career-best fifth straight game. On Friday night, Detroit beat Boston 96-93 for its only victory of the season.
Bulls 118, Mavericks 108 – LaVine scores 39, Bulls beat Doncic-less Mavericks 118-108
Zach LaVine had 39 points and Coby White scored 21 of his 23 points in the second half to lead the Chicago Bulls to. a 118-108 victory over the Dallas Mavericks. Jalen Brunson, starting in place of Luka Doncic, had 31 points for the Mavericks. Otto Porter Jr. added 15 for the Bulls, who were without starter Lauri Markkanen and reserves Tomas Satoransky, Chandler Hutchison and Ryan Arcidiacano. Doncic sat out because of a left quadriceps contusion. He's listed as day-to-day, with his status Monday night at Houston uncertain.
Tonight
Detroit Pistons at Milwaukee Bucks, 8:00 p.m.
Indiana Pacers at New Orleans Pelicans, 8:00 p.m.
NHL – Blackhawks, forward Dylan Strome agree to 2-year extension
The Chicago Blackhawks and forward Dylan Strome have agreed to a two-year contract extension. Strome was a restricted free agent. The extension runs through the 2021-22 season and carries a $3 million salary-cap hit. The 23-year-old Strome had 12 goals and 26 assists in 58 games last season. With captain Jonathan Toews sidelined by an illness and fellow forwards Kirby Dach and Alex Nylander out with injuries, the play of Strome is more important than ever for Chicago.