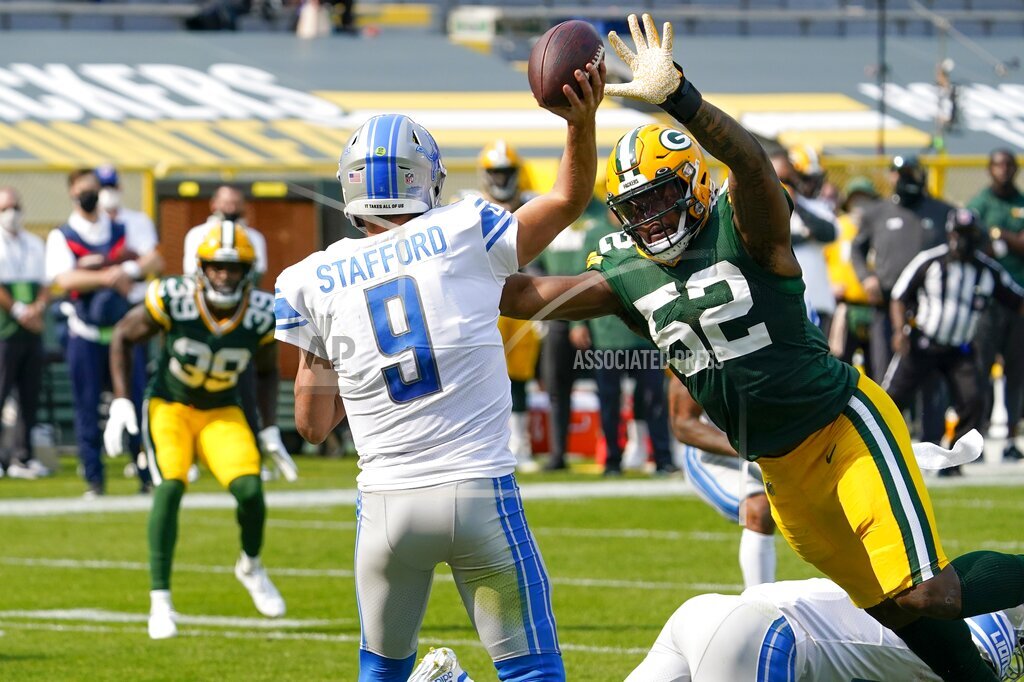 NFL – National Football League – Week 2
Yesterday
Green Bay Packers 42, Detroit Lions 21
Chicago Bears 17, New York Giants 13
Indianapolis Colts 28, Minnesota Vikings 11
Packers 42, Lions 21 – Jones' big day helps Packers beat Lions 42-21
Aaron Jones rushed for a career-high 168 yards and scored three touchdowns, including a 75-yard breakaway, as the Green Bay Packers rallied from an early 11-point deficit to beat the Detroit Lions 42-21. Jones also had a team-high 68 yards receiving on four catches as the Packers won their home opener for an eighth consecutive year. Jones had a 14-yard touchdown run and a 7-yard touchdown catch to go with his 75-yarder. Aaron Rodgers was 18 of 30 for 240 yards with touchdown passes to Jones and Robert Tonyan.
Bears 17, Giants 13 – Trubisky throws 2 TD passes, Barkley hurt, Bears edge Giants
Mitchell Trubisky threw two touchdown passes and the Chicago Bears hung on to beat the New York Giants 17-13. The Bears grabbed a 17-0 halftime lead and withstood a big push a week after rallying from 17 down at Detroit for their first season-opening win in seven years. The Giants refused to go quietly even though they lost star running back Saquon Barkley to a right knee injury on the opening play of the second quarter. New York's Dion Lewis made it a seven-point game when he plowed in from the 1 in the opening minute of the fourth. The Giants got a field goal but stalled from there.
Colts 28, Vikings 11 – Taylor makes hefty workload pay off as Colts beat Vikings
Jonathan Taylor ran for 101 yards and scored a touchdown in his first NFL start, leading the Indianapolis Colts past Minnesota for a 28-11 victory. The Colts avoided their first 0-2 start in coach Frank Reich's three seasons and was win No. 124 for quarterback Philip Rivers. He is now tied with Hall of Famer and former Vikings great Fran Tarkenton for No. 8 in NFL history. Kirk Cousins was 11 of 26 with 113 yards and three interceptions for Minnesota, which fell to 0-2 for the first time since 2013.
Tonight
New Orleans Saints at Las Vegas Raiders, 8:15 p.m.                    News/Talk/Sports 94.9 WSJM 7:30
NFL – Lions' collapse starts well before fourth quarter this time
The Detroit Lions didn't bother waiting until the fourth quarter to blow a double-digit lead this time. The Lions scored touchdowns on their first two series to go ahead 14-3 and allowed that advantage to disintegrate by halftime. Detroit's 42-21 loss to the Green Bay Packers made the Lions the first team ever to blow double-digit leads to lose four consecutive games, according to the Elias Sports Bureau. The Lions have lost 11 straight games overall for their longest skid since dropping 19 straight from 2007-09.
NFL – New York Giants lose Barkley, fall to 0-2 under Joe Judge
Saquon Barkley left New York's 17-13 loss at Chicago with a right knee injury, potentially sidelining the star running back for an extended period. Barkley went down hard on the Chicago sideline after trying to fend off Bears safety Eddie Jackson on a 6-yard carry early in the second quarter. The 2018 NFL offensive rookie of the year dragged his right leg behind him as he was helped back across the field to the Giants sideline. After a short conversation with trainers, Barkley got on a cart and was driven into the tunnel. The team said he was going for X-rays and would undergo further evaluation on Monday. New York fell to 0-2 under new coach Joe Judge.
NFL – Bears agree to 3-year contract extension with RB Cohen
The Chicago Bears have agreed to a three-year contract extension with running back and return specialist Tarik Cohen. The deal announced Sunday guarantees about $9.5 million and could be worth $18.25 million, agent Drew Rosenhaus said. Drafted by the Bears out of North Carolina A&T in the fourth round in 2017, the speedy and versatile Cohen has been an important contributor on offense and special teams.
MLB – Major League Baseball
Last Night
Cleveland Indians 7, Detroit Tigers 4
Cincinnati Reds 7, Chicago White Sox 3
Minnesota Twins 4, Chicago Cubs 0
Indians 7, Tigers 4 – Carrasco, Ramirez star as Indians top Tigers 7-4
Carlos Carrasco allowed one hit in seven scoreless innings, and Jose Ramirez homered twice to lift the Cleveland Indians to a 7-4 victory over the Detroit Tigers. Cleveland took three of four in this series after entering on an eight-game losing streak, and now the Indians are closing in on a postseason berth. Ramirez had two multihomer games in the series — he also hit two Thursday night. Matthew Boyd was perfect through four innings for the Tigers, but the Indians scored three runs in the fifth. Then Ramirez added two-run homers in the sixth and seventh to make it 7-0.
Reds 7, White Sox 3 – Reds cash in on White Sox control woes for 7-3 victory
Mike Moustakas hit a two-run single as Cincinnati scored five times in the fourth inning on just one hit, and the Reds took advantage of wild Chicago White Sox pitching for a 7-3 win. Aristides Aquino hit a two-run homer as the surging Reds stayed in contention for a playoff spot, beating the AL Central leaders for their seventh win in eight games. Cincinnati broke away by turning six walks, a hit batter and Moustakas' single into a big inning. The playoff-bound White Sox issued a season-high 11 walks and hit three batters overall.
Twins 4, Cubs 0 – Kepler homers and Twins beat Cubs and Darvish 4-0
Max Kepler homered, José Berríos threw six shutout innings to outduel Yu Darvish and the Minnesota Twins beat the Chicago Cubs 4-0. Kepler had three hits and Josh Donaldson added two hits for the Twins, who took two of three from the NL Central-leading Cubs. After winning the AL Central last year, Minnesota clinched its second straight postseason berth on Saturday and trails the Chicago White Sox by two games in the division. The Cubs scored just two runs in the series and maintain a 3 1/2-game lead over St. Louis in the NL Central. Chicago had won five of six.
Today
Chicago White Sox (Dunning 2-0) at Cleveland (Civale 3-5), 6:10 p.m.
Chicago Cubs (Lester 2-2) at Pittsburgh (Brubaker 1-2), 7:05 p.m.
Tigers are off
NHL – National Hockey League – Stanley Cup Finals – (Best of 7)
Tonight
at Rogers Arena, Edmonton
Dallas Stars vs. Tampa Bay Lightning, 8:00 p.m.                          (DAL leads 1-0)
NHL – No more swallowing the whistle: Penalties affecting playoffs
Gone are the days that you have to mug somebody to get a penalty late in regulation of a playoff game or in overtime. Referees swallowing their whistles because they don't want to influence the game are a thing of the past. But part of the reason for that is some of the penalties can't be ignored. Delay of game for puck over the glass? Automatic penalty. High stick drawing blood? That's four minutes in the box. The 2020 NHL playoffs have featured plenty of those penalties. And some of them have been game-and series changing in the fight for the Stanley Cup.
NBA – National Basketball Association Playoffs – Conference Finals (Best of 7)
Last Night
Los Angeles Lakers 105, Denver Nuggets 103                             (LAL leads 2-0)
Tonight
No games tonight
NCAA Football – Marshall jumps into rankings
A week before Big Ten teams become eligible again for The Associated Press college football poll, No. 25 Marshall is ranked for the first time since 2014 and Miami jumped to No. 12 after a conference road victory. Clemson remained a nearly unanimous No. 1 in the AP Top 25 after another light week in college football. The rest of the top 10 was basically unchanged. No. 2 Alabama received one first-place vote. Oklahoma was No. 3, followed by Georgia, Florida and LSU at No. 6. The defending champion Tigers also received a first-place vote.
Golf – PGA – DeChambeau, Wolff match eagles on 9th at US Open
Bryson DeChambeau has won the U.S. Open — the first major championship for golf's long-hitting mad scientist. He shot 67 on Sunday to finish at 6 under. Third-round leader Matthew Wolff shot 75 to finish second, six strokes back. DeChambeau is the third person in history to win an NCAA title, a U.S. Amateur and the U.S. Open. The others are Jack Nicklaus and Tiger Woods. DeChambeau was the only player under par in the final round, laughing off Winged Foot's narrow fairways and thick rough with his booming drives that averaged 325 yards.
Golf – Champions – Furyk joins elite company
Jim Furyk joined Arnold Palmer and Bruce Fleisher as the only players to win their first two PGA Tour Champions starts. Furyk beat Jerry Kelly with a birdie on the first hole of a playoff in the Pure Insurance Championship. Furyk closed with a 5-under 67 to match Kelly at minus-12.
Golf – LPGA – Hall wins LPGA Portland Classic
Georgia Hall has captured the Cambia Portland Classic for her first LPGA Tour victory in the United States. She beat Ashleigh Buhai with a par on the second hole of a playoff after carding a 4-under 68 on Sunday.
Cycling – Slovenian rookie wins Tour de France
A Tour de France rookie has become the youngest winner of cycling's showpiece race since World War II, and the first from Slovenia. Tadej Pogacar made a victory ride into Paris Sunday on the eve of his 22nd birthday, a day after snatching the lead from a fellow Slovenian in a high-drama time trial.
MHSAA – High School Sports
Today
Girls Golf
SMAC West at Portage Northern (The Moors), 3:30 p.m.
BCS Jamboree at Kalamazoo Christian (Crestview), 4:00 p.m.


Boys Soccer
Niles at Kalamazoo Loy Norrix, 6:30 p.m.
Delton-Kellogg at Coloma, 6:00 p.m.
Constantine at Berrien Springs, 6:30 p.m.
Bronson at Buchanan, 5:00 p.m.
Bridgman at Howardsville Christian, 5:00 p.m.
Lawrence at Michigan Lutheran, 5:00 p.m.
Plainwell at Allegan, 6:30 p.m.
Edwardsburg at Dowagiac, 5:00 p.m.
Three Rivers at Otsego, 6:30 p.m.
Vicksburg at Sturgis, 6:30 p.m.
Kalamazoo Hackett at Parchment, 5:00 p.m.
Kalamazoo Christian at Saugatuck, 6:00 p.m.
Lawton at Schoolcraft, 5:00 p.m.
Fennville at Watervliet, 4:30 p.m.

Boys Tennis
St. Joseph at Kalamazoo Loy Norrix, 4:00 p.m.
South Haven at Niles, 4:30 p.m.
Allegan at Paw Paw, 4:30 p.m.
Girls Volleyball
South Haven at Harper Creek, 4:30 p.m.
Mattawan at Kalamazoo Central, 6:30 p.m.
Countryside Academy at Eau Claire, 5:00 p.m.
Hartford at New Buffalo, 6:00 p.m.