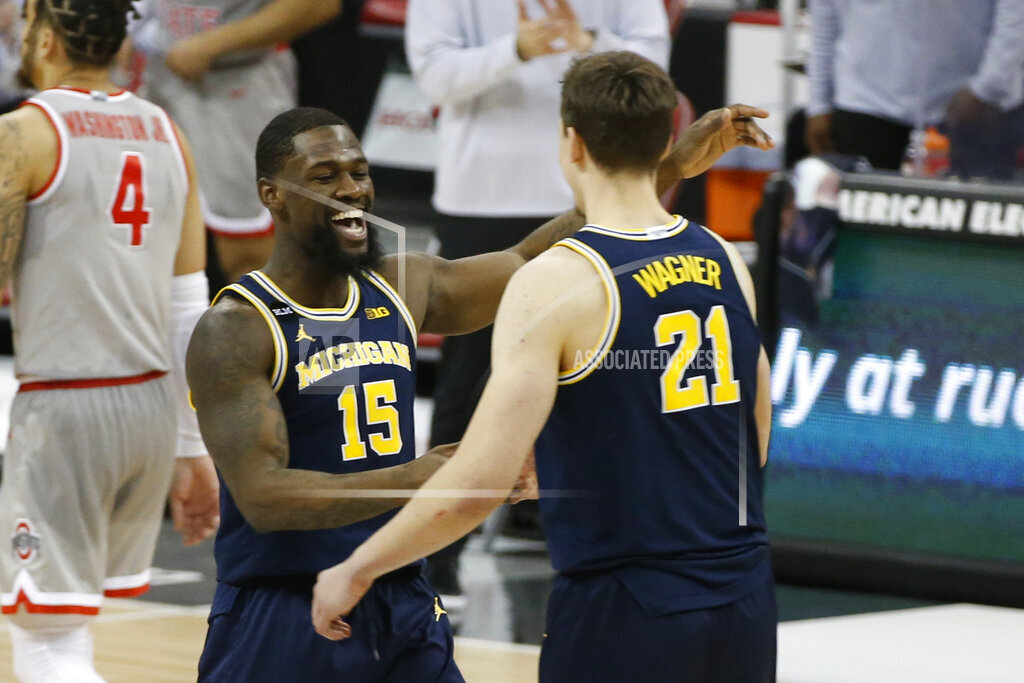 NCAAMBB – Men's College Basketball
Last Night
(3) Michigan 92, (4) Ohio State 87
Western Michigan at Ball State, PPD
(3) Michigan 92, (4) Ohio State 87 – Dickinson's 22 lifts No. 3 Michigan over No. 4 Ohio St 92-87
Hunter Dickinson had 22 points and nine rebounds and Eli Brooks scored 17 as No. 3 Michigan held off No. 4 Ohio State 92-87.  Michigan led by nine with 23 seconds left, but a pair of 3-pointers from Duane Washington Jr. around a layup by CJ Walker got the Buckeyes within three points with 3 seconds left in the game. A couple of foul shots by Brooks sealed it. Washington had a career-high 30 points and E.J. Liddell had 23 to go along with 10 rebounds for the Buckeyes.
NBA – National Basketball Association
Last Night
Orlando Magic 105, Detroit Pistons 96
Magic 105, Pistons 96 – Nikola Vucevic scores 37 points, Magic beat Pistons 105-96
Nikola Vucevic had 37 points and 11 rebounds, Evan Fournier added a season-high 29 points and the Orlando Magic beat the Detroit Pistons 105-96 on Sunday night. The Magic have won three in a row, their longest since opening the season 4-0. The teams will play again in Orlando on Tuesday night. Vucevic had his seventh 30-point game of the season, two days after his third career triple-double. Fournier had a season high for the second straight game. Jerami Grant led Detroit with 24 points.
Tonight
Chicago Bulls at Houston Rockets, 8:00 p.m.
San Antonio Spurs at Indiana Pacers, PPD
NCAAWBB – Women's College Basketball
Last Night
(11) Michigan 75, (15) Ohio State 66
Michigan State 76, Purdue 73
Eastern Michigan 69, Toledo 59
(11) Michigan 75, (15) Ohio State 66 – No. 11 Michigan women beat No. 15 Ohio State 75-66
Naz Hillmon scored 27 points and No. 11 Michigan defeated No. 15 Ohio State 75-66 to split the season series. Hillmon scored 50 points and grabbed 16 rebounds in an 81-77 loss to the Buckeyes on Jan. 21 but only four Wolverines scored in that loss. This time, seven Wolverines put up points, including Amy Dilk with 13 points and six assists, Akienreh Johnson scoring 12 points and Leigha Brown, who missed the first meeting, putting in 11.
Tonight
Notre Dame at Pittsburgh, 8:00 p.m.
Tennis – Australian Open: Dominant Djokovic wins 18th major title
Novak Djokovic has won his ninth Australian Open championship and 18th Grand Slam title overall with a straight-set win over No. 4 Daniil Medvedev 7-5, 6-2, 6-2, in the men's final at Rod Laver Arena. The No. 1-ranked Djokovic is 9-0 in finals at Melbourne Park and has closed the gap on rivals Roger Federer and Rafael Nadal for most Slam trophies won by a man. They each have 20. Medvedev took a 20-match winning streak into the final but was no match for the man who has never lost a semifinal or final he's contested at the Australian Open.
NASCAR – Bell snags first Cup victory in another surprise Gibbs win
Christopher Bell raced to the his first NASCAR Cup victory with a late pass Sunday on the road course at Daytona International Speedway. Bell is in his first season driving for Joe Gibbs Racing. He drove for Leavine Family Racing as a rookie last year but was pulled in-house to Gibbs. JGR celebrated another surprise win Saturday when 18-year-old Ty Gibbs won his first Xfinity Series start. Chase Elliott's streak of four consecutive road course race victories was snapped. He had the best car but a late caution got him stuck back in traffic. He finished 21st.
MLB – MLB spring training still a hot ticket in Arizona
The appetite to sit in the sun and watch Major League Baseball spring training is still strong. The Arizona Diamondbacks sold out their entire spring allotment of tickets in less than 24 hours after they went on sale to the public. Approximately 2,200 tickets were sold for all 14 of the team's home games, with fans spread throughout the park in pods of two, four or six seats. Spring training facilities across Arizona and Florida have been making decisions about how many fans are allowed to attend games.
Golf – PGA – Homa wins in playoff
Max Homa may not have scripted it this way, but the 30-year-old California has earned a victory in the PGA tournament near his hometown.  Homa captured the Genesis Invitational in a one-hole playoff against Tony Finau (FEE'-now). The win was secured just minutes after Homa missed a 3-foot birdie putt on 18 to extend the tournament. Homa closed with a 5-under 66 and played the final 26 holes without a bogey for a minus-12 total.  Finau recorded his 10th runner-up finish worldwide since his lone victory in the Puerto Rico Open five years ago. Sam Burns closed with a 69 and missed the playoff by one shot after leading the second and third rounds.
Golf – Woods recovering from back surgery and hopes for Masters
Tiger Woods says he's still a little stiff and very much uncertain when he will play next. He is recovering from a fifth back surgery on Dec. 23. Woods was at Riviera on Sunday as the host of the Genesis Invitational. He said on the CBS broadcast that he still has one more MRI scheduled to see if his back is ready to take on more activities. When asked if he would be at the Masters, Woods says only, "God, I hope so." Woods is a five-time Masters champion.
MHSAA – High School Sports
Tonight
Boys Basketball
Lakeshore at Kalamazoo Central, 7:00 p.m.              News/Talk/Sports 94.9 WSJM
Benton Harbor at Brandywine, 7:30 p.m.
Mattawan at Portage Northern, 7:00 p.m.
Paw Paw at Otsego, 7:15 p.m.
Dowagiac at Plainwell, 7:15 p.m.
Allegan at Sturgis, 7:15 p.m.
Vicksburg at Three Rivers, 7:15 p.m.
Bangor at Eau Claire, 7:30 p.m.
Howardsville Christian at Kalamazoo Homeschoolers, 7:30 p.m.
Battle Creek Central at Harper Creek, 7:00 p.m.
Girls Basketball
Kalamazoo Central at Lakeshore, 7:00 p.m.
Michigan Lutheran at New Buffalo, 7:30 p.m.
Benton Harbor at Saugatuck, 7:00 p.m.
Portage Northern at Mattawan, 7:00 p.m.
Otsego at Paw Paw, 7:15 p.m.
Plainwell at Dowagiac, 7:15 p.m.
Sturgis at Allegan, 7:00 p.m.
Three Rivers at Vicksburg, 7:15 p.m.
Bangor at Eau Claire, 6:00 p.m.
Howardsville Christian at Kalamazoo Homeschoolers, 6:00 p.m.
Lawrence at River Valley, 7:00 p.m.
Harper Creek at Battle Creek Central, 6:00 p.m.