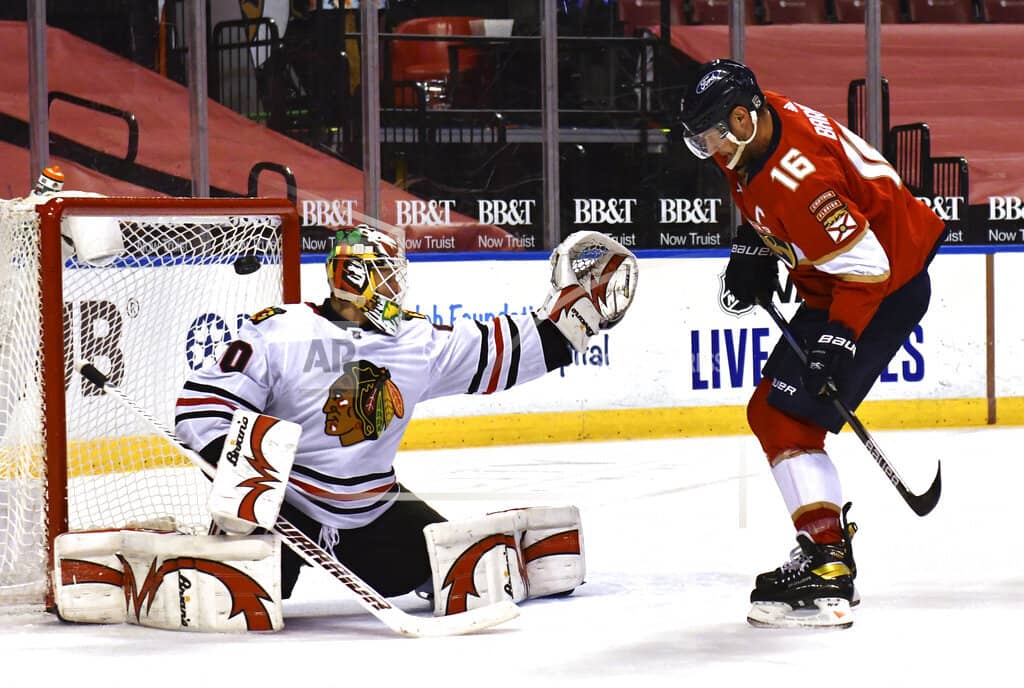 NHL – National Hockey League
Saturday
Detroit 4, Carolina 2
Red Wings first win in 312 days.
Last Night
Florida Panthers 5, Chicago Blackhawks 2
Blackhawks fall to  0-3-0
Panthers 5, Blackhawks 2 – Yandle gets 100th NHL goal, Panthers beat Blackhawks 5-2
Keith Yandle got his 100th career goal, Chris Driedger made 23 saves and the Florida Panthers beat the Chicgo Blackhawks 5-2. Eetu Luostarinen scored his first NHL goal, and Aaron Ekblad, Patric Hornqvist, and Jonathan Huberdeau also scored for Florida, which had three goals in the third period to pull away in its delayed opener. The Panthers were to have played Dallas last week twice, games that were called off because of a COVID-19 outbreak among the Stars.  The Blackhawks have scored 2 goals or less in their 3 games this season falling to 0-3-0.
Today
Columbus Blue Jackets at Detroit Red Wings, 12:00 p.m.
NFL – National Football League – Divisional Playoffs
All Games on News/Talk/Sports 94.9 WSJM
Saturday
Green Bay 32, Los Angeles Rams 18
Buffalo 17, Baltimore 3
Yesterday
Kansas City 22, Cleveland 17
Tampa Bay 30, New Orleans 20
Chiefs 22, Browns 17 – After losing Mahomes, Chiefs and Henne hold off Browns 22-17
The Kansas City Chiefs forced the Cleveland Browns to punt in the waning minutes Sunday with star quarterback Patrick Mahomes out with a concussion. Then 35-year-old backup Chad Henne showed some moxie with a long third-down scramble and a fourth-down completion to Tyreek Hill with just over a minute left to give the Chiefs a first down and allowing them to run out the clock on a 22-17 victory in the divisional round of the playoffs.  They advanced to their third straight AFC title game and will face the Buffalo Bills next Sunday.
Buccaneers 30, Saints 20 – Brady, Bucs, end playoffs for Saints, Brees, 30-20
Tom Brady's best game in three tries against New Orleans has the Buccaneers moving on in the NFL playoffs and Saints quarterback Drew Brees headed home — perhaps for good. Brady and the Bucs' offense turned three of the Saints' four turnovers, which included three Brees interceptions, into touchdowns, and Tampa Bay beat New Orleans 30-20 in the divisional round of the NFL playoffs. Two touchdowns came on short passes to Mike Evans and Leonard Fournette. Brady also scored on a 1-yard run. The Bucs advanced to the NFC championship game in Green Bay.
Next Sunday
NFC Championship Game
Tampa Bay at Green Bay, 3:05 p.m.
AFC Championship Game
Buffalo at Kansas City, 6:40 p.m.
NCAAFB – Michigan hires Ravens' Macdonald as defensive coordinator
Michigan hired Baltimore Ravens linebacker coach Mike Macdonald as its new defensive coordinator. The 33-year-old Macdonald replaces Don Brown, who recently became the defensive coordinator at Arizona. It's a significant hire for Michigan, which is trying to find its footing under coach Jim Harbaugh after going 2-4 in this abbreviated season. Macdonald worked for Harbaugh's brother, John, with the Ravens. The Ravens were eliminated from the playoffs in a loss to Buffalo on Saturday night.
NCAAMBB – Men's College Basketball
Saturday
(23) Minnesota 75, (7) Michigan 57
Miami (OH) at Western Michigan, PPD
Notre Dame 80, Boston College 70
Central Michigan 75, Eastern Michigan 64
Sunday
Indiana at Michigan State, PPD
Today
Notre Dame at Howard, Cancelled
NBA – National Basketball Association
Saturday
Detroit Pistons 120, Miami Heat 100
Indiana at Phoenix, PPD
Yesterday
Chicago Bulls 117, Dallas Mavericks 101
Los Angeles Clippers 129, Indiana Pacers 96
Bulls 117, Mavericks 101 – Bulls roll past Mavs 117-101 to end 4-game losing streak
Lauri Markkanen had 29 points and 10 rebounds, Garrett Temple scored 15 of his season-high 21 points in the second quarter and the Chicago Bulls ended a four-game losing streak with a 117-101 victory over the Dallas Mavericks. Dallas star Luka Doncic passed Michael Jordan on the career list with his 29th triple-double, finishing with 36 points, 16 rebounds and 15 assists. The Slovenian sensation, who had 30 points at halftime, didn't get nearly enough help with the Mavericks missing five rotation players because of COVID-19 protocols and guard Tim Hardaway Jr. with a left groin strain.
Clippers 129, Pacers 96 – Clippers beat Pacers 129-96 for 1st 4-game winning streak
Marcus Morris scored a season-high 20 points to lead seven players in double figures, and the Los Angeles Clippers defeated the Indiana Pacers 129-96 for their first four-game winning streak of the season. Paul George and Luke Kennard also scored 20 points each. Doug McDermott led the Pacers with 23 points, making five 3-pointers. Domantas Sabonis added 19 points and 14 rebounds. Indiana closed within two points early in the third before the Clippers ran away. They outscored the Pacers 37-14 the rest of the quarter to lead 100-75 going into the fourth.
Today
Detroit Pistons at Miami Heat, 3:00 p.m.
Houston Rockets at Chicago Bulls, 8:00 p.m.
NCAAWBB – Women's College Basketball
Saturday
Eastern Michigan 64, Akron 46
Ohio 93, Central Michigan 84
Western Michigan at Kent State, PPD
Michigan State at Illinois, PPD
Sunday
Notre Dame 83, Boston College 73
Today
Michigan State at (13) Michigan, PPD
MHSAA – High School Sports
Football – State Semifinals
Last Friday
Division 8
Centreville 1, Clarkson Everest Collegiate 0 (Centreville wins by forfeit)
Centreville (10-0) will face Ubly (9-2) for the State Title, Friday at 10 am at Ford Field
Saturday
Division 4
Cadillac 28, Edwardsburg 26
Division 6
Clinton 40, Constantine 6
Division 7
New Lothrop 36, Schoolcraft 21