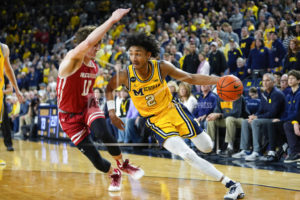 NCAAMBKB – Men's College Basketball
Yesterday
Michigan 87, Wisconsin 79 – OT
Michigan 87, Wisconsin 79 – OT – Bufkin, Dickinson lead Michigan past Wisconsin 87-79 in OT
Kobe Bufkin scored 28 points, Hunter Dickinson had 23, including a buzzer-beating 3-pointer that sent the game into overtime, and Michigan outlasted Wisconsin 87-79 on Sunday. The Badgers kept chipping away at a 35-27 halftime deficit and eventually took a 61-59 lead on a driving layup by Max Klesmit with 3:06 remaining in regulation. There were two ties and three lead changes in the final 2:19, the last tie coming on Dickinson's buzzer-beating 3-pointer. There were also two ties and three lead changes early in overtime before Michigan took control with a 10-0 run. Dug McDaniel finished with 20 points for the Wolverines. Dickinson added 10 rebounds for his fifth double-double in the last seven games. Connor Essegian had 24 points for Wisconsin.  Michigan wraps up the regular season with road games against Illinois on Thursday and No. 17 Indiana on Sunday.
NCAAWBKB – Women's College Basketball
Yesterday
(10) Notre Dame 68, Louisville 65
Wisconsin 78, (12) Michigan 70
(10) Notre Dame 68, Louisville 65 – No. 10 Notre Dame overcomes Miles injury to clinch ACC
Sonia Citron scored 27 points and No. 10 Notre Dame overcame the loss of star guard Olivia Miles to a knee injury to beat Louisville 68-65 and clinch the ACC regular season title. Miles, who leads the Irish in several categories, was hurt with 2:35 remaining before halftime Sunday while diving for a loose ball. The sophomore returned to the bench in the third quarter with the knee wrapped in ice and eventually a bandage before watching Notre Dame rally from a 33-24 halftime deficit and take the lead for good in the fourth quarter. Hailey Van Lith had 23 points for Louisville.
Wisconsin 78, (12) Michigan 70 – Pospisilova scores 25, Wisconsin women top No. 12 Michigan
Julie Pospisilova scored 25 points and Wisconsin made 12 of 14 free throws in the final two minutes to upset No. 12 Michigan 78-70 to close the Big Ten regular season. Maty Wilke added 15 points for the Badgers, who secured the No. 10 seed for the league tournament and avoided a first-round game on Wednesday for the first time. Wisconsin had not beaten Michigan since 2014. Maddie Nolan hit five 3-pointers and scored 21 points for the Wolverines, who were without leading scorers Leigha Brown (18.2) and Laila Phelia (17.0), go into the league tournament as the five seed.
NBA – National Basketball Association
Yesterday
Chicago 102, Washington Wizards 82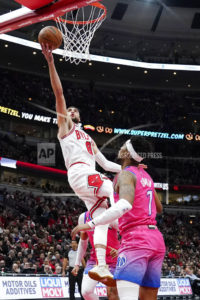 Bulls 102, Wizards 82 – DeRozan, LaVine combine for 56, Bulls zoom past Wizards
DeMar DeRozan scored 29 points, Zach LaVine added 27 and the Chicago Bulls overcame their shooting woes from long range to beat the Washington Wizards 102-82. Alex Caruso and LaVine each sank 3-pointers midway through the third quarter to turn a one-point deficit into a 57-52 lead the Bulls wouldn't relinquish. Before the consecutive 3s, the Bulls converted only one of their first 16 3-point attempts. Bradley Beal scored 18 points for the Wizards who lost their second consecutive game. They played without forward-center Kristaps Porzingis due to left knee soreness and guard Monte Morris was scratched less than an hour before tip off because of lower back soreness.
Tonight
Detroit Pistons at Charlotte Hornets, 7:00 p.m.
NBA – Blazers' Lillard has 71 pts and 13 3s, then gets drug tested
Lillard set franchise and career highs with 71 points which tied for the most in the NBA this season and 13 3-pointers and the Portland Trail Blazers snapped a two-game losing streak with a 131-114 victory over the Houston Rockets. Lillard tied Cleveland's Donovan Mitchell for the most points in a game this season after Mitchell also scored 71 in a win over Chicago on Jan. 2. Lillard broke his own franchise mark of 61 points, which he'd done twice, on a 3-pointer with 4:42 left that also broke his career record for 3s in a game with 11. Lillard's 13 3-pointers were one shy of the NBA record set by Golden State's Klay Thompson in 2018.
NHL – National Hockey League
Tonight
Detroit Red Wings at Ottawa Senators, 7:00 p.m.
Chicago Blackhawks at Anaheim Ducks, 10:00 p.m.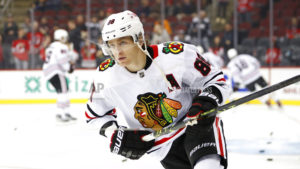 NHL – Beyond Kane, much uncertainty ahead of NHL trade deadline
A handful of big moves already have been made well ahead of the NHL trade deadline. Plenty more are expected before Friday at 3 p.m. Eastern. Patrick Kane going from Chicago to the New York Rangers is the most highly anticipated deal on the docket. Aside from that, there is plenty of uncertainty and additional big-name players who could change places. Sunday alone brought Timo Meier getting traded from San Jose to New Jersey, Tanner Jeannot going from Nashville to Tampa Bay and Ivan Barbashev from St. Louis to Vegas. In the next few days, Arizona's Jakob Chychrun is likely to be traded, too.
MLB – Major League Baseball – Spring Training
Yesterday
Baltimore Orioles 10, Detroit Tigers 6
Los Angeles Angels 7, Chicago White Sox 0
Los Angeles Dodgers 9, Chicago Cubs 4
Today
Cleveland Guardians at Chicago Cubs (SS), 3:05 p.m.
Chicago Cubs (SS) at Arizona Diamondbacks, 3:10 p.m.
Seattle Mariners at Chicago White Sox, 3:05 p.m.
Detroit Tigers at New York Yankees, 6:35 p.m.
Golf – PGA – Chris Kirk, after 8-year wait, wins the Honda Classic
Chris Kirk waited nearly eight years to win a PGA Tour event again. Waiting one more hole on Sunday was no problem. Kirk stuck his approach to the par-5 18th to tap-in range, and his birdie on the first hole of a playoff lifted him past Eric Cole for the victory at the Honda Classic on Sunday. Cole had a chance, playing his third shot from the sand to just outside of 10 feet for a birdie that would have extended the playoff. But it lipped out, and Kirk nudged his ball in for his fifth career win.
Golf – LIV – Charles Howell III with 63 wins in Mexico for 1st LIV title
Charles Howell III has won the LIV Golf opener in Mexico. This one finally felt easy. Howell shot a 63 in the final round at Mayakoba thanks to a hot putter. He wound up winning by four shots over Peter Uihlein. Howell picked up $4 million for the individual title and an additional $1 million for leading his team Crushers to a nine-shot win. Uihlein was still in range of Howell until the 12th hole. Uihlein had to hit three tee shots. Only two of them counted but it added to a triple bogey. He battled back for a 68.
NASCAR – Kyle Busch gets 1st RCR victory in Fontana's NASCAR farewell
Kyle Busch sent Fontana off in style. The veteran stormed up from the back after an early penalty and earned his first victory for Richard Childress Racing while winning on this Southern California track for the fifth time. Busch held off Chase Elliott and Ross Chastain in NASCAR's final race on the gloriously weathered asphalt at Auto Club Speedway, which will soon be demolished to make room for a half-mile track. Busch drove his Chevrolet to victory in only his second race with RCR, which scooped him up in December after his 15-year tenure with Joe Gibbs Racing ended.
MCCAA – Junior College Athletics
Saturday
Women's Basketball
Marian Ancilla 65, Lake Michigan College 56
Southwestern Michigan 58, Glen Oaks Community College 52
Men's Basketball
Lake Michigan College 90, Marian Ancilla 81
Glen Oaks Community College 63, Southwestern Michigan 55
MHSAA – High School Sports
Tonight
Girls Basketball – District Quarterfinals
Division 1 at Portage Northern (1st round at local sites)
St. Joseph at Mattawan, 7:00 p.m.
Lakeshore at Kalamazoo Loy Norrix, 7:00 p.m.
Portage Central at Portage Northern, 7:00 p.m.
Division 1 at Battle Creek Lakeview
Harper Creek vs. Battle Creek Central, 5:30 p.m.
Gull Lake vs. Sturgis, 7:00 p.m.
Division 2 at Edwardsburg
Benton Harbor vs. Berrien Springs, 7:00 p.m.
Division 2 at Vicksburg
Marshall vs. Battle Creek Pennfield, 7:00 p.m.
Division 2 at Hopkins
Hamilton vs. Allegan, 6:00 p.m.
Division 3 at Bloomingdale
Bangor vs. Bloomingdale, 7:00 p.m.
Division 3 at Lawton
Comstock vs. Delton-Kellogg, 5:30 p.m.
Lawton vs. Galesburg-Augusta, 7:00 p.m.
Division 3 at Constantine
Union City vs. Constantine, 7:00 p.m.
Division 3 at Coloma
Cassopolis vs. Bridgman, 7:00 p.m.
Division 4 at Michigan Lutheran
Our Lady of the Lake vs. Watervliet Grace Christian, 7:00 p.m.
New Buffalo wins over Countryside Academy by forfeit
Division 4 at Decatur
Decatur vs. Byron Center Zion Christian, 5:30 p.m.
Lawrence vs. Eau Claire, 7:00 p.m.
Division 4 at Mendon
Marcellus vs. Burr Oak, 7:00 p.m.