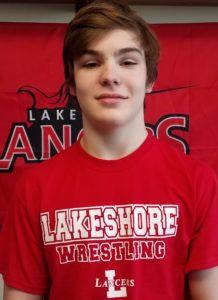 Micah Hanau of Lakeshore High School Wrestling is the WSJM Sports Berrien County Student Athlete of the Week for the week of March 1, 2020.
Micah won the Individual State Championship at 130 Pounds. He won his opening round match with a 10-0 decision over Donn Bacon of St. Clair Shores. He followed that up with a 13-1 decision over Cris Perez of Allendale in the quarterfinals. In the semifinals, he took Rico Brown of Gaylord into overtime and came away with a 4-2 decision. Micah then captured the state title with a 4-1 overtime decision over Zeth Strejc of Lowell.
Micah is also a member of the Lakeshore Cross Country team and Michigan West Wrestling team. In the classroom, he carries a 3.5 grade point average.
Micah is the son of Cathy Taylor and John Hanau.
Another finalist for the week was Rebekah Hisle of Michigan Lutheran Basketball.
Catch Micah's conversation with Phil McDonald below…
Podcast: Play in new window | Download | Embed
Subscribe: Google Podcasts | Spotify | Stitcher | Email | RSS | More