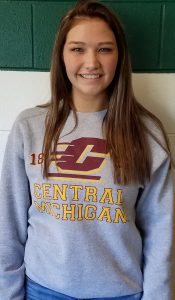 Megan Neubecker of Coloma High School Volleyball is the WSJM Sports Berrien County Student Athlete of the Week for the week of October 20, 2019. Megan turned in a combined 19 kills, 13 digs, five blocks, and one ace in matches against Bridgman and South Haven. Later in the week, she recorded a career high 25 kills to go along with 12 digs, five blocks, and three aces against Gobles.
Megan is also an All-Conference member of the Comet Basketball and Softball teams, and National Honor Society. In the classroom, she carries a 3.9 grade point average.
Megan is the daughter of Steve and Shannon Neubecker of Coloma.
Other finalists for the week were Levi Zelmer of Buchanan Football, Spencer Harris of Michigan Lutheran Football, and Marshall McFarland of Berrien Springs Football.
Catch Megan's conversation with Phil McDonald below…
Podcast: Play in new window | Download | Embed
Subscribe: Apple Podcasts | Android | Email | Google Podcasts | Stitcher | Spotify | RSS | More