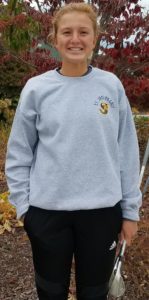 Maya Hunter of St. Joseph High School Golf is the WSJM Sports Berrien County Student Athlete of the Week for the week of October 4, 2020.
As St. Joe won the Division 2 Regional title, Maya captured the individual Regional championship with a three stroke victory. Later in the week, she won the Southwestern Michigan Athletic Conference West Division individual title. In the process, she led St. Joe to a ninth straight division championship.
Maya is also a member of the St. Joe Basketball and Soccer teams, and Orchestra. In the classroom, she carries a 3.88 grade point average.
Maya is the daughter of Marc and Joyce Hunter of St. Joe.
Other finalists for the week were Samantha Dietz of Watervliet Volleyball, Karly Klaer of St. Joe Volleyball, and Corban Gamble of Brandywine Tennis.
Catch Maya's conversation with Phil McDonald below…
Podcast: Play in new window | Download | Embed
Subscribe: Apple Podcasts | Android | Email | Google Podcasts | Stitcher | Spotify | RSS | More