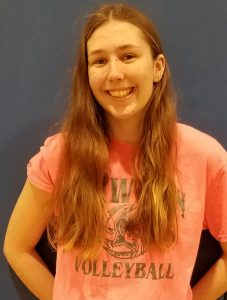 Madison Lawson of Lawton High School Volleyball is our WSJM Sports Van Buren/Cass Student Athlete of the Week for the week of October 27, 2019.
In the Blue Devils' come from behind victory over Paw Paw, Madison finished with 24 kills, surpassing the 500 mark. She also turned in 12 digs and three blocks.
Madison is also a member of the National Honor Society and plays travel volleyball. In the classroom, she carries a 3.59 grade point average.
Madison is the daughter of Mandi Lawson of Lawton.
Another finalist for the week was Ella O'Sullivan of South Haven Volleyball.
Catch Madison's conversation with Phil McDonald below…
Podcast: Play in new window | Download | Embed
Subscribe: Apple Podcasts | Android | Email | Google Podcasts | Stitcher | Spotify | RSS | More