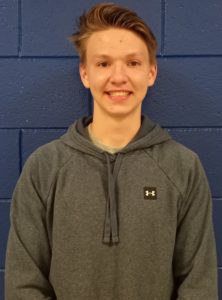 Luke Blesy of Bridgman High School Track is the WSJM Sports Berrien County Student Athlete of the Week for the week of March 28, 2021.
In this, his senior year, Luke decided to run high school track for the first time. In his first meet, he won the 1600 Meter Run with a time of 4:50.65, he won the 800 Meter Run with a time of 2:11.74, and we ran a leg for the winning 1600 Meter Relay team. His efforts helped lead the Bees to a 2nd place finish at the Bridgman Invitational.
Luke is also a member of the Bridgman Cross Country and Basketball teams, National Honor Society, Key Club, and DECA. In the classroom, he carries a 4.22 grade point average.
Luke is the son of Ed and Marcy Blesy of Bridgman.
Catch Luke's conversation with Phil McDonald below…
Podcast: Play in new window | Download | Embed
Subscribe: Google Podcasts | Spotify | Stitcher | Email | RSS | More