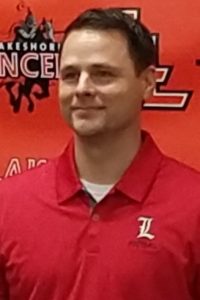 Lakeshore Football coach Bryan Keim has stepped down, turning in his resignation earlier today.
Keim took over the Lancer program after serving as defensive coordinator under Denny Dock for two seasons. He guided Lakeshore to an 8-3 record and an opening round playoff win over Coldwater in his first year at the helm. Lakeshore also posted opening round playoff wins in 2016 and 2017 under his direction. He also guided the team to Southwest Michigan Athletic Conference West Division championships in 2014 and 2017. Keim steps down with 39-23 record as the Lancers' head coach.
"I'm proud to have had the opportunity to represent Lakeshore over the past eight years," Keim said in a statement released this afternoon. He added, "Working with so many great student athletes and forming lifelong bonds has been the most rewarding aspect of coaching. I want to thank all of those in our community that supported myself, my family, and our football program during my tenure and I look forward to supporting the next chapter of Lancer Football."
Lakeshore Athletic Director Greg Younger expressed his appreciation for Keim's hard work and dedication to the program. Younger says a search for a new head coach will begin immediately.