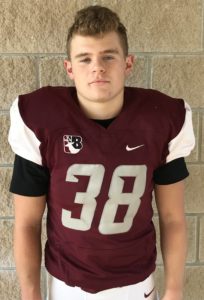 Johnny Rager of Buchanan High School Football is the WSJM Sports Berrien County Student Athlete of the Week for the week of November 8, 2020.
Johnny played a key role in helping lead the Bucks to an undefeated regular season, a conference championship, and a spot in the District Finals. He finished the season with 528 rushing yards, 195 receiving yards, seven rushing touchdowns, and two receiving touchdowns. On defense, he recorded 19 tackles, six tackles for loss, two sacks, and four interceptions. He returned two interceptions back for touchdowns and totaled 201 interception return yards. He earned BCS Offensive MVP and All-Region honors.
Johnny is also a member of the basketball team and plans on running track. In the classroom, he carries a 3.43 grade point average.
Johnny is the son of Crystal Larson and John Rager.
Catch Phil McDonald's conversation with Johnny below…
Podcast: Play in new window | Download | Embed
Subscribe: Apple Podcasts | Google Podcasts | Spotify | Stitcher | Email | RSS | More