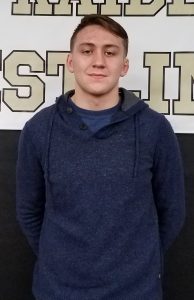 Jared Checkley of Decatur High School Wrestling is our WSJM Sports Van Buren/Cass Student Athlete of the Week for the week of January 26, 2020.
In a Southwest 10 dual against Hartford and Eau Claire, Jared won both of his matches by pin. Later in the week, he won the 171 lbs. Championship at the Greater Berrien County Invitational. Earlier in the season, Jared had picked up his 150th career win and is the team leader in near falls and tech falls.
Jared is also a member of the football and baseball teams, National Honor Society, and Student Council. In the classroom, he carries a 3.7 grade point average.
Jared is the son of Craig and Jill Checkley of Dowagiac.
Other finalists for the week were Megan Nelson of Hartford Basketball, Ben Cerven of Decatur Basketball, and Garrett Heath of South Haven Bowling.
Catch Jared's conversation with Phil McDonald below…
Podcast: Play in new window | Download | Embed
Subscribe: Apple Podcasts | Google Podcasts | Spotify | Stitcher | Email | RSS | More