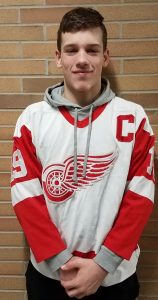 Jackson Calvert of South Haven High School Wrestling is our WSJM Sports Van Buren/Cass Student Athlete of the Week for the week of February 2, 2020.
At the Wolverine Conference Championships, Jackson won the individual 189 lbs. title. He received a bye in the opening round, recorded a pin in the second round, and won the championship match with a 9-4 decision. The 9-4 decision in the final match was a win over the defending conference champion. With his wins, Jackson improved to 35-5 on the season.
Jackson is also a member of the South Haven Football and Baseball teams. In the classroom, he carries a 3.00 grade point average.
Jackson is the son of Michelle Beck-Calvert and Jason Calvert of South Haven.
Another finalist for the week was Trinity Hostetler of Howardsville Christian Basketball.
Catch Jackson's conversation with Phil McDonald below…
Podcast: Play in new window | Download | Embed
Subscribe: Apple Podcasts | Google Podcasts | Spotify | Stitcher | Email | RSS | More