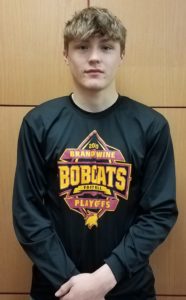 Hunter Heath of Brandywine High School Wrestling is the WSJM Sports Berrien County Student Athlete of the Week for the week of March 7, 2021.
In the Bobcats' matches against Berrien Springs, Colon, and Buchanan, Hunter went 3-0 on the night with three pins. Later in the week, he turned in another 3-0 performance with wins over Bronson, Hanover-Horton, and Lawton. His opponent from Bronson was ranked #2 in the state and came into the match undefeated. During the week, Hunter became just the fifth wrestler in Brandywine history to record 150 wins. He is currently ranked #3 in the state at 160 lbs.
Hunter is also a member of the Brandywine Football and Baseball teams.
Hunter is the son of Dean and Paula Heath of Niles.
Other finalists for the week were Dani Morrill of Bridgman Swimming & Diving and Morgan Labis of Lakeshore Competitive Cheer.
Listen to Hunter's conversation with Phil McDonald below…
Podcast: Play in new window | Download | Embed
Subscribe: Apple Podcasts | Google Podcasts | Spotify | Stitcher | Email | RSS | More