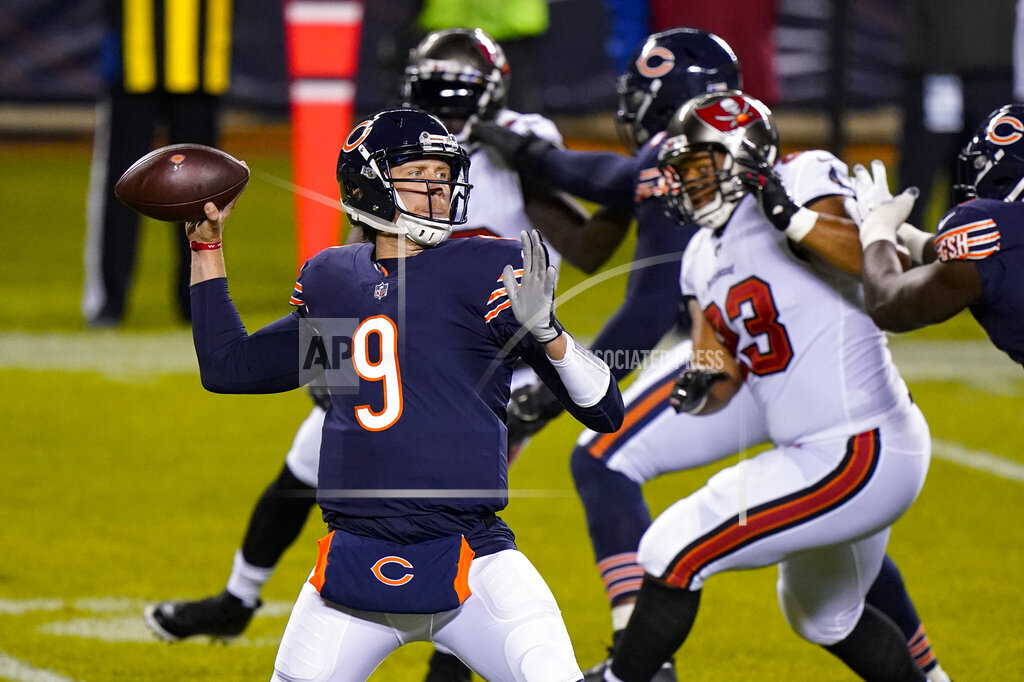 NFL – National Football League – Week 5
Last Night
Chicago Bears 20, Tampa Bay Buccaneers 19
Bears 20, Buccaneers 19 – Foles beat Brady again as Bears squeeze by Tampa Bay 20-19
Tom Brady fell to Nick Foles again and appeared to lose count of downs on his final play, and the Chicago Bears beat the Tampa Bay Buccaneers 20-19 on Thursday night after Cairo Santos kicked a 38-year field goal with 1:17 remaining. DeAndre Houston-Carson broke up Brady's fourth-down pass with 33 seconds left after Santos kicked the go-ahead field goal. Brady put up four fingers, appearing to think he had one more down. Chicago took over, instead. But if he was thinking the Buccaneers had one more play, Brady wouldn't say. Brady threw for 253 yards and one touchdown. But the Buccaneers (3-2) had their three-game win streak snapped.
Sunday
Indianapolis at Cleveland, 4:25 p.m.
Minnesota at Seattle, 8:20 p.m.    WSJM 7:30
Detroit Lions (Bye week)
Monday
Denver at New England, 5 p.m.
L.A. Chargers at New Orleans, 8:15 p.m. WSJM 7:30
MLB – MLB Postseason – Division Series (Best of 5)
Yesterday
American League
Houston Astros 11, Oakland Athletics 6                                             (HOU wins 3-1)
New York Yankees 5, Tampa Bay Rays 1                                                  (Series tied 2-2)
Astros 11, A's 6 – Astros advance
Carlos Correa slammed a three-run homer and had five RBIs as the Houston Astros clobbered Oakland, 11-6 to advance to the AL Championship Series for the fourth consecutive year. The Astros trailed 3-0 until Michael Brantley smacked the first of his two home runs, a two-run blast in the fourth. Jose Altuve also homered and Houston's bullpen didn't allow a run until the ninth inning after starter Zack Greinke was reached for four runs over 4 2/3s.
Yankees 5, Rays 1 – Yankees force game 5
Luke Voit hit a solo homer and Gleyber Torres added a two-run blast as the New York Yankees beat Tampa Bay, 5-1 to force a deciding fifth game in the AL Division Series. Voit's second-inning shot put New York ahead to stay before the Yanks' pitchers made the lead stand up. Jorden Montgomery gave up three hits over four innings, and the bullpen tossed no-hit, shutout ball the rest of the way.
National League
Atlanta Braves 7, Miami Marlins 0                                                       (ATL wins 3-0)
Los Angeles Dodgers 12, San Diego Padres 3                                       (LAD wins 3-0)
Braves 7, Marlins 0 – Braves advance with shutout
The Atlanta Braves are in the NLCS following a 7-0 shutout and a three-game sweep of Miami. Kyle Wright struck out seven and held the Marlins to three hits over six innings of his postseason debut. Travis d'Arnaud (dahr-NOH') hit a two-run double and Dansby Swanson collected two RBIs to help Atlanta reach the NLCS for the first time since 2001.
Dodgers 12, Padres 3 – LA blows out San Diego to advance
The Los Angeles Dodgers polished off a three-game sweep in the NL Division series by crushing the San Diego Padres, 12-3. Will Smith set a Dodgers postseason record with five hits, and Joc Pederson had a two-run single to cap a decisive five-run third as Los Angeles reached the NLCS for the fourth time in five years. Justin Turner put the Dodgers ahead with his team-record 65th career hit, breaking Steve Garvey's mark.
Today
American League
New York Yankees (Cole 7-3) vs. Tampa Bay (Glasnow 5-1), 7:10 p.m.     (Series tied 2-2)
NBA – National Basketball Association Finals – Best of 7
Today
Los Angeles Lakers vs. Miami Heat, 9:00 p.m.                                        (LAL leads 3-1)
NBA – Mamba jerseys back, Heat facing must-win
The Mamba jerseys are coming back for a closeout opportunity. The Los Angeles Lakers will wear the black jerseys with a snakeskin look — all designed by Kobe Bryant and now worn by the team in his honor — for Game 5 of the NBA Finals on Friday night. The original schedule, released before the finals, called for the Lakers to wear purple jerseys in Game 5. The black jerseys were to be worn in Games 2 and 7; if this series goes seven, the Mamba jerseys are slated to return.
NCAA Football – College Football
Saturday
Florida State at (5) Notre Dame, 7:30 p.m.
NHL – Chicago Blackhawks parting with Cup-winning G Corey Crawford
The Chicago Blackhawks will not re-sign goaltender Corey Crawford in free agency, potentially signaling a more extensive rebuild for one of the NHL's marquee franchises. General manager Stan Bowman says he talked to Crawford about the decision. Crawford, a Montreal native, was selected by Chicago in the second round of the 2003 draft and made his debut with the Blackhawks in 2010. He helped the franchise to Stanley Cup titles in 2013 and 2015.
NHL – Red Wings agree to 1-year extensions with Erne, Hirose
The Detroit Red Wings have agreed to terms on one-year contract extensions with forwards Adam Erne and Taro Hirose. Erne had two goals and three assists in 56 games this past season. Detroit acquired him from Tampa Bay in August 2019. He played in three previous seasons for the Lightning. Hirose had two goals and five assists in 26 games for the Red Wings last season. He also played a bit for Detroit in 2018-19 after signing with the Red Wings as a free agent. He tied a franchise record by earning an assist in each of his first five games with the team.
NASCAR – Bowyer getting out of car, going into booth
Clint Bowyer will retire at the end of the NASCAR season and join the Fox Sports booth as an analyst. Bowyer is completing his 15th full season. He heads into Sunday's race at Charlotte Motor Speedway facing elimination from the playoffs. Bowyer ranked 11th in the 12-driver field that will be trimmed by four for the next round.
Tennis – Kenin to face Swiatek in French Open final
Fourth seed Sofia Kenin and 54th-ranked Iga Swiatek have advanced to the French Open women's final. Kenin was a 6-4, 7-5 winner against Petra Kvitova (kuh-VIH'-toh-vah), putting the American one match victory away from her second straight Grand Slam title. Swiatek carved out a 6-2, 6-1 win over Nadia Pororoska to become the lowest-ranked women's player to reach the final at Roland Garros.
LPGA – Lincicome part of lead in LPGA major
Brittany Lincicome  and Kelly Tan each shot 3-under 67 in windy conditions at challenging Aronimink to share the lead in the KPMG Women's PGA Championship.  Lincicome played bogey-free to stay even with Tan and keep her first Women's PGA title in sight. The 35-year-old Floridian is trying to win for the first since having a baby last July.  Danielle Kang, Lydia Ko, Gabby Lopez, Carlota Ciganda, Linnea Strom and Cydney Clanton were a stroke back.
PGA – DeChambeau's 62 gives him Shriners lead
Bryson DeChambeau showed his U.S. Open-winning form while taking the first-round lead at the Shriners Hospitals for Children Open. DeChambeau had two-putt birdies on all three of the par 5s and two of the par 4s on his way to a 9-under 62 and a one-shot lead over three players. He would have posted his best score on the PGA Tour had he holed an eagle putt from the fringe on the par-5 ninth. Patrick Cantlay made a 12-foot birdie putt on the 18th for a 63. His only blemish was a long three-putt bogey on the 14th.  Harold Varner III, Scott Harrington, Nate Lashley and Austin Cook also were at 63.
MHSAA – High School Sports
Yesterday
Football
Southwest 10
Centreville (4-0) 36, Mendon (3-1) 0
Decatur (1-3) 26, Hartford (0-4) 13
SAC
Kalamazoo United (4-0) 42, Watervliet (2-2) 7
Girls Volleyball
Edwardsburg 3, Three Rivers 0
Sturgis 3, Dowagiac 0
Centreville 3, Bangor 1
Mendon 3, White Pigeon 0
Watervliet 3, Gobles 0
Saugatuck 3, Holland 1
Hamilton 3, Gull Lake 0
Boys Soccer
SMAC Tournament
#1 Mattawan 2, #4 Portage Central 1
#3 Gull Lake 3, #2 St. Joseph 0
#5 Kalamazoo Central 2, #8 Kalamazoo Loy Norrix 1
#6 Portage Northern 2, #7 Lakeshore 0
#9 Battle Creek Lakeview 3, #10 Battle Creek Central 0


Other games
Comstock 2, Coloma 1
Niles 2, South Haven 2 – TIE
Hartford 5, Bloomingdale 0
Saugatuck 2, Byron Center Zion Chr. 2 – TIE
Schoolcraft 5, Constantine 1


Boys Tennis – District
Division 4 at Berrien Springs
Semifinal: South Haven 6, Three Rivers 1             Semifinal: Berrien Springs (Bye)
Finals: Berrien Springs 8, South Haven 0
Today
Football (all games at 7:00 unless listed otherwise)
SMAC
St. Joseph (3-0) at Lakeshore (2-1) – News/Talk/Sports 94.9 WSJM & 97.5 Y-Country
Portage Central (0-3) at Portage Northern (3-0)
Kalamazoo Central (0-3) at Battle Creek Central (1-2)
Battle Creek Lakeview (3-0) at Mattawan (1-2)
Non-Conference
River Rouge (1-1) at Benton Harbor (1-2)
Allegan (0-3) at Brandywine (2-1)
Niles (0-3) at Kalamazoo Loy Norrix (0-3)
Schoolcraft (2-1) at Saginaw (0-3)
Wolverine
Dowagiac (1-2) at Sturgis (2-1)
Three Rivers (0-3) at Edwardsburg (3-0)
Paw Paw (3-0) at Vicksburg (2-1)
Plainwell (2-1) at Otsego (1-2)
BCS
Comstock (2-1) at Buchanan (3-0)


SAC
Coloma (2-1) at Parchment (0-3)
Galesburg-Augusta (0-2) at Lawton (3-0)
Delton-Kellogg (1-2) at Saugatuck (2-1)
Fennville (0-3) at Constantine (2-1)
Southwest 10
White Pigeon (1-2) at Cassopolis (2-1)
SW Michigan 8-Man
New Buffalo (3-0) at Bridgman 2-1
Marcellus 1-2 at Bangor (0-2)
Eau Claire (1-2) at Wyoming Tri-Unity (1-2)
Bloomingdale (2-1) at Marion (2-1)
Martin (3-0) at Lawrence (2-1)
Webberville (1-2) at Gobles (0-2)
Saturday
Football
Berrien Springs (1-2) at South Haven (1-2), 1:00 p.m.
Vandercook Lake (1-1) at Michigan Lutheran (1-2), 6:00 p.m.
Boys Soccer
SMAC Tournament
#3 Gull Lake at #1 Mattawan, 11:30 a.m.                                SMAC Championship Game
#4 Portage Central at #2 St. Joseph, 11:30 a.m.                      3rd place game
#6 Portage Northern at #5 Kalamazoo Central, 11:30 a.m.        5th place game
#8 Kalamazoo Loy Norrix at #7 Lakeshore, 11:30 a.m.               7th place game