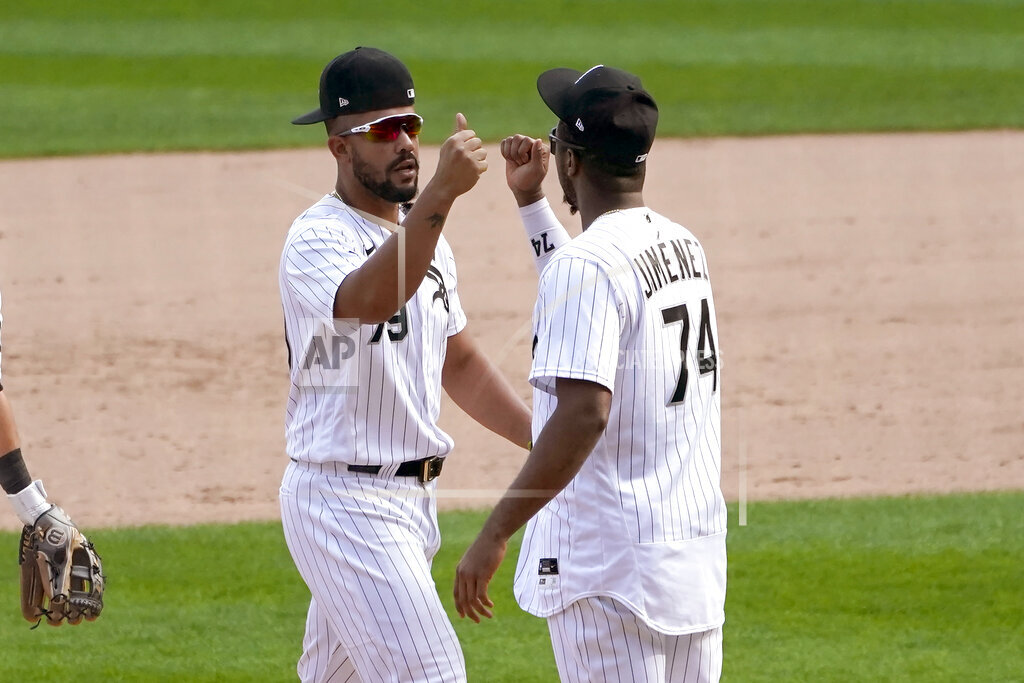 MLB – Major League Baseball
Yesterday
Chicago White Sox 4, Minnesota Twins 3
Cleveland Indians 10, Detroit Tigers 3
Cubs were off
White Sox 4, Twins 3 – White Sox beat Twins 4-3 to clinch playoff spot
The White Sox clinched their first postseason berth since 2008, rallying to beat the Minnesota Twins 4-3 as Eloy Jiménez hit a tiebreaking double that capped a two-run rally in the seventh inning. Chicago (33-17) opened a three-game lead over the second-place Twins (31-21) in the AL Central. The White Sox are assured of no worse than a wild-card berth. José Abreu homered and drove in two runs and Edwin Encarnación also homered for Chicago, which won three of four in the series.
Indians 10, Tigers 3 – Ramirez helps Indians snap skid with 10-3 win over Tigers
Jose Ramirez homered twice on his 28th birthday, Shane Bieber took a shutout into the eighth inning and the Cleveland Indians snapped their eight-game losing streak with a 10-3 victory over the Detroit Tigers. Bieber didn't allow a run until his final hitter, Willi Castro, hit a three-run homer in the eighth. That cost the Cleveland right-hander the major league ERA lead, but Bieber did become the first eight-game winner of this shortened season. He allowed four hits in 7 2/3 innings. Casey Mize allowed three earned runs in 3 2/3 innings for Detroit.
Tonight
Cleveland (Plesac 3-2) at Detroit (Fulmer 0-2), 7:10 p.m.            WCSY 103.7 6:45
Chicago White Sox (Stiever 0-0) at Cincinnati (Antone 0-2), 7:10 p.m.
Minnesota (Hill 2-1) at Chicago Cubs (Hendricks 5-4), 8:15 p.m.
NFL – National Football League – Week 2
Last Night
Cleveland Browns 35, Cincinnati Bengals 30
Sunday
Detroit Lions at Green Bay Packers, 1:00 p.m.                              Superhits 103.7 Cosy-FM 11:00
New York Giants at Chicago Bears, 1:00 p.m.
Minnesota Vikings at Indianapolis Colts, 1:00 p.m.
New England Patriots vs. Seattle Seahawks, 8:20 p.m.                News/Talk/Sports 94.9 WSJM 7:30
Big Ten – Whitmer says mask requirement applies for Michigan, Michigan State football
Gov. Gretchen Whitmer's office says her requirement that athletes wear masks applies to Big Ten football in Michigan, but a face shield will suffice for players and the administration is open to potentially changing the order. Whitmer's office said Thursday it will talk to the conference about the mandate, which took effect last week and covers organized sports in which athletes can't keep distance "except for occasional and fleeting moments." The Big Ten announced Wednesday it will open its football season the weekend of Oct. 23-24, reversing a decision to push fall sports to the spring due to the pandemic.
NCAA – Pac-12 now eyes fall football season
The Pac-12 university presidents and chancellors will meet Friday and be presented options for staging a fall football season. A day after the Big Ten changed course from its decision to postpone fall sports because of the pandemic and set a late October start for football, the Pac-12 appeared headed toward a similar move. However, Commissioner Larry Scott says a vote by the CEO Group is not expected.  The Mountain West is trying to do the same and there even is some movement in the Mid-American Conference toward reconsidering a fall season.


NHL – National Hockey League – Stanley Cup Playoffs – 3rd round (Best of 7)
Last Night
Tampa Bay Lightning 2, New York Islanders 1 – 2 OT                               (TBL wins 4-2)
Saturday – Stanley Cup Finals
Tampa Bay Lightning vs. Dallas Stars, 7:30 p.m.                                     (Game 1)
NBA – National Basketball Association – 3rd round – Conference Finals (Best of 7)
Last Night
Miami Heat 106, Boston Celtics 101                                                       (MIA leads 2-0)
Tonight
Denver Nuggets vs. Los Angeles Lakers, 9:00 p.m.                                  (Game 1)
Golf – US Open – Thomas fires Winged Foot-record 65
Winged Foot usually is an untameable beast for golfers at the U.S. Open. That hasn't been the case so far as a handful of golfers went into the clubhouse at 3-under or better in the opening round. With soft conditions for the start of the major, Justin Thomas shot a 65 for the lowest round ever in a U.S. Open at the Westchester County, New York, course. Thomas finished with a 25-foot birdie putt for one-shot lead over Matthew Wolff Patrick Reed and Thomas Pieters. Play was suspended by darkness with three players on the course. Rory McIlroy, Louis Ousthuizen and Lee Westwood are two off the pace. Only two players have finished under par there in five previous Opens at Winged Foot: Fuzzy Zoeller and Greg Norman in 1984. Among other notables, Tiger Woods finished with a double-bogey for a 73. PGA champion Collin Morikawa shot 40 on the back nine for a 76. Phil Mickelson opened with two birdies before imploding, carding a 79 that leaves him just one shot out of last place.
NCAA D1 Council proposes framework for fall sports in spring
National tournaments will have fewer teams and fewer sites for preliminary rounds under the NCAA Division I Council's proposal for fall sports that were pushed to the spring because of the coronavirus pandemic.  The council approved recommendations from the spring sports' competition committees on Wednesday and will forward them to the Division I Board of Governors for approval.  For team sports, the field for national tournaments will be reduced to 75% of the normal number of teams.
Tennis – Fed Cup changes name to honor Billie Jean King
The Fed Cup is changing its name to honor tennis great Billie Jean King. The Billie Jean King Cup will become the first major global team competition to be named after a woman. International Tennis Federation President David Haggerty calls the move "long overdue." The 76-year-old American's lifelong battle for equality and social justice laid the foundation for generations that followed.
MHSAA – High School Sports
Yesterday
Boys Soccer
St. Joseph 2, Portage Northern 0
Lakeshore 2, Battle Creek Lakeview 2 – TIE
Kalamazoo Loy Norrix 2, Battle Creek Central 1
Mattawan 4, Kalamazoo Central 1
Gull Lake 1, Portage Central0
Kalamazoo Christian 3, Paw Paw 1
Howardsville Christian 4, Lawrence 1
Niles 4, Bronson 0
Hartford 5, Hilldale Academy 1
Girls Swimming and Diving
St. Joseph 112, Mattawan 72
Bridgman/Lakeshore 109, Battle Creek Central 56


Girls Volleyball
Otsego 3, Allegan 2
Edwardsburg 3, Vicksburg 2
Three Rivers 3, Sturgis 0
Mendon 3, Cassopolis 0
Centreville 3, Hartford 0
White Pigeon 3, Decatur
Marcellus 3, Climax-Scotts 0
Constantine 3, Galesburg-Augusta 2
Schoolcraft 3, Delton-Kellogg 0
Boys Tennis
Brandywine 7, Three Rivers 1



Today
Boys Football
SMAC
Kalamazoo Central at St. Joseph, 7:00 p.m.                        News/Talk/Sports 94.9 WSJM, 6:40
Portage Northern at Lakeshore, 7:00 p.m.                          97.5 Y-Country, 6:40 p.m.
Mattawan at Gull Lake, 7:00 p.m.
Battle Creek Central at Battle Creek Lakeview, 7:00 p.m.
Wolverine
Otsego at Allegan, 7:00 p.m.
Vicksburg at Edwardsburg, 7:00 p.m.
Dowagiac at Paw Paw, 7:00 p.m.
Sturgis at Three Rivers, 7:00 p.m.
BCS
Niles at Berrien Springs, 7:00 p.m.       (at New Buffalo)
South Haven at Buchanan, 7:00 p.m.
Non-Conference
Benton Harbor at Kalamazoo United, 7:00 p.m.
East Lansing at Portage Central, 7:00 p.m.
Kalamazoo Loy Norrix at Plainwell, 7:00 p.m.
Comstock at Stockbridge, 7:00 p.m.
Brandywine at Wyoming-Lee, 7:00 p.m.
Southwest 10
Hartford at Cassopolis, 7:00 p.m.
Centreville at Decatur, 7:00 p.m.
Mendon at White Pigeon, 7:00 p.m.
SAC
Coloma at Delton-Kellogg, 7:00 p.m.
Fennville at Lawton, 7:00 p.m.
Parchment at Saugatuck, 7:00 p.m.
Constantine at Schoolcraft, 7:00 p.m.
Galesburg-Augusta at Watervliet, 7:00 p.m.
8-Player
Eau Claire at Michigan Lutheran, 7:00 p.m.
Bloomingdale at Morrice, 7:00 p.m.
Marcellus at Bridgman, 7:00