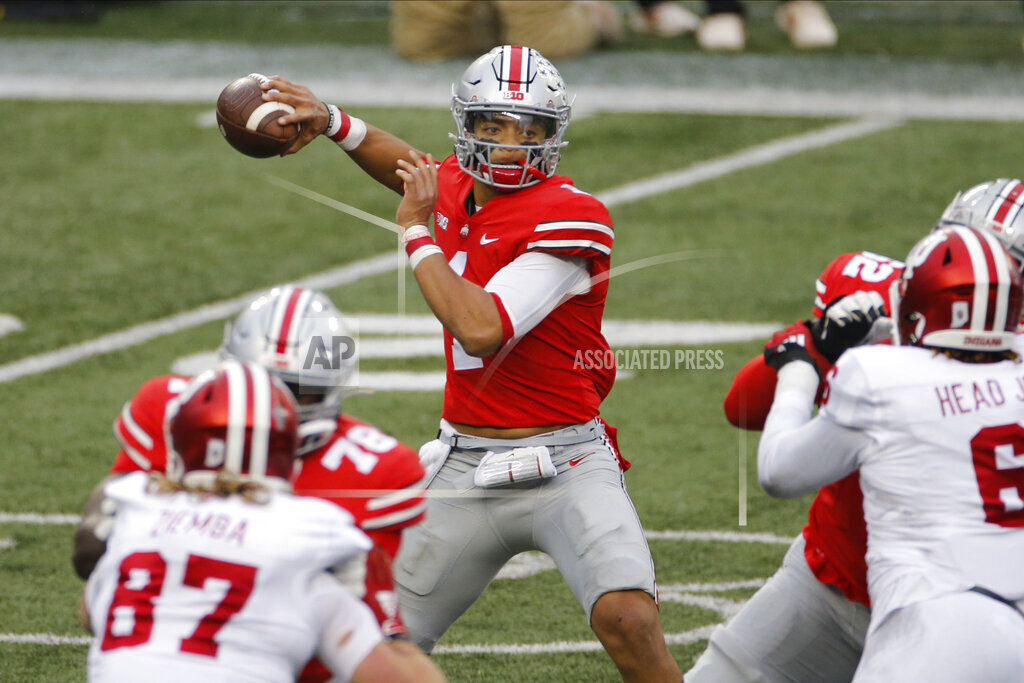 NFL – National Football League – Super Wild Card Weekend
All games on News/Talk/Sports 94.9 WSJM
Saturday
Indianapolis Colts at Buffalo Bills, 1:05 p.m.
Los Angeles Rams at Seattle Seahawks, 4:40 p.m.
Tampa Bay Buccaneers at Washington Football Team, 8:15 p.m.
Saturday
Baltimore Ravens at Tennessee Titans, 1:05 p.m.
Chicago Bears at New Orleans Saints, 4:40 p.m.
Cleveland Brown at Pittsburgh Steelers, 8:15 p.m.
NFL – Saints start 4th straight playoff run vs. resurgent Bears
The New Orleans Saints are coming off a fourth straight NFC South title as they open the playoffs against the recently resurgent Chicago Bears. The Saints are the NFC's No. 2 seed after going 12-4 with three victories coming during the four-game absence of record-setting quarterback Drew Brees. Brees has played three games since returning from rib and lung injuries. The Bears lost to the Saints in overtime in November but won three of their last four to make the playoffs. Mitch Trubisky went 6-3 as Bears starting QB this season and is slated to start in New Orleans.
NFL – Even with empty stadiums, NFL still a ratings monster
Regular-season ratings for NFL games declined this season following two straight years of increases. But in a year that saw the challenges of the coronavirus pandemic and a presidential election, the 7% decrease isn't as bad as originally feared during the summer. Games averaged 15.6 million television and digital viewers, according to the league and Nielsen. The league averaged 16.5 million regular-season viewers last season. The league's broadcast partners pay a combined $5.86 billion per season for the rights to broadcast NFL games, and the continued strong ratings underscore the financial underpinnings of the league's decision to play a full season amid the pandemic.
NCAAFB – Saban confirms discussions about postponing title game
Alabama coach Nick Saban acknowledged there were discussions about the possibility of moving the national championship game back because of COVID-19 issues. The Associated Press and others have reported that Ohio State had spoken with CFP officials about possible player availability problems that could force the game to be delayed from its scheduled Monday night story at Hard Rock Stadium in suburban Miami. Saban said Thursday, "There were discussions as to whether it was fair to continue or to move the game back and all that." The game is currently scheduled to be played on Monday.
NCAAMBB – Men's College Basketball
Tonight
Purdue at (23) Michigan State, 7:00 p.m.                 Superhits 103.7 Cosy-FM 6:00
Saturday
Akron at Eastern Michigan, 2:00 p.m.
Western Michigan at Kent State, 4:00 p.m.
Bowling Green at Central Michigan, 4:30 p.m.
(10) Michigan at Penn State, PPD
Sunday
Notre Dame at (19) Virginia Tech, 6:00 p.m.
NCAAWBB – Women's College Basketball
Last Night
(12) Maryland 93, (23) Michigan State 87
(15) Michigan 64, Nebraska 62
Boston College 64, Notre Dame 61
Terrapins 93, Spartans 87 – Owusu leads No. 12 Maryland past No. 23 Michigan State 93-87
Ashley Owusu and Chloe Bibby each scored 20 points, Katie Benzan added 19 points and No. 12 Maryland beat No. 23 Michigan State 93-87. Maryland led by as many as 13 points early in the fourth quarter before Michigan State cut it to 83-81 with 1:46 left after a 9-0 run. Bibby answered with a three-point play, and Owusu, Benzan and Bibby combined to make 7 of 8 free throws in the final 48 seconds to seal it. Diamond Miller scored 14 points for Maryland. Nia Clouden scored a career-high 32 points for Michigan State.
Wolverines 64, Cornhuskers 62 – Hillmon scores 35, No. 15 Michigan women eke past Nebraska
Naz Hillmon matched her career best with 35 points, Akienreh Johnson added two clutch free throws and No. 15 Michigan held off upset-minded Nebraska 64-62. Hillmon scored 18 points by halftime in something of a one-on-one duel with Nebraska's top scorer, Sam Haiby, who scored 19 and had the Huskers ahead 35-34 at the break. But Hillmon scored nine in the third quarter, 17 after halftime and pulled down a career-best 22 rebounds as Michigan turned the one-point gap into a nine-point lead going into the final period. Haiby finished with 27 points.
Saturday
Central Michigan at Buffalo, 1:00 p.m.
Sunday
Illinois at (15) Michigan, 1:00 p.m.
Nebraska at (23) Michigan State, 3:00 p.m.
Eastern Michigan at Western Michigan, 4:00 p.m.
Notre Dame at (24) Syracuse, PPD
NBA – National Basketball Association
Tonight
Phoenix Suns at Detroit Pistons, 7:00 p.m.
Chicago Bulls at Los Angeles Lakers, 10:00 p.m.
MHSAA – High School Sports
Saturday
Football – Regional Finals
Division 4
Grand Rapids South Christian at Edwardsburg, 7:00 p.m.
Division 7
Jackson Lumen Christi vs. Schoolcraft, 11:00 a.m.            at Portage Central
Division 6
Michigan Center vs. Constantine, 2:00 p.m.                       at Gull Lake
Division 8
Sand Creek vs. Centreville, 4:30 p.m.                                at Portage Central