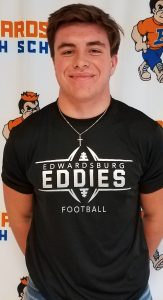 Dillon Hursh of Edwardsburg High School Football is our WSJM Sports Van Buren/Cass Student Athlete of the Week for the week of October 20, 2019.
Dillon played a big role in the Eddies' 44-14 victory over Paw Paw to win the Wolverine Conference Championship. He rushed for 132 yards and a touchdown on 13 carries. On defense, he recorded four tackles, including one sack.
Dillon is also a member of the Edwardsburg Wrestling and Track teams, and National Honor Society. He also serves as a My-Way wrestling referee. In the classroom, he carries a 3.83 grade point average.
Dillon is the son of Larry and Kristina Hursh of Edwardsburg.
Another finalist for the week was Ella O'Sullivan of South Haven Volleyball.
Catch Dillon's conversation with Phil McDonald below…
Podcast: Play in new window | Download | Embed
Subscribe: Apple Podcasts | Android | Email | Google Podcasts | Stitcher | Spotify | RSS | More