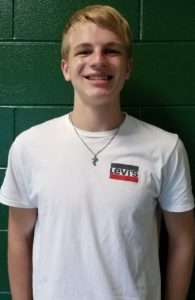 Cody Palgen of Coloma High School Football is the WSJM Sports Berrien County Student Athlete of the Week for the week of October 11, 2020.
In the Comets' 24-16 win over Watervliet, Cody caught nine passes for 129 yards and two touchdowns. That brought his season totals to 24 catches for 453 yards and eight touchdowns. On defense, he came away with an interception in the end zone in the closing minute of the game to secure the win.
Cody is also a member of the Coloma Baseball team. In the classroom, he carries a 3.5 grade point average.
Cody is the son of Lisa Van Pelt of Coloma.
Other finalists for the week were Samantha Dietz of Watervliet Volleyball and Allison Glendening of Lake Michigan Catholic Cross Country.
Catch Cody's conversation with Phil McDonald below…
Podcast: Play in new window | Download | Embed
Subscribe: Apple Podcasts | Google Podcasts | Spotify | Stitcher | Email | RSS | More