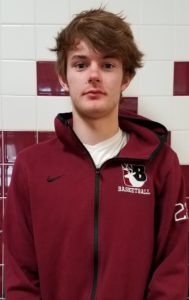 Chris Young of Buchanan High School Basketball is the WSJM Sports Berrien County Student Athlete of the Week for the week of February 23, 2020.
In the Bucks' win over Allegan, Chris turned in 16 points, four assists, four rebounds, and four steals. He followed that up with 11 points, four assists, four rebounds, and two steals in a win over Berrien Springs. Chris has now scored over 900 points in his career. He leads the team in scoring and assists, and is third on the team in rebounding.
Chris is also a member of the Buchanan Track team. In the classroom, he carries a 3.6 grade point average.
Chris is the son of Crystal and Pat Young of Buchanan.
Another finalist for the week was Maggie Tidey of Lake Michigan Catholic Basketball.
Catch Phil McDonald's conversation with Chris below…
Podcast: Play in new window | Download | Embed
Subscribe: Apple Podcasts | Android | Email | Google Podcasts | Stitcher | Spotify | RSS | More