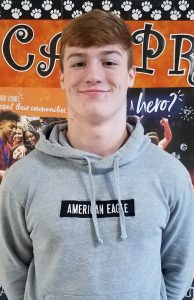 Blake Colley of Marcellus High School Wrestling is our WSJM Sports Van Buren/Cass Student Athlete of the Week for the week of January 12, 2020.
Blake won the 189 Pound championship at the Marcellus Invitational. With the wins to capture the title, he improved to 22-0 on the season. Prior to the Marcellus Invitational, Blake won individual titles at the Jackie Bessmer Team Tournament, Climax-Scotts Invitational, and Galesburg Augusta Invitational.
Blake is also a member of the Marcellus Football, Track and Golf teams, National Honor Society, Spanish Honor Society, and Captains Council. In the classroom, he carries a 3.79 grade point average.
Blake is the son of Tom and Carrie Colley of Marcellus.
Catch Blake's conversation with Phil McDonald below…
Podcast: Play in new window | Download | Embed
Subscribe: Apple Podcasts | Android | Email | Google Podcasts | Stitcher | Spotify | RSS | More