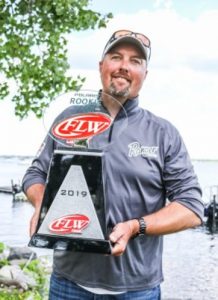 There are "Cinderella" stories, and then there are Cinderella stories.  Ron Nelson, professional angler of Berrien Springs, has had an amazing season with the FLW Fishing Organization. Beginning his first year on the FLW Pro Tour, he was off to a rocky start to say the least. Catching zero fish opening day on Lake Rayburn was far from the plan he had in mind for that tournament, but he rallied to catch 16 lbs. on day 2 giving him the chance to regroup mentally and forge ahead to the next tournament in the series. Regroup he did! After finishing 120th at Rayburn, Nelson righted the ship in a big way and made the cut finishing 23rd at Lake Toho for his first taste of success on tour. From there, he earned a check at Lake Seminole, finished 74th at Grand Lake, and then made three consecutive cuts to end the season at Lake Champlain in Plattsburg New York marking the tour's final stop. "Lake Chickamauga was an especially important turning point," said Nelson. Finishing in third place from a field of 164 anglers boosted his overall standings and put him in contention for the Rookie of the Year. Nelson was in fact awarded the esteemed title of "Rookie of the Year" having out scored in points 34 other 2019 rookies (the most competing rookies in FLW history) and ended with an impressive 9th place ranking overall in a field of 170 anglers on tour. Along with the prestigious trophy, Nelson took home a Polaris Sportsman® 570°ATV.
"The goal was to have a shot at Rookie of the Year and be consistent," says Nelson. "The way I started off the season I thought I might not make the Cup. But you've just got to be consistent and keep your chin up and where the chips fall are where they fall".
Nelson has qualified for the Tour in each of the five years he's fished the Costa FLW Series Northern Division, so it was no surprise to see him do well. However, he entered into the Tour season finale at Champlain with legitimate expectations on him – he'd won the last two Costa FLW Series back-to-back events on Champlain.
Fishing League Worldwide, better known as FLW, is the world's largest and most lucrative bass tournament-fishing organization, providing unparalleled fishing resources and opportunities for anglers, sponsors, fans and host communities. FLW adopted its Fishing League Worldwide tagline in 2014 and has since added events in Canada, China, Italy, Korea, Mexico Portugal, Spain and South Africa. Today FLW is the only tournament organization to serve bass anglers of all skill levels from coast to coast in the United State plus internationally in eight countries as of 2018.
Ron's final destination this season is the 2019 Forest Wood Cup in Hot Springs Arkansas, August 9-11. Fifty-two of the world's best anglers will compete on Lake Hamilton for the $300,000 top prize and the chance to hoist the most prestigious trophy in professional bass fishing.
"I love FLW, I love all the staff, I feel really blessed to be a part of it," says Nelson. "It was a fun year, it was challenging, but fun." Ron resides in Berrien Springs with his wife Karla and their two canine babies Annie and Sophie.