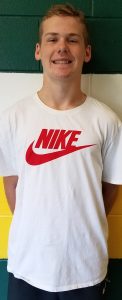 Zach Goodline of Coloma High School Football is the WSJM Sports Berrien County Student Athlete of the Week for the week of October 7, 2018. Zach was 5 for 11 passing for 150 yards and two touchdowns in rainy and windy conditions as the Comets came from behind to defeat Delton-Kellogg 44-36. On defense, he intercepted three passes, including one that ended a potential game tying drive with :28 left.
Zach is also a member of the Coloma Basketball team and volunteers with youth basketball and rocket football. In the classroom, he carries a 3.81 grade point average.
Zach is the son of Wendy and Chad Goodline.
Other finalists for the week were Caleb Ellis of Coloma Football, Aashish Harikrishnan and Trey Beauchamp of St. Joseph Tennis, Jacob Fox of Brandywine Tennis, and Connor Janowiak of Brandywine Football.
Catch Zach's conversation with Phil McDonald below…
Podcast: Play in new window | Download | Embed
Subscribe: Apple Podcasts | Android | Email | Google Podcasts | Stitcher | Spotify | RSS | More