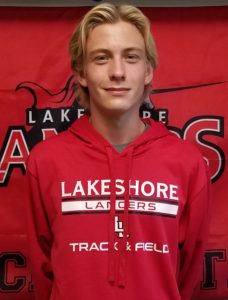 Race Bettich of Lakeshore High School Cross Country is the WSJM Sports Berrien County Student Athlete of the Week for the week of September 20, 2020.
Race placed first in the Lancers' meet against St. Joe with a time of 16:09. He followed that up by winning the Coloma Invitational with a time of 16:05. With the wins, Race has placed first in each of Lakeshore's meets so far this season.
Race is also a member of the Lakeshore Track team and Key Club. In the classroom, he carries a 4.0 grade point average.
Race is the son of Randy and Trish Bettich.
Other finalists for the week were Johnny Rager of Buchanan Football, Jacob Scouler of St. Joe Soccer, and Samantha Dietz of Watervliet Volleyball.
Catch Phil McDonald's conversation with Race below…
Podcast: Play in new window | Download | Embed
Subscribe: Apple Podcasts | Android | Email | Google Podcasts | Stitcher | Spotify | RSS | More