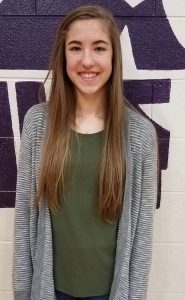 Mara Rugen of Michigan Lutheran High School Volleyball is the WSJM Sports Berrien County Student Athlete of the Week for the week of October 28, 2018. The Titans captured the Division 4 District Championship with wins over Countryside Academy, River Valley, and New Buffalo. In the three matches, Mara finished with a combined 33 kills, 51 digs, one block, and four aces.
Mara is also a member of the Michigan Lutheran Basketball team, Academic Challenge team, National Honor Society, and Student Council. In addition, she serves as a Student Ambassador. In the Classroom, she carries a 3.87 grade point average.
Mara is the daughter of Glenn and Mary Rosenbaum of St. Joseph.
Other finalists for the week were Dani Morrill of Bridgman Swimming and Bethany Duval of Brandywine Volleyball.
Catch Mara's conversation with Phil McDonald below…
Podcast: Play in new window | Download | Embed
Subscribe: Apple Podcasts | Android | Email | Google Podcasts | Stitcher | Spotify | RSS | More