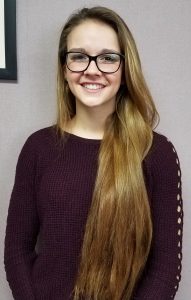 Lauren Kilgore of Bridgman High School Swimming is the WSJM Sports Berrien County Student Athlete of the Week for the week of November 11, 2018. At the Division 1 State Finals, Lauren placed 2nd overall in the 200 Individual Medley with a time of 1:04.16, qualifying her for Nationals. She went on to place 6th overall in the 100 Butterfly with a time of :56.37. She also swam a leg for the 15th place 200 Medley Relay team. During the course of the season, Lauren broke five team records and six Bridgman pool records.
Lauren is also a member of the Buchanan National Honor Society and Student Council, and is on the High Honor Roll. In the classroom, she carries a 4.3 grade point average.
Lauren is the daughter of Brian and Shelley Kilgore of Niles.
Catch Lauren's conversation with Phil McDonald below…
Podcast: Play in new window | Download | Embed
Subscribe: Apple Podcasts | Android | Email | Google Podcasts | Stitcher | Spotify | RSS | More