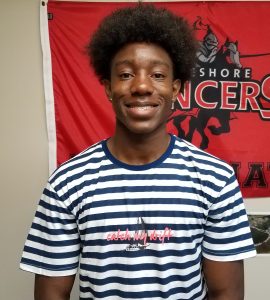 Ja'Kobe Young of Lakeshore High School Track is the WSJM Sports Berrien County Student Athlete of the Week for the week of May 12, 2019.
At the Division 2 Regional Meet, Ja'Kobe won the 200 Meter Dash with a time of :22.42, the third fastest time in the state in Division 2. He also ran a leg for the winning 4×100 and 4×200 Meter Relay teams. The previous week, he won the same three events against St. Joe, Niles, and Portage Northern, and then won the conference championship in the 200 Meter Dash and 4×100 Meter Relay.
Ja'Kobe is also a member of the Lakeshore football and basketball teams. In the classroom, he carries a 3.2.
Ja'Kobe is the son of Cynthia Young of Benton Harbor.
Other finalists for the week were Zoe Dortch and Payton White of Berrien Springs Track, Taylor Garey of St. Joseph Softball, and Jake Ickes of Coloma Baseball.
Catch Phil McDonald's conversation with Ja'Kobe below…
Podcast: Play in new window | Download | Embed
Subscribe: Apple Podcasts | Android | Email | Google Podcasts | Stitcher | Spotify | RSS | More