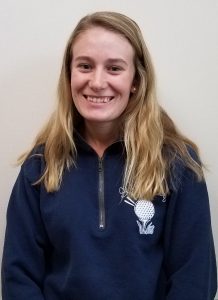 Cailey Rooker of St. Joseph High School Golf is the WSJM Sports Berrien County Student Athlete of the Week for the week of September 30, 2018. Cailey earned medalist honors at the South Haven Invitational. She placed first by firing a 72, one shot shy of the St. Joe school record. Later in the week, she shot an 80 to once again earned medalist honors by winning the Division 2 Pre-Regionals.
Cailey is also a member of the St. Joe Tennis team, Interact Club, Orchestra, and the First Tee of Benton Harbor.
Cailey is the daughter of Paul and Karen Rooker of St. Joseph
Other finalists for the week were Kaylee Thompson of Niles Cross Country, Cubby Aldrich of Watervliet Football, and Derek Holowasko of St. Joe Football.
You can listen to Phil McDonald's conversation with Cailey below…
Podcast: Play in new window | Download | Embed
Subscribe: Apple Podcasts | Android | Email | Google Podcasts | Stitcher | Spotify | RSS | More