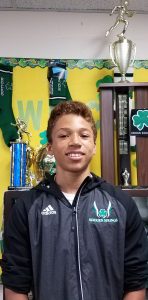 Ashton Sheline of Berrien Springs High School Cross Country is the WSJM Sports Berrien County Student Athlete of the Week for the week of September 23, 2018. At the Berrien County Invitational, Ashton won the individual championship with a personal best time of 16:37. His first place finish helped lead the Shamrocks to winning the county team title.
Prior to the Berrien County Meet, Ashton won a BCS Conference jamboree and the Centreville Invitational.
Ashton is also a member of the Berrien Springs Basketball and Track teams.
Catch Phil McDonald's conversation with Ashton below…
Podcast: Play in new window | Download | Embed
Subscribe: Apple Podcasts | Android | Email | Google Podcasts | Stitcher | Spotify | RSS | More