Alycia Patterson of Niles High School Basketball is the WSJM Sports Berrien County Student Athlete of the Week for the week of February 17, 2019.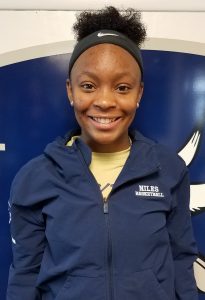 In the Vikings' game against Lakeview, Alycia scored ten points, pulled down six rebounds, and added two steals and two assists. Then against Lakeshore, she scored 25 points to go along with six rebounds, two steals, and two assists.
Last year, Alycia set the sophomore scoring record at Niles. In her free time, she volunteers with the YMCA youth basketball program. In the classroom, she carries a 3.77 grade point average.
Alycia is the daughter of Anthony and Kristen Patterson of Niles.
Catch Phil McDonald's conversation with Alycia below…
Podcast: Play in new window | Download | Embed
Subscribe: Apple Podcasts | Google Podcasts | Spotify | Stitcher | Email | RSS | More