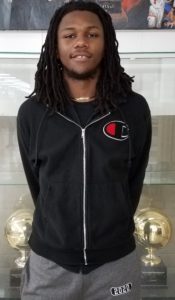 Benton Harbor forward Carlos Johnson has been crowned Michigan's Mr. Basketball! The Hal Schram Mr. Basketball award was announced by the Basketball Coaches Association of Michigan earlier today.
Johnson outdistanced Flint Beecher's Jalen Terry in the voting by BCAM members. He led Benton Harbor to a 20-2 record this season. The Tigers were set to play Coloma for the Division 2 District Championship when the tournament was suspended because of the COVID-19 virus.
Johnson becomes the third player from Benton Harbor to earn the title of Mr. Basketball. He joins Anthony Miller and Wilson Chandler as winners of the award.
This year's Mr. Basketball voting results…
1. Carlos "Scooby" Johnson: 2,949 points (413 1st place votes)
2. Jalen Terry, Flint Beecher: 2,760 points (306 1st place votes)
3. Lorne Bowman II, Orchard Lake St. Mary's: 2,312 points
4. Matt Nicholson, Clarkston: 1,678 points
5. Tyson Acuff, Detroit Cass Tech: 1,497 points