Benton Harbor 63, Otsego 59
Benton Harbor escaped with a 63-59 win over undefeated Otsego Tuesday night in the Division 2 Regional Semifinals.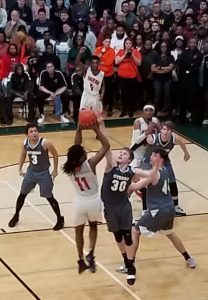 In a game that saw the lead exchange hands several times, the Tigers went 11 of 13 at the free throw line in the fourth quarter to pull it out. Carlos Johnson turned in a game high 28 points in the win, including four free throws in the closing :30 to seal the victory. He added 14 rebounds, seven assists, three steals, and two blocked shots.  Charlie Woodhams scored 16 points in the loss for Otsego.
The win lifts the defending state champions to 22-1 on the season while the Bulldogs end an unforgettable season at 23-1.
Benton Harbor advances to face Hudsonville Unity Christian for the Regional title Thursday night at 7:00 in Wayland live on 106.1 & 1400 WSJM Sports. Unity Christian defeated Three Rivers 89-51.
INDIVIDUAL SCORERS
BENTON HARBOR
Carlos Johnson – 28
Justin Brown – 14
Jamon Walker – 13
Quindarius Davis – 5
Joe Johnson – 3
OTSEGO
Charlie Woodhams – 16
Addison Atwater – 13
Jayden Dentler – 8
Owen Watson – 7
Jordan Ross – 7
Jaxsen Callaway – 5
Will Eldred – 3