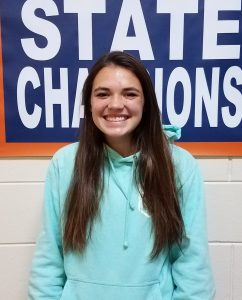 Arie Hackett of Bridgman High School Cross Country is the WSJM Sports Berrien County Student Athlete of the Week for the week of October 27, 2019. This is Arie's first year running cross country, and at the Division 4 State Finals, she helped lead the Bees to the team state championship by placing 11th overall out of 238 runners. She finished with a personal best time of 19:58. She ended the season earning All-Conference, All-Region, and All-State honors.
Arie is also a member of the Bridgman Basketball and Softball teams, and DECA. In the classroom, she carries a 3.8 grade point average.
Arie is the daughter of Trisha Roberts of Baroda.
Other finalists for the week were Riley Mullen of St. Joe Cross Country and Karly Klaer of St. Joe Volleyball.
Catch Arie's conversation with Phil McDonald below…
Podcast: Play in new window | Download | Embed
Subscribe: Apple Podcasts | Android | Email | Google Podcasts | Stitcher | Spotify | RSS | More