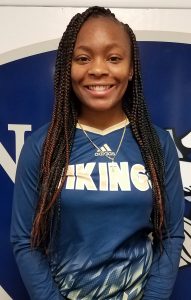 Alycia Patterson of Niles High School Basketball is the WSJM Sports Berrien County Student Athlete of the Week for the week of January 12, 2020.
In the Vikings' win over Berrien Springs, Alycia finished with 16 points, four assists, and five steals. She followed that up with 19 points, four steals, and two rebounds. She ended the week with 22 points, one assist, seven steals, and five rebounds against St. Joe. In the game against St. Joe, Alysia also scored her 1,000th career point.
Alysia also plays travel basketball. In the classroom, she carries a 3.8 grade point average.
Alysia is the daughter of Anthony and Kristen Patterson of Niles.
Other finalists for the week were Amara Palmer of Niles Basketball, Megan Koenigshof of Coloma Basketball, and Owen Weber of LSJ Warriors Hockey.
Catch Alycia's conversation with Phil McDonald below…
Podcast: Play in new window | Download | Embed
Subscribe: Apple Podcasts | Android | Email | Google Podcasts | Stitcher | Spotify | RSS | More