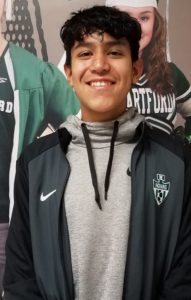 Aaron Robles of Hartford High School Soccer is our WSJM Sports Van Buren/Cass Student Athlete of the Week for the week of October 4, 2020.
In the Indians' 7-1 win over Michigan Lutheran, Aaron led the way with two goals and two assists. He followed that up with a goal and an assist in a 6-0 win over Bangor. He then finished the week with an assist in a 5-0 win over Bloomingdale.
Aaron is also a member of the Hartford Basketball team and Spanish Club. In the classroom, he carries a 3.74 grade point average.
Aaron is the son of Abel and Santa Robles of Lawrence.
Another finalist for the week was Cianna Cox of South Haven Swimming.
Catch Aaron's conversation with Phil McDonald below…
Podcast: Play in new window | Download | Embed
Subscribe: Apple Podcasts | Google Podcasts | Spotify | Stitcher | Email | RSS | More