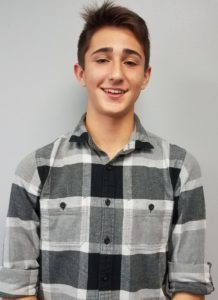 Wes Franzel of Howardsville Christian High School Soccer is our WSJM Sports Van Buren/Cass Student Athlete of the Week for the week of October 25, 2020.
Wes scored three goals in helping lift the Eagles to a Regional Semifinal win over Bangor. He capped off his senior season by earning All-Conference honors for three years, All-District honors for three years, and All-Regional honors for two years.
In the classroom, Wes carries a 3.95 grade point average.
Wes is the son of Daryl and Tamara Franzel of Three Rivers.
Another finalist for the week was Aleena Keh of South Haven Volleyball.
Catch Wes' conversation with Phil McDonald below…
Podcast: Play in new window | Download | Embed
Subscribe: Apple Podcasts | Android | Email | Google Podcasts | Stitcher | Spotify | RSS | More