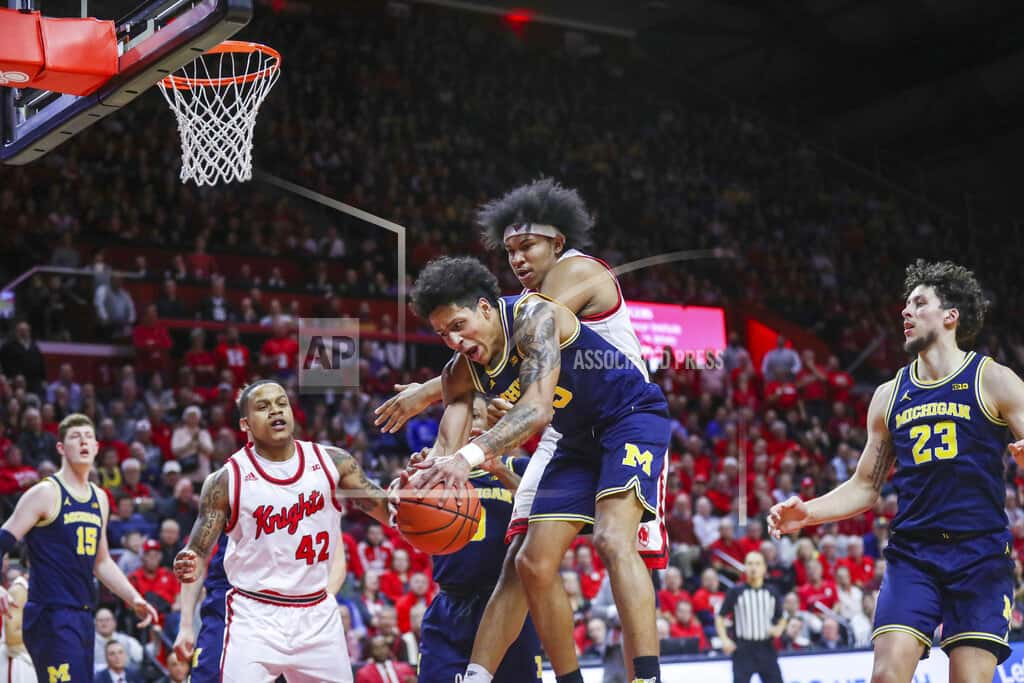 NCAAMBB – Men's College Basketball
Last Night
Michigan 60, Rutgers 52
Michigan 60, Rutgers 52 – Simpson, Wagner spark Michigan to 60-52 victory over Rutgers
Juwan Howard refers to Zavier Simpson as the Tom Brady of Michigan basketball, with the point guard leading and directing the Wolverines.  Simpson did just that, scoring 16 points and five assists and two steals, while Franz Wagner added 12 to hand Rutgers its first loss at the RAC this season, 60-52.
Tonight
Michigan State at Nebraska, 8:30 p.m.            Superhits 103.7 Cosy-FM, 7:30
NCAAWBB – Women's College Basketball
Last Night
Michigan 80, Illinois 59
Western Michigan 69, Bowling Green 55
Central Michigan 71, Kent State 58
Tonight
Michigan State at Purdue, 7:00 p.m.
Virginia Tech at Notre Dame, 8:00 p.m.
NHL – National Hockey League
Last Night
New York Rangers 6, Chicago Blackhawks 3
Rangers 6, Blackhawks 3 – Rangers score 5 times in third period, top Blackhawks 6-3
Chris Kreider and Mika Zibanejad each had a goal and two assists as the New York Rangers scored five times in the third period and beat the Chicago Blackhawks 6-3. Pavel Buchnevich had a goal and assist, and Filip Chytil, Ryan Strome, and Artemi Panarin scored for New York, which won for the fifth time in six games.  Dominik Kubalik scored twice, giving him 25 goals to lead NHL rookies. Drake Caggiula also connected for Chicago, which has just one win in its last eight games (1-5-2). Duncan Keith set up Kubalik's first goal for his 500th career assist.
NBA – National Basketball Association
Tonight
Milwaukee Bucks at Detroit Pistons, 7:00 p.m.
Charlotte Hornets at Chicago Bulls, 8:00 p.m.
NCAAFB – Michigan State adds Courtney Hawkins as wide receivers coach
Michigan State has hired Courtney Hawkins as wide receivers coach. Spartans coach Mel Tucker announced the addition to his new staff on Wednesday. Hawkins was the head coach and athletic director at Flint Beecher High School in Michigan, where he played receiver before going on to star at the position at Michigan State. Hawkins was a two-time All-Big Ten player for the late George Perles from 1988 to 1991 for the Spartans. He played in nine NFL seasons for the Tampa Bay Buccaneers and the Pittsburgh Steelers.
NFL – NFL owners to meet Thursday and discuss labor negotiations
NFL owners will meet Thursday in Manhattan to discuss ongoing negotiations with the players' association about a new collective bargaining agreement. Recent talks have brought both sides closer to a potential agreement a year before the current 10-year deal expires. Having the 32 team owners together for a previously unscheduled forum _ the next scheduled owners meeting is not until the end of March in Florida _ appears to be a sign of substantial progress. The league has proposed a 17-game regular season as part of a new contract.
NASCAR – Newman released from hospital; Chastain to race Las Vegas
Ryan Newman has been released from a Florida hospital two days after a frightening crash on the final lap of the Daytona 500. He had been hospitalized since Monday night. Roush Fenway Racing says the 42-year-old driver was fully alert and walking around the hospital in the hours before he left. No details about his injuries have been released. The team has since updated its roster for this weekend's race at Las Vegas with Ross Chastain filling in for Newman. There is no timetable for Newman's return.
MLB – Verlander, approaching age 37, hopes to remain among elite
Justin Verlander approaches his 37th birthday and Houston's ace evolves. He wants to maintain the skills that allowed him to win his second Cy Young Award last season, eight years after he won the first one. Verlander, who will turn 37 on Thursday, talked about aging this week as he prepares for his 16th MLB season. He led the majors with 21 wins last year and his 2.58 ERA ranked second. He also led the majors with 223 innings, his most since 2012, and his 34 starts tied for the most in the league.
MLB – Astros name barred by Little Leagues near Williamsport
Just 60 miles east of Williamsport, Pennsylvania, one Little League director is sending a clear message to his 4,000 players that the Houston Astros and their sign-stealing scam aren't to be emulated.  He is recommending that no teams in the 23 leagues he oversees use the Astros as a team name this season after it was discovered Houston used a live camera feed to steal signs en route to a 2017 World Series title. Little League International, the Williamsport-based governing body for youth leagues around the world, said in a statement it won't restrict districts or leagues from banning the Astros name.
MLB – Kipnis chasing Cubs' 2nd base job, mentoring Hoerner
Jason Kipnis joined the Chicago Cubs this spring for a shot at the second base job. He also realizes the role he plays in helping develop 22-year-old prospect Nico Hoerner. The two-time All-Star spent his entire nine-year career in Cleveland, amassing nearly 100 postseason at-bats, including the Indians run to the 2016 World Series when they lost in seven games to the Cubs. Kipnis said he remembers coming up himself as a top prospect just trying to make his way.
NCAA – University of Michigan investigates doctor sex abuse claims
An investigation has found five former patients who allege that a late University of Michigan physician sexually abused them during exams going back decades. The school said Wednesday that it's set up a hotline for others to come forward with information about Robert E. Anderson, the former director of University Health Service and athletic team physician, who worked at the school from the 1960s to 2003. He died in 2008. A former student contacted the university's athletic director in 2018 alleging misconduct during medical exams. Several others have since alleged similar abuse from the 1970s to the 1990s. A Washington, D.C.-based law firm is investigating.
WNBA – Dolson re-signs with Chicago; chosen for US 3-on-3 team
It's been a busy week for Stefanie Dolson. The 28-year-old was part of the NBA All-Star festivities this past weekend in Chicago, as well as being selected to the USA Basketball 3-on-3 qualifying team. The All-Star center also re-signed with the Chicago Sky. The free agent said that she never considered going anywhere else and always wanted to stay in Chicago.
Olympics – Virologist: Tokyo Olympics probably couldn't be held now
A Japanese virologist says if the Tokyo Olympics were tomorrow the games probably couldn't be held because of the fast-spreading virus from Wuhan, China. Dr. Hitoshi Oshitani says "right now we don't have an effective strategy and I think it may be difficult to have the Olympics." He is more hopeful about the outlook just over five months from now when the games are scheduled to open on July 24. But he is still wary. He says "I'm not sure of the situation in Japan at the end of July." He says he was most concerned about a "Wuhan-type" of outbreak taking place in Africa or other parts of Asia and having cases imported into Japan.
AHL – American Hockey League
Today
Grand Rapids Griffins at Chicago Wolves, 12:00 p.m.
ECHL – ECHL Hockey League
Last Night
Fort Wayne Komets 5, Kalamazoo Wings 4
NBAGL – NBA G–League
Last Night
Wisconsin Herd 107, Grand Rapids Drive 103
Today
Erie Bayhawks at Windy City Bulls, 12:00 p.m.
MCCAA – Junior College Sports
Last Night
Women's Basketball
Lake Michigan College 68, Ancilla College 65
Men's Basketball
Ancilla College 104, Lake Michigan College 70
MHSAA – High School Athletics
Last Night
Boys Basketball
Decatur 63, Bangor 40
New Buffalo 55, Lawrence 54
Girls Basketball
Decatur 47, Bangor 28
Coloma 24, South Haven 23
Watervliet 51, Lawton 42
Martin 54, Constantine 41
Wrestling – Regionals
Division 2 at Battle Creek Harper Creek
Lakeshore 33, Niles 27
Harper Creek 54, Plainwell 22
Championship – Lakeshore 47, Harper Creek 31
Division 3 at Hopkins
Dowagiac 35, South Haven 34
Constantine 66, Hopkins 16
Championship – Dowagiac 38, Constantine 33
Division 4 at Lawton
White Pigeon 52, Decatur 30
Lawton 72, Eau Claire 10
Championship – Lawton 41, White Pigeon 37
Tonight
Boys Basketball
Edwardsburg at Vicksburg, 7:30 p.m.
Mendon at Cassopolis, 7:30 p.m.
Athens Factoryville Christian at Howardsville Christian, 6:00 p.m.
Girls Basketball
River Valley at Michigan Lutheran, 7:30 p.m.
Buchanan at Brandywine, 7:30 p.m.
Edwardsburg at Vicksburg, 6:00 p.m.
Mendon at Cassopolis, 6:00 p.m.