Sports Radio 1400 WSJM     @wsjmsports     wsjmsports.com     Tuesday, February 17, 2015
NHL – National Hockey League
Last Night
Montreal Canadiens 2, Detroit Red Wings 0
Canadiens 2, Red Wings 0 – Plekanec, Price lead Canadiens to 2-0 win over Red Wings
Tomas Plekanec snapped a scoreless tie with 2:30 remaining and Carey Price made 25 saves in his fifth shutout of the season, propelling the Montreal Canadiens to a 2-0 victory over the Detroit Red Wings on Monday night. Plekanec's slap shot got past Jimmy Howard for his 17th goal of the season. Max Pacioretty, who assisted on the first goal, added an empty-netter in the closing seconds. Howard, making his second start since missing five weeks with a groin injury, stopped 27 shots as the Red Wings dropped their third straight. They have lost all three games against the Canadiens this season.
NCAA Basketball – Men's
Tonight
Wake Forest at (10) Notre Dame, 7:00 p.m.
Michigan State at Michigan, 9:00 p.m.  Sports Radio 1400 WSJM, (after HSBB) / Super Hits 103.7 Cosy-FM 8:00
NCAA Basketball – Men's – Spartans, Wolverines set for intense rematch
Michigan coach John Beilein says injured point guard Derrick Walton will not play against Michigan State on Tuesday night. Walton has been dealing with toe problems and hasn't played since Jan. 24. The Wolverines are also without guard Caris LeVert, who is out for the season with a foot injury. With LeVert and Walton both sidelined, Michigan lost at Michigan State in overtime on Feb. 1. That was the start of a four-game losing streak. The rematch is Tuesday in Ann Arbor. Guards Spike Albrecht and Muhammad-Ali Abdur-Rahkman scored 18 points apiece for Michigan in the first meeting with Michigan State, and the Wolverines played fairly well on offense until overtime, when the Spartans shut them out for the entire extra period.
NCAA Basketball – Men's – Michigan's Hatch to receive USBWA award for courage
Austin Hatch, the Michigan freshman who is playing for the Wolverines after surviving two tragic plane crashes, will receive the U.S. Basketball Writers Association's Most Courageous Award for 2015. Hatch lost family members in both crashes. He was in a coma for about eight weeks after the second one, which took place in 2011. His father and stepmother died in that accident. Michigan coach John Beilein honored Hatch's scholarship, and he scored his first collegiate point in December, making a free throw against Coppin State. Hatch will be honored April 6 in Indianapolis at the USBWA's annual awards function at the Final Four. Hatch was a high school basketball standout in Indiana.
NCAA Basketball – Women's
Last Night
(4) Notre Dame 63, (10) Duke 50
(5) Maryland 75, Michigan State 69
(4) Notre Dame 63, (10) Duke 50 – Loyd leads No. 4 Notre Dame to 63-50 win over No. 10 Duke
Jewell Loyd scored 21 points to lead No. 4 Notre Dame to a 63-50 win over No. 10 Duke last night. Duke jumped out to a 14-5 lead over the first 5:31. Notre Dame went on a 14-5 run of its own over the final 10:17 of the first half to take a 34-24 lead into the break. Duke hit just two of nine attempts from the field and the Irish held a 12-7 rebounding advantage during that stretch.
(5) Maryland 75, Michigan State 69 – Jones helps No. 5 Maryland stay beat Michigan State 75-69
Brionna Jones scored 17 points as No. 5 Maryland escaped with a 75-69 win over Michigan State last night. Lexie Brown added 14 points for the balanced Terrapins. Aerial Powers scored 18 points for the Spartans.
Tonight
Eastern Michigan at Miami (OH), 6:00 p.m.
NCAA Basketball – Women's – ND women's basketball coach job endowed by ex-player
A former Notre Dame player and her husband have donated $5 million to endow the position of women's basketball coach, making it the first endowed coaching job at the school. The university announced Monday that the position has been endowed by Karen Robinson Keyes and her husband, Kevin. Keyes played for the Irish under coach Muffet McGraw from 1987-91, leading Notre Dame to its first top-20 ranking her senior year. She ended her career as the top scorer in school history with 1,590 points. Keyes is now eighth on the all-time list.  She currently coaches a high school team in Ridgewood, New Jersey. McGraw is in her 28th season as coach of the Irish.
NFL – LA stadium proposal a windfall for local campaigns
The company that is moving quickly on a plan to build a stadium that could host a Southern California NFL team has given more than $118,000 in campaign contributions to officials in the city where it would be located.  The Los Angeles Times is reporting that campaign finance forms show most of the money went to Inglewood Mayor James T. Butts Jr., a major supporter of the stadium plan. The donations came during four different campaigns starting in 2006.
 
NFL – Chargers want politicians to act
The stadium plans for Inglewood have the San Diego Chargers playing tough with local politicians. The Chargers have issued their sternest warning yet to City Hall in their long-running effort to get a new stadium. Attorney Mark Fabiani has told the mayor's advisory group that for the time being, anyway, there might not be a publicly acceptable solution to replace aging Qualcomm Stadium. Fabiani has handled the team's stadium push since 2002 and says "we have no intention of allowing the Chargers franchise to be manipulated for political cover."
Cycling – Armstrong to pay back bonuses
An arbitration panel has ordered Lance Armstrong and his defunct team management company to pay $10 million in a fraud dispute with a promotions company.  Dallas-based SCA Promotions sued after it paid Armstrong and Tailwind Sports Corp. $12 million in bonuses during Armstrong's cycling career, when he won seven Tour de France titles. Those victories were stripped after Armstrong and his U.S. Postal Service teams were found to have used banned performance-enhancing drugs.
WNBA – Liberty acquire Epiphanny Prince for Cappie Pondexter
The New York Liberty have acquired Epiphanny Prince from the Chicago Sky for Cappie Pondexter in a blockbuster trade. Prince averaged 15 points for the Sky last season in helping Chicago reach the WNBA Finals for the first time in franchise history. The New York City native is thrilled for the chance to come home and play in front of family and friends. Pondexter averaged a career-low 13.2 points this past season for New York, which missed the playoffs for the second straight season. The 32-year-old guard came to the Liberty in a trade in 2010. Monday's trade also allows Pondexter a chance to go home _ she was raised in Chicago.
WNBA – Delle Donne enjoys NBA All-Star weekend
It was a whirlwind NBA All-Star weekend for Elena Delle Donne. She judged the first NBA fashion show and competed in the All-Star Saturday night's shootout where her team finished last. She also had a few sponsor appearances thrown in as well. Delle Donne also helped lead her Special Olympics team to a 58-56 victory on Saturday morning.
MLB – Ernie Banks caretaker says Cubs star trusted her
The woman who was the late baseball great Ernie Banks' caretaker says she is determined to carry out his wishes despite concerns expressed by his family. The twin sons of Ernie Banks asserted Monday that Regina Rice, acting as his agent and caretaker, coerced Banks into signing a new will giving her all his assets. Jerry and Joey Banks said their father was ill at the time Rice had him sign a new will. In a statement, Rice says she understands the concerns of Banks' family. She says the record and those closest to Banks will "dispel any iota of concern regarding my relationship with Ernie and his trust in me to carry out his wishes." Attorney Mark Bogen says Banks' family will contest the will.
MHSAA – High School Sports
Last Night
Boys Basketball
Bridgman 67, New Buffalo 62
Howardsville Christian 55, River Valley 50
Bangor 52, Bloomingdale 30
Girls Basketball
Bridgman 47, New Buffalo 32
Buchanan 56, Constantine 31
Decatur 42, Cassopolis 37
Bangor 49, Bloomingdale 38
Gobles 48, Martin 35
Hartford 34, Lawton 28
Watervliet Grace Christian 49, Eau Claire 46
Sturgis 63, Comstock 50
Competitive Cheer
Cheer By The Pier III at St. Joseph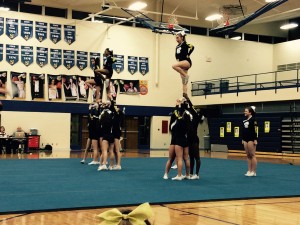 Division 1/2

Round 1

Round 2

Round 3

Penalties

Total

St. Joseph

220.20

216.00

290.70

-8.00

718.90

Lakeshore

209.50

190.22

280.30

-2.00

678.02

Loy Norrix

189.20

148.74

225.30

-10.00

553.24

Niles

180.90

149.90

170.90

-10.00

491.70

Division 3/4

Round 1

Round 2

Round 3

Penalties

Total

Coloma

207.60

169.70

270.20

647.50

Berrien Springs

205.60

174.40

272.70

-8.00

644.70

Lake Michigan Catholic

191.00

158.60

247.60

597.20

Dowagiac

181.50

153.80

245.90

-8.00

573.20

Buchanan

186.50

148.70

237.20

572.40

Eau Claire

170.60

141.00

222.20

-14.00

519.80

Hartford

173.60

136.20

211.50

-20.00

501.30
Tonight
Boys Basketball
Lake Michigan Catholic at Countryside  WSJM-AM
South Bend Washington at Bridgman
New Buffalo at Buchanan
Otsego at South Haven
Vicksburg at Berrien Springs
Plainwell at Coloma
Sturgis at Dowagiac
Three Rivers at Edwardsburg
Allegan at Paw Paw
Saugatuck at Bloomingdale
Watervliet at Decatur
Gobles at Fennville
Lawrence at Hartford
Lawton at Marcellus
Bangor at Martin
White Pigeon at Cassopolis
Brandywine at Comstock
Battle Creek Lakeview at Portage Central
Godwin Heights at Portage Northern
Mattawan at Wayland
Girls Basketball
Brandywine at St. Joseph
Gull Lake at Lakeshore
Cassopolis at Niles
Lake Michigan Catholic at Countryside
New Buffalo at Michigan Lutheran
White Pigeon at Watervliet Grace Christian
Mattawan at Wayland
South Haven at Otsego
Berrien Springs at Vicksburg
Coloma at Plainwell
Dowagiac at Sturgis
Edwardsburg at Three Rivers
Paw Paw at Allegan
Buchanan at Bangor
Kalamazoo Hackett at Lawton
Fennville at Zeeland West