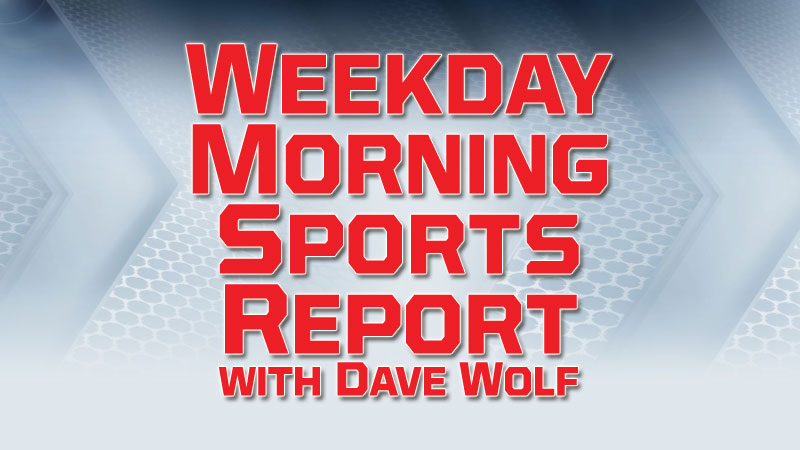 MLB – Major League Baseball
Yesterday
Pittsburgh Pirates 5, Chicago Cubs 1
Detroit Tigers at Chicago White Sox, PPD, Rain
Pirates 5, Cubs 1 – Frazier stays hot, leads Pirates by listless Cubs 5-1
Pirates second baseman Adam Frazier hit a three-run home run off Chicago's Mike Montgomery after a long rain delay to lead the Pirates to a 5-1 victory over the Cubs on Tuesday night.  One game after tying a major league record by clubbing four doubles, Frazier finished 4 for 4 and scored three runs as the Pirates won for the ninth time in 13 games.  Frazier led off the bottom of the first with a single off Kyle Hendricks (7-6), doubled off Hendricks again in the third, then took Montgomery into the seats above the Clemente Wall in right field shortly after a two-hour, five-minute rain delay to give Pittsburgh a five-run lead it never came close to squandering.  The Cubs managed just six hits against starter Joe Musgrove and five relievers and didn't get a runner past first base until a two-out double by Addison Russell in the eighth. Willson Contreras hit an RBI double in the ninth against Pittsburgh closer Felipe Vazquez to avoid the shutout. Clay Holmes (1-0) worked two scoreless innings to pick up the win.
Tigers at White Sox, PPD – Tigers White Sox Game rained out
Tuesday night's game between the Chicago White Sox and the Detroit Tigers has been postponed by rain. It will be made up on Sept. 27 as part of a straight doubleheader.  The game is the third postponement between the two teams, including April 20 at Comerica Park and April 27 at Guaranteed Rate Field. The clubs are scheduled to play split doubleheaders on Wednesday and Aug. 6 in Detroit.  Light rain started falling as White Sox starter Reynaldo Lopez walked in from the bullpen minutes before the scheduled first pitch. Just as he reached the dugout, it became a steady downpour that was continuing when the game was called nearly an hour after the scheduled first pitch.  Lopez, 4-7 with a 6.12 ERA, was scheduled to face Detroit left-hander Matthew Boyd, 5-6 with a 3.72 ERA.  Although Lopez allowed three runs in no-decisions each of his previous two starts, he entered with a 1-3 record and 7.61 ERA in his last seven outings.  The Tigers entered having lost nine of their last 10.
Tonight
Detroit (Norris 2-7) at Chicago White Sox (Cease 0-0), 2:10 p.m. – Game 1 WSJM Sports/Cosy-FM 12:45
Detroit (Alexander 0-0) at Chi. White Sox (Detwiler 1-0), 8:10 p.m. – Game 2 WSJM Sports/The Coast 7:45
Chicago Cubs (Darvish 2-4) at Pittsburgh (Archer 3-6), 7:05 p.m.
MLB – Skaggs mourned with moment of silence in Texas
A moment of silence was held before the Los Angeles Angels played at Texas, with the team lined up outside the dugout when Tyler Skaggs was remembered. Public address announcer Chuck Morgan said the Rangers offered their deepest sympathies and condolences to Skaggs' family, his teammates and the entire Angels organization. A photo of Skaggs was shown on the huge video boards over right and left field before those screens, and every other screen in the stadium, went dark momentarily. The entire Angels team and its staff remained on the field together for the playing of the national anthem. The introductions of the starting lineups by Morgan before that were uncharacteristically subdued with the Angels playing heavy-hearted the night after the 27-year-old Skaggs died in his Texas hotel room.  And when the Rangers took the field for the start of the game, they ran out to their positions quietly without any music playing on the speakers.
MLB – Brewer signs with Astros
St. Joseph native and Michigan Wolverine Jordan Brewer has signed with the Houston Astros.  Brewer's signing comes after Michigan's season ended with a loss in the College World Series.  Brewer was selected in the third round of this year's Major League Baseball draft.   Brewer was named the Big Ten player of the year in his first season at Michigan.  Before coming to Michigan, Brewer played at Lincoln Trails Community College in Illinois.  Full details of his contract with the Astros is unavailable, but according to Fox 26 TV in Houston, Brewer got a signing bonus of $549,000.  There is no word on where Brewer will be assigned to in the Astros system.
FIFA – 2019 Women's World Cup – Semifinals
Yesterday
United States 2, England 1
USA 2, England 1 – US to defend title
The United States squad is headed once again to the Women's World Cup final thanks to a 2-1 win over England on Tuesday. Alex Morgan scored the go-ahead goal and Alyssa Naeher preserved the victory by smothering a late penalty kick. The top-ranked Americans will now face the winner of Wednesday's semifinal between the Netherlands and Sweden.
Today
Netherlands vs. Sweden, 3:00 p.m.
WNBA – Women's National Basketball Association
Yesterday
Las Vegas Aces 90, Chicago Sky 82
Aces 90, Sky 82 – Aces use balanced scoring to beat Sky 90-82
A'ja Wilson, Liz Cambage and Kayla McBride all scored 16 points to lead a balanced offense as Las Vegas beat Chicago 90-82 on Tuesday in a matinee game.  Cambage also had nine rebounds and seven assists for the Aces (8-5). Dearica Hamby and Kelsey Plum added 14 points each.  Trailing 80-78 midway through the fourth quarter, the Aces closed the game on a 12-2 run. Wilson had six points in the game-ending run as the Sky missed their last 10 shots.  Allie Quigley scored 18 points and Courtney Vandersloot had 12 assists for Chicago (6-7), which has dropped four straight.  Las Vegas shot 77 percent in the first quarter and led 31-28. The Aces were up 55-54 at the half.
Tennis – Wimbledon – Nadal, Federer, Serena Williams advance
Playing his first match since winning his 12th French Open title, Rafael Nadal had little trouble in making the switch from clay back to grass. Nadal began his search for a third Wimbledon title by beating Japanese qualifier Yuichi Sugita 6-3, 6-1, 6-3 to reach the second round. Also today, Roger Federer shrugged off an early deficit to beat Lloyd Harris of South Africa 3-6, 6-1, 6-2, 6-2 on Centre Court as he began his search for a record-extending ninth Wimbledon title. Sam Querrey of the United States took the last nine games and upset No. 5 seed Dominic Thiem to make the French Open runner-up the third top-10 man already gone in Wimbledon's first round.   And hard-serving American John Isner finished off his opening match at Wimbledon in straight sets, beating Casper Ruud of Norway. In women's action, Serena Williams opened her bid for a 24th Grand Slam title with a straight-set victory on Centre Court at Wimbledon. The seven-time champion at the All England Club beat Giulia Gatto-Monticone of Italy 6-2, 7-5.
NHL – Yzerman being patient in new role as Red Wings GM
Steve Yzerman is practicing patience in his first year as the Detroit Red Wings' general manager. The Hockey Hall of Famer and former Red Wings great made some subtle moves to improve his roster without saddling the rebuilding franchise with big contracts. Detroit signed both center Valtteri Filppula and defenseman Patrik Nemeth to two-year, $6 million contracts and also added goaltender Calvin Pickard with a two-year deal. Yzerman says he wants to proceed slowly to get to know the organization.
Olympics – Tokyo Olympic stadium 90% complete; opening set for December
Tokyo's new National Stadium is 90% completed with the opening of the Olympics just over a year away. Media were given a glimpse inside the $1.25 billion stadium on Wednesday. It is located in central Tokyo and will be the scene of the opening ceremony on July 24, 2020. It will also be the venue for track and field for the Olympics and Paralympics. Organizers say they are planning an event on Dec. 21 to inaugurate the new stadium, which was designed by Japanese architect Kengo Kuma. The new stadium design was first awarded to British architect Zaha Hadid, but eventually the futuristic design was scraped as the cost soared toward $2 billion.
MWL – Midwest League Baseball
Last Night
West Michigan 5, South Bend 3
Lansing 4, Great Lakes 3
Today
Lansing at Great Lakes, 7:05 p.m.
West Michigan at South Bend, 7:35 p.m.