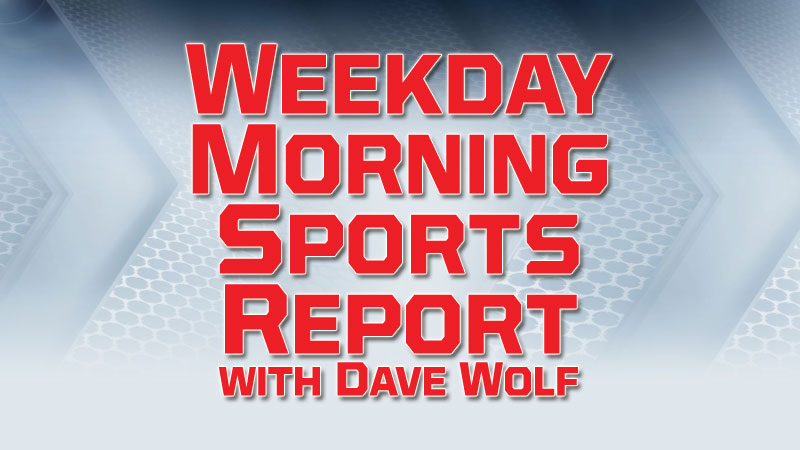 MLB – Major League Baseball
Yesterday
Detroit Tigers 3, Philadelphia Phillies 1
Chicago Cubs 6, Seattle Mariners 5
Baltimore Orioles at Chicago White Sox, PPD Rain
Tigers 3, Phillies 1 – Cabrera, Goodrum help lift Tigers past Phillies 3-1
Miguel Cabrera had an RBI single and Niko Goodrum added a two-run homer to lift the Detroit Tigers to a 3-1 victory over the Philadelphia Phillies on Tuesday night.  Spencer Turnbull pitched six strong innings as the Tigers snapped a four-game losing streak while rebounding from Sunday's 4-1 loss at the White Sox in which they tied a major-league record for a nine-inning game with 20 strikeouts.  Cabrera moved into a tie for 68th all-time with 2,705 career hits. He matched Doc Cramer with a third-inning base hit to left to help the Tigers win the interleague game. It was the Tigers' first meeting with the Phillies since 2016 and their first trip to Philadelphia since 2007.  The NL East-leading Phillies managed just four hits while falling to 11-6 at home.  Turnbull (2-2) was a late replacement for scheduled starter Tyson Ross, who was placed on the paternity list. The rookie allowed one run and three hits with five strikeouts and two walks.  Shane Greene pitched a scoreless ninth for his 12th save in as many chances.
Cubs 6, Mariners 5 – Schwarber's homer lifts Cubs to 6-5 win over Mariners
Kyle Schwarber hit a two-run homer with two out in the eighth, and the Chicago Cubs topped the Seattle Mariners 6-5 on Tuesday night for their third consecutive victory.  Schwarber's long ball was the last of three homers for Chicago, and easily the most important.  Brandon Brennan (1-2) struck out Javier Báez to end the seventh inning and got the first two outs of the eighth before Willson Contreras doubled. Schwarber then drove Brennan's changeup into the second deck in right field for his first homer since April 8. Brad Brach (3-0) pitched 1 1/3 innings for the win and Steve Cishek got four outs for his first save of the season.
Tonight
Baltimore (Hess 1-4) at Chicago White Sox (Rodon 3-2), 4:10 p.m. – Game 1
Baltimore (Cashner 4-1) at Chicago White Sox (Nova 0-3), 7:40 p.m. – Game 2
Chicago Cubs (Lester 1-1) at Seattle (Gonzales 5-0), 6:40 p.m.
Detroit (Norris 1-0) at Philadelphia (Nola 2-0), 7:05 p.m.                     WSJM Sports/Cosy-FM 6:40
NBA – National Basketball Association
Last Night
Milwaukee Bucks 123, Boston Celtics 102                                              (Series tied 1-1)
Golden State Warriors 115, Houston Rockets 109                                 (GSW leads 2-0)
Bucks 123, Celtics 102
Milwaukee has tied its NBA Eastern Conference semifinal series at a game apiece as Khris Middleton drained seven of the Bucks' 20 treys in a 123-102 romp over the Boston Celtics. Middleton finished with 28 points for Milwaukee, which went 20 for 47 from beyond the arc. All-Star forward Giannis Antetokounmpo (YAH'-nihs an-teh-toh-KOON'-poh) also had a bounceback performance with 29 points and 10 rebounds.
Warriors 115, Rockets 109
Kevin Durant scored 29 points and the Golden State Warriors took a 2-0 lead in the NBA's Western Conference semifinals by topping the Houston Rockets, 115-109. Klay Thompson scored 21 points and hit consecutive 3-pointers late in the third quarter to help Golden State carry a seven-point advantage into the final period. Stephen Curry finished with 20 points and Draymond Green added 15 points with 12 rebounds and seven assists for the Warriors.
Tonight
Portland Trailblazers at Denver Nuggets, 9:00 p.m.                               (DEN leads 1-0)
NHL – 2019 NHL Stanley Cup Playoffs – Round 2 (Best of 7)
Last Night
Columbus Blue Jackets 2, Boston Bruins 1                                             (CBJ leads 2-1)
San Jose Sharks 4, Colorado Avalanche 2                                              (SJS leads 2-1)
Blue Jackets 2, Bruins 1
Sergei Bobrovsky (boh-BRAHF'-skee) turned back 36 shots and the Columbus Blue Jackets took a two-games-to-one lead in their NHL second-round series by nipping the Boston Bruins, 2-1. Bobrovsky preserved the Blue Jackets' one-goal lead while the Bruins were outshooting Columbus, 15-7 in the third period. Boone Jenner and Matt Duchene (doo-SHAYN') scored against Tuukka (TOO'-kah) Rask, who stopped 32 shots.
Sharks 4, Avalanche 2
Logan Couture scored three times as the San Jose Sharks doubled up the Colorado Avalanche, 4-2 to take a 2-1 lead in the second round of the Stanley Cup playoffs. Couture provided the tiebreaking goal with 7:10 remaining, 65 seconds after Matt Nieto tied it for the Avs. Timo Meier also scored and Martin Jones stopped 25 shots for San Jose.
Tonight
New York Islanders at Carolina Hurricanes, 7:00 p.m.                           (CAR leads 2-0)
St. Louis Blues at Dallas Stars, 9:30 p.m.                                              (STL leads 2-1)
Horse Racing – Omaha Beach is 4-1 favorite for the 145th Kentucky Derby
Omaha Beach is the 4-1 early favorite for the Kentucky Derby after drawing the No. 12 post position in the 20-horse field at Churchill Downs this weekend. Omaha Beach enters the Derby on a three-race winning streak and is trained by Hall of Famer Richard Mandella.  Bob Baffert-trained Game Winner is the 5-1 second choice from the No. 16 post starting inside stablemate Roadster, the 6-1 co-third choice with Improbable, at the No. 5 hole.  Baffert is going for his sixth Kentucky Derby win and second straight. Last year he won with Justify, culminating in the Triple Crown. That came three years after he took the Triple Crown with American Pharoah.
NASCAR – Trump welcomes NASCAR champ to White House
President Donald Trump welcomed NASCAR champion Joey Logano, and his race car _ to the White House.  Trump celebrated the 2018 NASCAR Cup Series Champion Tuesday on the South Lawn, along with team owner Roger Penske. With Logano's car parked nearby, Trump praised the driver and called it "one beautiful car."  Trump also congratulated Penske and the team, saying he had known Penske a long time. He described NASCAR as a thrilling sport and called himself a fan. "They're winners, right," said Trump. "The team is a winner and NASCAR is a winner."  Logano thanked his team and gave Trump one of his helmets and a small trophy.  Trump concluded the event by inviting the team and some members of Congress to tour the Lincoln bedroom.
NCAAFB – Hoosiers to begin beer, wine sales at home football games
Indiana University will sell beer and wine at home football games starting this fall. School officials said Tuesday it will be part of a pilot program recommended by a consulting firm. A third-party vendor will be chosen and will limit purchasers to a two-drink maximum per transaction. All sales will end at the end of the third quarter. Athletic director Fred Glass said the hope is to reduce alcohol-related incidents inside and around Memorial Stadium. Ten percent of proceeds will be used on the university's alcohol safety programming. More than four dozen schools _ including five in the Big Ten _ already sell alcohol at football games.
Tennis – Wimbledon targets using serve clock in 2020
Wimbledon is "highly likely" at the 2020 tournament to introduce a serve clock that debuted in Grand Slams at last year's US Open. Players have 25 seconds to prepare after a point for the next first serve. They are first warned, then assessed a fault for the second violation. Tournament CEO Richard Lewis detailed the timetable at a news conference on Tuesday saying the clock is "not a rule change, just a visible device on the court to manage the rule."  Wimbledon will also have a retractable roof on the No. 1 court, with an increased capacity of 12,345.
MWL – Midwest League Baseball
Yesterday
Wisconsin at Lansing, PPD Rain
Beloit at Great Lakes, PPD Rain
South Bend at Burlington, PPD Rain
West Michigan at Clinton, PPD Rain

Tonight
West Michigan at Clinton, 12:00 p.m. (DH)
Beloit at Great Lakes 5:05 p.m. (DH)
Wisconsin at Lansing, 6:05 p.m. (DH)
South Bend at Burlington, 6:00 p.m. (DH)
MCCAA – Junior College Sports
Yesterday
Baseball
Lake Michigan College at Macomb Community College, PPD, Rain
Softball
Lake Michigan College at Glen Oaks Community College, PPD, Rain
MHSAA – High School Sports
All games cancelled or postponed because of weather
Today
Baseball
Paw Paw at Vicksburg, 4:00 p.m. (DH)
Softball
Paw Paw at Vicksburg, 4:00 p.m. (DH)
Girls Soccer
Michigan Lutheran at New Buffalo, 5:00 p.m.
Lake Michigan Catholic at Bridgman, 5:00 p.m.
Lakeshore at Niles, 5:30 p.m.
Buchanan at Comstock, 5:00 p.m.
Battle Creek Central at Mattawan, 6:30 p.m.
Kalamazoo Central at Kalamazoo Loy Norrix, 6:30 p.m.
Battle Creek Lakeview at Gull Lake, 6:30 p.m.
Portage Central at Portage Northern, 6:30 p.m.
Vicksburg at Plainwell, 6:00 p.m.
Otsego at South Haven, 5:30 p.m.
Kalamazoo Home School at Bangor, 5:00 p.m.
Fennville at Kalamazoo Christian, 5:00 p.m.
Lawton at Schoolcraft, 5:00 p.m.
Boys Golf
SMAC West at Point O Woods (St. Joseph host), 3:30 p.m.