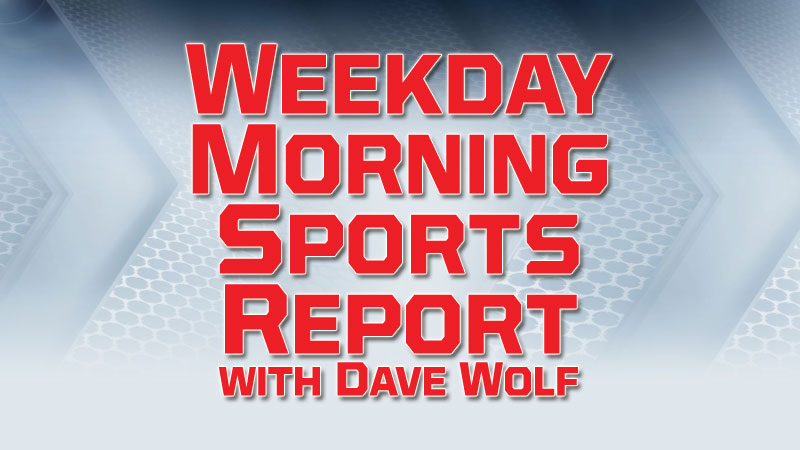 MLB – Major League Baseball
Yesterday
Pittsburgh Pirates 5, Detroit Tigers 3 – 10 Innings
Chicago White Sox 5, Kansas City Royals 1
Chicago Cubs 4, Miami Marlins 0
Pirates 5, Tigers 3 – F/10 – Marte's homer in 10th inning lifts Pirates over Tigers 5-3
Starling Marte hit a two-run homer in the 10th inning to lift the Pittsburgh Pirates to a 5-3 victory over the Detroit Tigers on Tuesday night.  Jung Ho Kang also went deep for Pittsburgh, which blew a 3-0 lead but recovered to win when Marte hit a two-out drive off Shane Greene (0-1). Detroit's closer hadn't allowed a run all season.  Keone Kela (1-0) gave up a tying single by Jeimer Candelario in the ninth, but Nick Kingham was able to close out the Tigers in the 10th for his first career save.  Pittsburgh starter Joe Musgrove permitted his first two earned runs of the season but was otherwise impressive. He yielded six hits and a walk while striking out six in seven innings.  Tigers starter Matthew Boyd struck out the side in the first but eventually allowed three runs in seven innings.
White Sox 5, Royals 1 – Moncada, Garcia power White Sox past Royals 5-1
Yoan Moncada hit a pair of solo shots for his first multihomer game and Leury Garcia added a two-run drive to power the Chicago White Sox past the Kansas City Royals 5-1 on Tuesday night.  Yonder Alonso also homered and went 4 for 4 as the White Sox won for the fourth time in five games.  Reynaldo Lopez (1-2) allowed one run and five hits in six innings to rebound from a poor start to his season. The 25-year-old right-hander had permitted 18 earned runs in 13 1/3 innings over his first three games and gave up eight runs on 10 hits in his last outing against Tampa Bay.  Four relievers worked the final three innings for Chicago. Alex Colomé pitched the ninth in a non-save situation.
Cubs 4, Marlins 0 – Quintana goes 7 innings, Cubs beat Marlins 4-0
Jose Quintana gave up six hits in seven innings to lead the Chicago Cubs to a 4-0 victory over the Miami Marlins on Tuesday night.  Quintana (2-1) struck out seven and extended his scoreless innings streak to 14. The left-hander didn't allow a runner to reach second until Austin Dean's two-out double in the seventh.  Javier Baez went 3 for 4 and hit his fifth homer, a solo shot to the opposite field off Adam Conley in the eighth. Baez has three hits in each of his last three games.  Brandon Kintzler relieved Quintana and surrendered a two-out single to Brian Anderson and walked Starlin Castro. Jorge Alfaro drove Kintzler's 1-1 fastball to the warning track in center before Albert Almora tracked it down for the third out.  Chicago scored its fourth run on Ben Zobrist's sacrifice fly in the ninth.  Pedro Strop pitched a scoreless ninth for the Cubs, who have won five of six.
Today
Kansas City (Keller 2-1) at Chicago White Sox (Giolito 2-1), 2:10 p.m.
Pittsburgh (Williams 1-0) at Detroit (Turnbull 0-2), 6:40 p.m.    WSJM Sports/Cosy-FM 6:15
Chicago Cubs (Hamels 2-0) at Miami (Alcantara 1-1), 7:10 p.m.
MLB – 2026 MLB All-Star Game will be in Philadelphia
Baseball's 2026 All-Star Game will be played in Philadelphia to mark the 250th anniversary of the Declaration of Independence. Commissioner Rob Manfred made the announcement Tuesday at Independence Hall with a cast of All-Stars past and present behind him.  This will be the first All-Star Game at Citizens Bank Park, which opened in 2004. The 1976 All-Star Game was played at Veterans Stadium to mark the 200th anniversary of the Declaration of Independence, and the 1996 All-Star Game also was played at the Vet, which stood in the same sports complex in South
Philadelphia. The 1943 and 1952 games were at Shibe Park. This year's All-Star Game is July 9 in Cleveland.
NBA – National Basketball Association
Last Night
Toronto Raptors 111, Orlando Magic 82                                                (Series tied 1-1)
Denver Nuggets 114, San Antonio Spurs 105                                          (Series tied 1-1)
Portland Trailblazers 114, Oklahoma City Thunder 104                         (POR leads 2-0)
Tonight
Indiana Pacers at Boston Celtics, 7:00 p.m.                                           (BOS leads 1-0)
Detroit Pistons at Milwaukee Bucks, 8:00 p.m.                                       (MIL leads 1-0)
Utah Jazz at Houston Rockets, 9:30 p.m.                                                (HOU leads 1-0)
NBA – Warriors center DeMarcus Cousins has torn left quadriceps
DeMarcus Cousins has a torn left quadriceps muscle that will sideline the Golden State center indefinitely, a devastating injury that the Warriors feared was serious when he went down in the first quarter of their first-round playoff loss to the Clippers. An MRI exam on Cousins' left leg revealed the tear. The two-time defending NBA champion Warriors said Cousins will begin rehabilitation immediately and updates will be "provided as appropriate." Coach Steve Kerr said after the Warriors' 135-131 Game 2 loss on Monday night that Cousins would be out for a significant period. It was just his second career postseason game after a nine-year stint.
NHL – 2019 NHL Stanley Cup Playoffs – Round 1 (Best of 7)
Last Night
Columbus Blue Jackets 7, Tampa Bay Lightning 3                                     (CBJ wins 4-0)
New York Islanders 3, Pittsburgh Penguins 1                                         (NYI wins 4-0)
Winnipeg Jets 2, St. Louis Blues 1 – OT                                                  (Series tied 2-2)
Vegas Golden Knights 5, San Jose Sharks 0                                            (VGK leads 3-1)
Tonight
Boston Bruins at Toronto Maple Leafs, 7:00 p.m.                                   (TOR leads 2-1)
Nashville Predators at Dallas Stars, 8:00 p.m.                                      (NSH leads 2-1)
Calgary Flames at Colorado Avalanche, 10:00 p.m.                                (COL leads 2-1)
NHL – Svechnikov in concussion protocol after fight with Ovechkin
Carolina Hurricanes rookie Andrei Svechnikov is in the concussion protocol after Washington Capitals star Alex Ovechkin (oh-VECH'-kin) punched him, sending his head crashing onto the ice.   Coach Rod Brind'Amour (BRIHN'-dah-mohrz) says he assumes Svechnikov, who was wearing a helmet, will miss Game 4 of the best-of-seven series. The two Russians fought with 9:01 left in the first period of Carolina's 5-0 victory in Game 3 Monday night. Ovechkin floored Svechnikov with a right hook that left the 19-year-old wobbly and in need of help getting to the dressing room.
NFL – Lions QB Stafford sits out workout as wife has brain tumor
Detroit Lions quarterback Matthew Stafford did not join his teammates at voluntary workouts Tuesday.  Stafford's wife, Kelly, announced earlier this month she plans to have surgery to remove a brain tumor. She posted on Instagram two days later, thanking everyone for an outpouring of support.  Center Graham Glasgow says he recently talked to Stafford, adding his family is doing well. Stafford has been at the team's training facility this offseason. Matthew and Kelly Stafford have three children. They began dating at Georgia, where he was the star of the football team and she was a cheerleader. He was the No. 1 pick in the 2009 draft and has spent his entire career with the Lions.
MWL – Midwest League Baseball
Yesterday
Lansing Lugnuts 5, West Michigan Whitecaps 2
Great Lakes Loons 9, South Bend Cubs 4
Tonight
Lansing Lugnuts at West Michigan Whitecaps, 12:00 p.m.
Great Lakes Loons at South Bend Cubs, 7:05 p.m.
MHSAA – High School Sports
Baseball
Niles 4, St. Joseph 2 – Game 1
Niles 5, St. Joseph 3 – Game 2
Lakeshore 5, Portage Northern 4 – Game 1 F/8
Lakeshore 3, Portage Northern 2 – Game 2
Michigan Lutheran 7, New Buffalo 6 – Game 1
Michigan Lutheran vs. New Buffalo – Game 2, dark
-ML was leading 12-3 in the 4th      
Kalamazoo Home School 4, Lawrence 1 – Game 1
Lawrence 11, Kalamazoo Home School 4 – Game 2
River Valley 17, Lake Michigan Catholic 3 – Game 1
River Valley 12, Lake Michigan Catholic 2 – Game 2
Track and Field
St. Joseph vs. Portage Central
Girls: SJ 83.5, PC 79.5
Boys: SJ 89, PC 74
South Haven, Sturgis at Edwardsburg
Girls: EDW 83, SH 54    STG 74, SH 62   EDW 98, STG 39
Boys: EDW 93, SH 44   STG 99, SH 37   STG 89, EDW 48
Softball
St. Joseph 11, Niles 6 – Game 1
Niles 12, St. Joseph 1 – Game 2
Lakeshore 10 Portage Northern 0
Lakeshore 15 Portage Northern 0
New Buffalo 10, Michigan Lutheran 3 – Game 1
New Buffalo 6, Michigan Lutheran 1 – Game 2
River Valley 20, Lake Michigan Catholic 3 – Game 1
River Valley 15, Lake Michigan Catholic 0 – Game 2
Buchanan 12, Comstock 2 – Game 1
Buchanan 4, Comstock 0 – Game 2
Bridgman 11, Brandywine 0 – Game 1
Bridgman 3, Brandywine 1 – Game 2
South Haven 12, Watervliet 2 – Game 1
South Haven 8, Watervliet 6 – Game 2
Lawrence 15, Howardsville Christian 1 – Game 1
Lawrence 12, Howardsville Christian 2 – Game 2
Girls Tennis
St. Joseph 6, Gull Lake 2
St. Joseph 8, Kalamazoo Loy Norrix 0
Lakeshore 6, Kalamazoo Loy Norrix 2
Gull Lake 6, Lakeshore 2
Berrien Springs 5, Bridgman/Lake Michigan Catholic 3
Brandywine 7, Comstock 1
Allegan 8, Otsego 0
Tonight
Mattawan at St. Joseph, 6:30 p.m.
Lakeshore at Battle Creek Lakeview, 6:30 p.m.
Gull Lake at Niles, 5:30 p.m.
Lake Michigan Catholic at Berrien Springs, 5:00 p.m.
Cassopolis at Michigan Lutheran, 5:00 p.m.
New Buffalo at Parchment, 6:00 p.m.
Vicksburg at Dowagiac, 5:00 p.m.
Comstock at Covert, 6:00 p.m.
Watervliet at Saugatuck, 6:00 p.m.
Schoolcraft at Coloma, 6:00 p.m.
Bridgman at Brandywine, 5:00 p.m.
Paw Paw at Otsego, 6:30 p.m.
Three Rivers at Plainwell, 6:00 p.m.
South Haven at Sturgis, 6:00 p.m.
Portage Central at Kalamazoo Central, 6:30 p.m.
Portage Northern at Kalamazoo Loy Norrix, 6:30 p.m.
Delton-Kellogg at Fennville, 6:00 p.m.
Baseball
Kalamazoo Loy Norrix at South Haven, 4:00 p.m. (DH)
Plainwell at Parchment, 4:00 p.m. (DH)
Kalamazoo Central at Vicksburg, 4:00 p.m.
Kalamazoo Christian at Fennville, 4:30 p.m. (DH)
Lawton at Galesburg-Augusta, 4:30 p.m. (DH)
Softball
Michigan Lutheran at Benton Harbor, 4:30 p.m.
Plainwell at Parchment, 4:00 p.m. (DH)
Kalamazoo Christian at Fennville, 4:30 p.m. (DH)
Lawton at Galesburg-Augusta, 4:30 p.m. (DH)
Girls Tennis
Kalamazoo Central at St. Joseph, 4:00 p.m.
Niles at Gull Lake, 4:00 p.m.
Allegan at South haven, 4:00 p.m.
Bridgman/LMC at New Buffalo, 4:00 p.m.