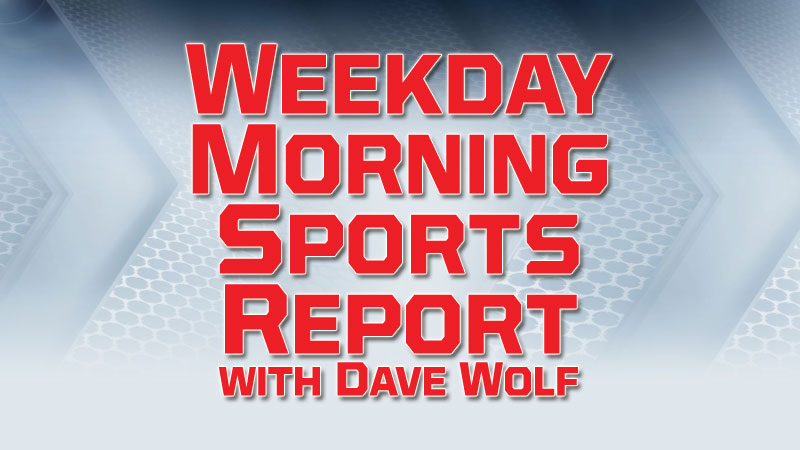 NHL – National Hockey League
Last Night
Montreal Canadiens 8, Detroit Red Wings 1
Canadiens 8, Red Wings 1 – Shaw, Domi lead Canadiens to 8-1 rout of Red Wings
Andrew Shaw recorded his first career hat trick, Max Domi had two goals and three assists for a career-high five points and Jonathan Drouin a career-best four assists as the Canadiens routed the Detroit Red Wings 8-1 Tuesday night.  Brendan Gallagher, Joel Armia and former Red Wing Tomas Tatar also scored for Montreal. Defenseman Jordie Benn added two assists and Carey Price made 28 saves.   Anthony Mantha scored for Detroit, which allowed a hat trick for the second straight game. Jimmy Howard returned after missing two games due to illness and made 16 saves and allowed six goals before being pulled after the second period. Howard has been pulled in three consecutive starts. Jonathan Bernier stopped 10 shots in relief.
Tonight
Chicago Blackhawks at Anaheim Ducks, 10:00 p.m.
NCAAMBB – Men's College Basketball
Last Night
Central Michigan 77, Eastern Michigan 66
Northern Illinois 70, Western Michigan 65
(20) Virginia Tech 77, (3) Duke 72
CMU 77, EMU 66 – McKay lifts Central Michigan past Eastern Michigan 77-66
Kevin McKay had 23 points and 10 rebounds as Central Michigan defeated Eastern Michigan 77-66 on Tuesday night.  David DiLeo had 18 points for Central Michigan (20-8, 9-6 Mid-American Conference), which won its fourth straight game. Dallas Morgan added 12 points. Larry Austin Jr. had nine points, 10 assists and nine rebounds for the visitors.  Paul Jackson had 19 points for the Eagles (13-15, 7-8). James Thompson IV added 12 points and 12 rebounds. Elijah Minnie had 11 points.
NIU 70, WMU 65 – Bradley leads N. Illinois over W. Michigan 70-65
Levi Bradley registered 16 points as Northern Illinois edged past Western Michigan 70-65 on Tuesday night.  Noah McCarty had 12 points and nine rebounds for Northern Illinois (13-15, 6-9 Mid-American Conference), which broke its six-game losing streak. Rod Henry-Hayes added 12 points. Dante Thorpe had 11 points for the hosts.  Eugene German, the Huskies' leading scorer entering the matchup at 20 points per game, had only seven points (3 of 12).  Seth Dugan had 19 points and 11 rebounds for the Broncos (8-20, 2-13). Kawanise Wilkins added 14 points. Patrick Emilien had nine rebounds.
(20) Virginia Tech 77, (3) Duke 72 – Hokies knock off Blue Devils
Third-ranked Duke has lost for the second time in three games since losing freshman Zion Williamson to a knee sprain in the opening minute against North Carolina last week. Ty Outlaw hit a tiebreaking 3-pointer with 1:28 remaining before No. 20 Virginia Tech completed a 77-72 victory over the Blue Devils. Kelly Blackshear Jr. had 23 points and 10 rebounds for the Hokies, who beat Duke at Cassell Coliseum for the third consecutive time. Ahmed Hill scored 17 points to help Tech improve to 22-6 overall and 11-5 in the ACC.
NCAAWBB – Women's College Basketball
Tonight
Penn State at Michigan State, 7:00 p.m.
Eastern Michigan at Northern Illinois, 7:00 p.m.
Central Michigan at Ball State, 7:00 p.m.
Western Michigan at Toledo, 7:00 p.m.
NBA – National Basketball Association
Tonight
Chicago Bulls at Memphis Grizzlies, 8:00 p.m.
Detroit Pistons at San Antonio Spurs, 8:30 p.m.
Indiana Pacers at Dallas Mavericks, 8:30 p.m.
MLB – MLB Spring Training
Yesterday
Detroit 14, N.Y. Mets (ss) 4
Arizona 5, Chicago Cubs 4
Chicago White Sox 9, Kansas City (ss) 7
Today
N.Y. Yankees vs. Detroit at Lakeland, Fla., 1:05 p.m.
Cincinnati vs. Chicago White Sox at Glendale, Ariz., 3:05 p.m.
Chicago Cubs vs. Texas at Surprise, Ariz., 3:05 p.m.
MLB – AP source: Rockies, Arenado work out extension
The Colorado Rockies will keep their top player for a few more years. The team has announced the signing of All-Star third baseman Nolan Arenado (ar-eh-NAH'-doh) to an eight-year contract. A person familiar with the negotiations tells The Associated Press the deal is worth $260 million with an average value of $32.5 million. The agreement includes a provision that allows Arenado to opt out after three years and become a free agent. The 27-year-old Arenado has been an All-Star and a top-10 MVP selection each of the last four seasons, and has won a Gold Glove each of his six big league seasons. He belted 38 home runs in 2018 to lead the National League for the third time in four years. Arenado is a lifetime 291 hitter with 186 home runs and 616 RBIs.
NFL – 49ers use franchise tag on kicker Robbie Gould
The 49ers have placed the franchise tag on kicker Robbie Gould, who will make about $5 million this season. Gould has been the NFL's most accurate kicker during his two seasons with San Francisco and could have been a target to return to the Bears if he hit the open market. Chicago is planning to release kicker Cody Parkey after he missed a field goal off the left upright and crossbar in the closing seconds of a 16-15 wild-card loss to Philadelphia.
NFL – NFL discusses replay system
The NFL's competition committee discussed the league's replay system during its annual meeting in Indianapolis but reached no consensus on possible changes. Giants owner John Mara told a handful of reporters he didn't sense a "lot of support" among committee members for an overhaul to the system. While the sentiment could change between now and next month's owner's meetings in Phoenix, Mara is skeptical any significant proposal will be passed.
ECHL – ECHL Hockey
Tonight
Toledo Walleye at Kalamazoo Wings, 7:30 p.m.
MCCAA – Junior College Sports
Tonight
Women's Basketball
(11) Muskegon Community College at (20) Lake Michigan College, 5:30 p.m.
Winner wins MCCAA West Division Title
Men's Basketball
Muskegon Community College at Lake Michigan College, 7:30 p.m.
MHSAA – High School Sports
Last Night
Girls Basketball
Michigan Lutheran 46, Watervliet 26
A strong effort at both ends of the court in the third quarter led Michigan Lutheran to a 46-28 win over Watervliet.  The Titans outscored the Panthers 12-3 in the third to take a ten point lead and continued to pull away from there.  Mara Rugen paced Lutheran with a game high 24 points.  Vicky Smith scored eight points in the loss for Watervliet.
Other games
St. Joseph 52, Portage Northern 8
Portage Central 63, Lakeshore 14
Niles 71, Mattawan 37
New Buffalo 46, Bridgman 43
River Valley 44, Holland Black River 26
Brandywine 65, Berrien Springs 22
Dowagiac 47, Coloma 38
Hartford 34, Bangor 31
Centreville 51, Bloomingdale 34
Mendon 59, Eau Claire 7
White Pigeon 45, Marcellus 37
Gobles 63, Lawrence 11
Gull Lake 60, Otsego 40
Vicksburg 51, Kalamazoo Hackett 37
Lansing Waverly 40, Kalamazoo Loy Norrix 38
Tonight
Boys Basketball – Districts
Division 1 at Mattawan
St. Joseph vs. Holland, 5:30 p.m.                              Updates on 106.1 & 1400 WSJM Sports
Mattawan vs. Portage Northern, 7:00 p.m.
Division 1 at Kalamazoo Loy Norrix
Coldwater vs. Battle Creek Central, 6:00 p.m.
Gull Lake vs. Kalamazoo Loy Norrix, 7:30 p.m.
Division 2 at Lakeshore
Lakeshore vs. Coloma, 5:30 p.m.                               106.1 & 1400 WSJM Sports
Benton Harbor vs. Buchanan, 7:30 p.m.                    106.1 & 1400 WSJM Sports
Division 2 at Dowagiac
Paw Paw vs. Edwardsburg, 5:00 p.m.
Three Rivers vs. Niles, 7:00 p.m.
Division 2 at Comstock
Comstock vs. Otsego, 6:00 p.m.
Plainwell vs. Hastings, 7:30 p.m.
Division 3 at Brandywine
Hartford vs. Watervliet, 6:00 p.m.
Brandywine vs. Eau Claire, 7:30 p.m.
Division 3 at Marcellus
Centreville vs. White Pigeon, 6:00 p.m.
Cassopolis vs. Marcellus, 7:30 p.m.
Division 3 at Gobles
Gobles vs. Bloomingdale, 6:00 p.m.
Schoolcraft vs. Kalamazoo Hackett, 7:30 p.m.
Division 4 at New Buffalo (1st round at host sites)
River Valley vs. Countryside Academy, 5:00 p.m.                Updates on 106.1 & 1400 WSJM Sports
New Buffalo vs. Lake Michigan Catholic, 7:00 p.m.             Updates on 106.1 & 1400 WSJM Sports
Division 4 at Mendon
Lawrence vs. Kalamazoo Phoenix, 5:30 p.m.
Howardsville Christian vs. Mendon, 7:00 p.m.